Vapour Recovery Units Market - Adsorption and Membrane Separation
[230 Pages Report] Vapour Recovery Units Market was valued at US$ 878 Bn in 2018 and is expected to register a decent CAGR of more than 5% during the forecast period of 2019-2029. Vapor recovery units based on the adsorption principle will continue to shape the market landscape in the coming years. While considering cost and operational efficiency, adsorption-based VRUs are a universal choice among end-users. Moreover, these vapor recovery units would near revenue worth around US$ 1 Bn towards the end of the projection period. However, VRUs based on membrane separation technology are likely to witness greater demand growth owing to their straightforward installation and usage.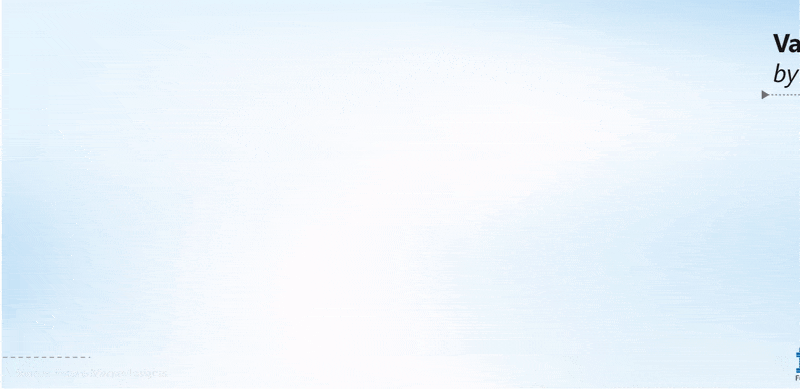 Vapour Recovery Units Market Stakeholders Eye North America and APEJ for Bigger Margins
Combination of strong foothold of manufacturers and rising upstream & downstream projects are providing a spurt to the vapour recovery units market in North America and Western Europe. Collectively capturing around 70% of total demand, the Vapour Recovery Units Market in these developed regions would also be driven by strict mandates regarding greenhouse gas (GHG) emissions. The vapour recovery units market in Asia Pacific excluding Japan (APEJ) is flourishing at a staggering rate, attributable to increasing gas demand from industry-adjacent sectors in China and ASEAN countries.
Regulatory Framework to Add Another Leg of Vapour recovery units Market Growth
In the race towards a net-zero future, governments across the globe are imposing stringent norms regarding volatile organic compounds (VOC) emissions from storage tanks. Vapour recovery units prevent the escaping of vapours from storage tanks, and help allay VOC emissions by around 90%.
Additionally, they help reduce crude oil wastage in upstream & downstream operations. In order to sustain air quality index, companies, especially in oil & gas field services, are installing vapour recovery units in their manufacturing facilities. This, in turn, would translate into exponential demand for vapour recovery units Market.
How Growth will Unfold - Vapour Recovery Units Market
Oil & gas compressors would generate over 70% of overall returns to market players as compared to other end-use sectors. Increasing need for storage and transportation of oil & gas to outpace their demand growth is resulting in widespread adoption of vapour recovery units in oil & gas compressors.
Manufacturers are also witnessing demand upheaval in the brewery and food processing sectors, despite contributing marginally to vapour recovery units market revenue. Although the usage of vapour recovery units Market in these end-use categories is accelerating, vapour recovery units Market players continue to create maximum value from oil & gas compressors.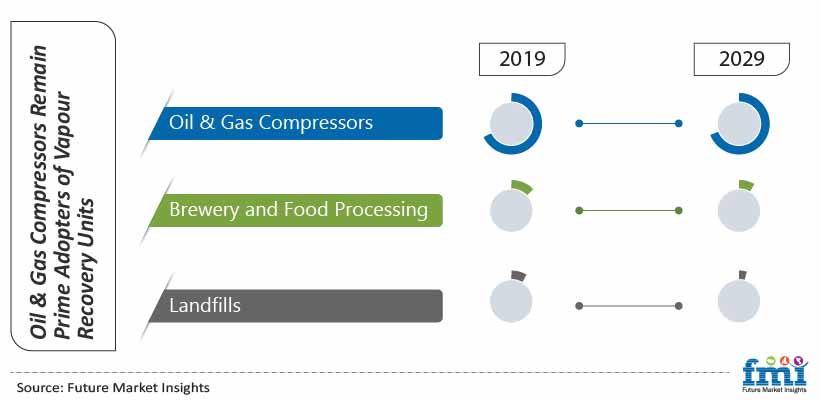 FREQUENTLY ASKED QUESTIONS ABOUT VAPOUR RECOVERY UNITS MARKET
What is the growth outlook of the vapour recovery units market?
Vapour recovery units are vital for the oil & gas industry, as these are used to restrict loss of crude oil from storage tanks through restriction of vapour. With regulations imposed on reducing VOC emissions and greenhouse gas emissions, the demand for vapour recovery units solutions is expected to rise substantially during the forecast period.
Which segment will gain healthy traction over the coming decade?
By application, marine loading and railcar loading are expected to register substantial growth rates, attributable to increasing consumption of crude oil in these sectors. Extensive usage of VRUs in upstream applications and high cost of these units in upstream are anticipated to spur the growth of the upstream segment.
Which trend will shape the global vapour recovery units market?
In recent years, a shift in consumer preference is being observed from vapour recovery units with condensation technology to those with membrane separation technology. Membrane separation technology VRUs provide a higher recovery rate and extensive reduction in maintenance cost.
What is the degree of competitiveness among players in the global vapour recovery units Market??
The global vapour recovery units market is fragmented, due to the presence of numerous players in the global market. Multiple players have prominence in specific regions, but some players have global coverage due to their export businesses. Players such as Zeecon Inc, Gardner Denver Holdings Inc., and John Zinc Company LLC are identified as tier-1 players.
Which region offers considerable growth opportunities for players in the vapour recovery units market?
APEJ is anticipated to offer lucrative opportunities for the global vapour recovery units market. Milestone oil & gas industry developments on the back of intense consumption in markets such as China and India are expected to reinforce the sales of vapour recovery units in the APEJ region. With immense potential for oil & gas exploration activities, the market of MEA is also expected to flourish during the slated course of time.
World's Most Profilic Intelligence Engine
Get Access To The World's Largest Market Research Database. Ngage with a revolutionary intelligence engine that scale and pricing that flexes as per your needs
Sign Up Now
VAPOUR RECOVERY UNITS MARKET TAXONOMY
The global vapour recovery units market is segmented in detail to cover every aspect of the market, and present complete market intelligence to readers.
Technology
Membrane Separation
Adsorption
Condensation
Absorption
Application
Marine Loading
Truck Loading
Railcar Loading
Pipelines
Storage Tank Vents
Process
End Use
Oil & Gas Compressors
Landfills
Brewery and Food Processing
Others
Region
Need specific information?