Introduction
The report on the linear slide units market covers comprehensive information about market trends, volume and value (US$ Mn) projections, recent developments, dynamics (drivers, restraints, trends & opportunities) and competition landscape pertaining to the global linear slide units market for the study period 2018 to 2028.
The global linear slide units market is projected to surpass the valuation of US$ 3.5 Bn by the end of the forecast period, at an estimated CAGR of 6.9% during 2018-2028.
Industrial Automation Expanding Roots Faster
Industrial automation in end-use sectors across the global market is growing at a healthy rate. Increasing awareness regarding the effective use of industrial robotics among consumers is compelling them to use these solutions to enhance productivity. With the effective use of industrial automation and solutions such as linear slide units, the production, inline operations and quality of products can be improved considerably.
The use of linear slide units also enables end users to improve the production as well as packaging rate and quality by incorporating integrated and innovative technologies, thereby reducing the overhead costs associated with the production process.
End-use Applicability of Linear Slide Units Widening Rapidly
Automotive, construction, electronics, machining, and chemical processing industries, among others, represent potential growth opportunities for the manufacturers of linear slide units. Emerging economies such as India, China, South Korea, Brazil, and Russia, among others are driving construction and industrialization globally, which in turn is expected to accelerate the growth of the linear slide units market.
Linear slide units find a wide range of applications in pick & place and packaging operations across end-user industries as they are more precise and accurate as compared to manual work. Growing automotive & manufacturing industry output is expected to be one of the most significant drivers for the global linear slide units market.
Rising urbanization, leading to new infrastructure activities, is further expected to boost the demand for industrial automation and related intelligence. The increasing demand for these machines is expected to further impart traction to the growth of the linear slide units market.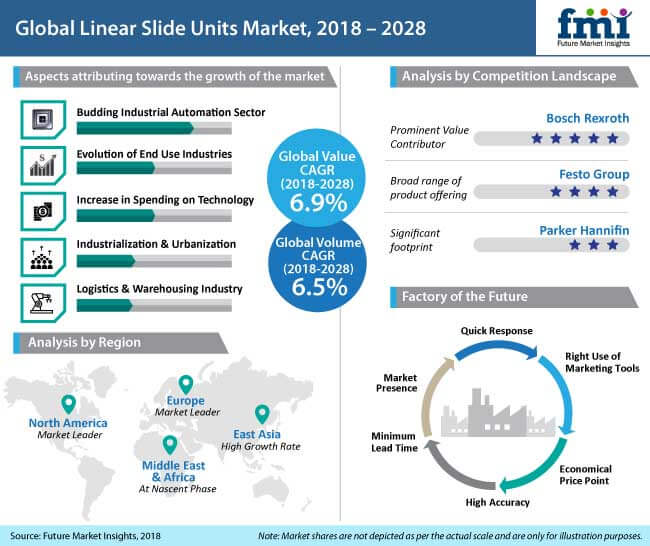 High Accuracy & Durability Gaining Traction for High Speed & Continuous Operations
Linear slide units, especially belt drive units, are known for their high speed and ability to do the job continually at a very high rate. Hence, they are increasingly used in applications where the need for repetitive operations and speed is high. These linear slide units are finding widespread applications in FMCG packaging, beverage packaging, automotive, special purpose machines and other packaging industries.
Moreover, the operational life of these linear slide units is considered to be excellent and the return on investment is also considered to be good. Linear slide units are used to make tedious daily operations into automated operating tasks, providing a higher output with exceptional accuracy.
Advanced Material Technology Favoring India's Linear Slide Units Market
The adoption of advanced material technology in linear slide units increases load capacity and enhances strength and resistance against corrosion & high temperature. Superior resistance against corrosion and high temperature in timing belt operated linear slide units results in increased productivity, which in turn is expected to fuel the growth of the linear slide units market in the coming years.
Due to the introduction of advanced material technology, many materials such as superalloys and aluminum are lightweight and have high strength & load capacity. This is key to the factor estimated to drive the growth of the global linear slide units market.
India & China Highly Lucrative Markets for Linear Slide Units
By region, the linear slide units market has been segmented into North America, Latin America, Europe, South Asia, East Asia, India, and MEA. India and China are expected to grow at significant CAGRs in the global linear slide units market, owing to the robust growth being witnessed in end-use industries as well as a growing awareness about automation within the metal fabrication industry.
In terms of value share, Europe is projected to dominate the market throughout the forecast period and is projected to create an absolute $ opportunity worth US$ 513.9 Mn between 2018 and 2028.
Competitive Manufacturing Strategy to Pave Way for Growth of Linear Slide Units Market
The high popularity of linear slide units, specifically in industrial applications, is expected to propel the demand for linear slide units during the forecast period. More importantly, growth in the demand for SPM (special purpose machines) has also been adding to the growth in revenue of linear slide units.
Emerging players are strengthening their position in the market by offering cost-effective but highly efficient linear slide units, which in turn is affecting the profit margin of established players, such as Bosch Rexroth, Festo, and THK, among others.
Linear Slide Units Market – Competition Landscape
The global linear slide units market is fairly consolidated. Organized players account for more than a 60% share in the global linear slide units market even though there are numerous small players creating a competitive environment for well-established players.
In the global Linear slide units market, FMI has covered prominent players including Bosch Rexroth, Festo Group, SMC Corporation, Parker Hannifin, Igus, Phoenix Mecano AG, HIWIN Corporation, THK CO., LTD., and Thomson Industries Inc., among others.
Key Questions Answered in Linear Slide Units Market Report
How has the linear slide units market evolved over the past five years?
What shape is the linear slide units market expected to take in terms of volume and value during the study period?
What are the prevailing market dynamics in the linear slide units market?
What are the competition developments and trends in the linear slide units market?
What are the underlying macro-economic and industry factors impacting the growth of the linear slide units market?
Which are the key challenges, opportunities and improvement factors for linear slide units market players?
What are the market positioning and key strategies of key manufacturers as per the linear slide units market taxonomy?
How is the competition structured in the linear slide units market at present and how has it evolved over the past few years?
Key Segments
By Drive
By Guide
Ball Guide
Slide Guide
Wheel Guide
By End Use
Food & Beverage
Packaging
Retail & E-commerce
Machine Building & SPM
Automotive
Pharmaceutical
By Capacity
Less than 50 Kg
Between 50-100 Kg
Between 100-150 Kg
Above 150 Kg
By Application
Pick & Place
Packaging
Inline Production
By Region
North America
Europe
South Asia
Latin America
East Asia
India
Middle East and Africa (MEA)
Need specific information?