Global Starch Recovery Systems Market to Surpass US$ 457 Mn by 2029
The global starch recovery systems market is projected to reach US$ 457 Mn by the end of 2029. The market was valued at US$ 265 Mn in 2019. The growth of the market is driven by the demand for eco-efficient equipment for potato processing. The key drivers of the market are the growing potato processing industry and the R&D investments in processing operations.
Starch Recovery Systems Market - Key Research Findings
The global market for starch recovery systems is expected to hit USD 457 million by the end of 2029.
The market is dominated by the frozen goods segment.
Many manufacturers are attempting to obtain starch through advanced technologies such as hydrocyclones and centrifuges due to the increasing demand for frozen potato products such as French fries.
Consumption of potato chips as snacks is extremely popular among school children, parents, adolescents and the elderly in countries such as India and China. The rising demand from these nations will in turn boost the starch recovery systems market.
The presence of several leading market players in North America and Europe is predicted to drive the growth of the starch recovery systems market in these regions.
Eco-efficient starch generation processes are becoming increasingly desired, boosting demand for starch recovery systems.
Key Factors Shaping the Starch Recovery Systems Market
Applications in Food Industry is Expected to Surge
Starch is a carbohydrate derived from agricultural raw materials which are widely present in food applications. Market growth is fuelled by diversified applications of starch & its derivatives for food production and industrial purposes such as native starch, modified starch, maltodextrin, cyclodextrin and glucose syrup. In addition, it is one of the most important polymers used extensively daily in both food and non-food applications. Commercialized goods such as corn and other types of cereals usually undergo physical modification or simple chemical modification to derive starch that can be used across various industries. Starch recovery systems therefore are likely to witness increasing demand in the coming years
On the flipside the spread of coronavirus and negative economic implications of the outbreak may have adverse impact on the market. Various restrictions are implemented and preventive measures are adopted to contain the spread. Restrictions imposed on travel and transport are making it difficult to procure potatoes which are primary sources of starch. Looming economic slowdown is affecting the agriculture sector as well. Labour shortage in farming and industries could negatively impact the overall market.
Large-Scale Potato Processing Industries by Plant Size are Thriving
Large-scale plants depend on an eco-efficient methods of extracting starch from potato wastewater, creating demand for recovery of starch systems. Budget availability is one of the key factors which has made large scale industries early adopters of starch recovery systems. The need to reduce the costs of treating wastewater and gaining additional income by selling the recovered starch are some of the reasons for implementing the recovery systems. These factors are driving market demand for starch recovery systems.
Adoption of Hydrocyclones and Centrifuges is Increasing
The rising investments by the potato processing companies and the increasing demand for fresh, functional and convenience foods drive the potato processing industry. Because of its multifunctionality, large-scale potato producers prefer hydrocyclones and centrifuges to recover starch. Potato processing update with eco-efficiency encourages the adoption of starch recovery systems, convinces the market for hydrocyclones and centrifuges.
Starch Recovery Systems Market - Structure Analysis
Leading players are focusing on acquisitions and partnership to gain competitive advantage Besides this, they are focusing on the launch of novel technologies
In June 2018, Alfa Laval (Sweden) announced the launch of UniDisc, a new disk stack separator. This disk technology would increase the efficiency of separation by 30% due to the low spacing between the disks.
In September 2018, Ferrum (Switzerland) acquired Hiller GmbH (Germany). This acquisition would allow Hiller GmbH to improve its role in the economically competitive market and extend its operations in the regions of Asia and North America.
Report Scope
Report Metric

Details

Base year considered

2019

Actual estimates/Historical data

2014 - 2018

Forecast period

2019 - 2029

Market Value in 2019

US$ 265 Mn

Segments covered

Plant Size, Application, Components and Region

Regions covered

North America, Latin America, Europe, East Asia, South Asia, Oceania and MEA

Key Players

GEA (Germany), Alfa Laval (Sweden), Andritz (Austria), NivobaHovex (Netherlands), MICROTEC ENGINEERING GROUP (Australia), Myande Group (China), Larsson Sweden (Sweden), Sino-Food Machinery (China), Flo-Mech (UK), and Hiller GmbH Germany)

Growth Drivers

Thriving potato processing activities.
Escalating consumption of snack food items.
Rising environmental concerns
Diverse Applications of Starch Recovery Systems will Boost Growth
In terms of application, the frozen products segment of the starch recovery systems market is accounts largest share and expected to dominant the highest CAGR in forecast period. Frozen potato products such as French fries are getting popular globally, and the rising demand for these products is attracting the key players to increase production. A large number of industry players are establishing frozen potato processing lines all over the globe. This development is driving the demand for starch recovery systems to a rapid rate. The increased demand for frozen potato products has a positive effect on starch recovery systems market growth.
Asia Pacific is Projected to Account for the Largest Market Size
During the forecast period Asia Pacific is projected to dominate the global market for starch recovery systems. The expansion of the potato processing industry is driving demand for the Asia Pacific starch recovery systems market. Due to the increasing demand for processed potato products, the potato processing industry in Asia Pacific is experiencing growth. Furthermore, in recent years, the potato processing industries have established a trend towards eco-efficient processing systems with better quality goods and reduced industrial discharge; this is also driving the demand in this area. These factors are expected to create a potential demand in the potato processing industry for starch recovery systems. Promising markets such as India and China, along with other Asian countries, hold great potential for the growth of starch recovery systems.
Increasing Potato Production is Driving Market Growth
Growing potato processing industry across the globe is driving the demand for starch recovery systems market. Additionally, diverse use of starch and its food nutrition derivatives is also expected to significantly affect the demand for starch recovery systems. In addition, the increasing need for the method of producing eco-efficiency in the food processing industry is expected to have a significant effect on the demand for starch recovery systems. Evolving high yielding equipment with a low operating cost in the food processing industry is anticipated to generate untapped opportunity for the market participants.
Hydrocyclones and centrifuges segment held the leading market share
Refining sieves segment forecast to higher rate of growth
Frozen products segment holds dominance
Chips & Snack pellets segment to rise at a higher CAGR
Large scale segment holds dominance
Medium scale segment to rise at a higher CAGR
How Growth will Unfold
Thriving potato processing activities along with the escalating consumption of snack food items such as frozen potato items are likely to drive the expansion of starch recovery systems market over the upcoming years. Apart from this, massive funding of research and development activities in food processing operations by leading companies operating in the market will push the starch recovery systems market revenue. Nonetheless, aspects such as high research & development costs along with lack of infrastructural growth are bound to pose a threat to the market surge. In addition, the growing environmental considerations and the preference of manufacturers for affordable production methods would catalyze the development of the demand for starch recovery systems over the ensuing years. The main players' insistence on making maximum profits from goods would bring about a revolution in starch recovery methods, thereby accelerating market trends. The next-generation food processing technology is expected to witness a paradigm shift and this will further stimulate the business sphere in the years to come.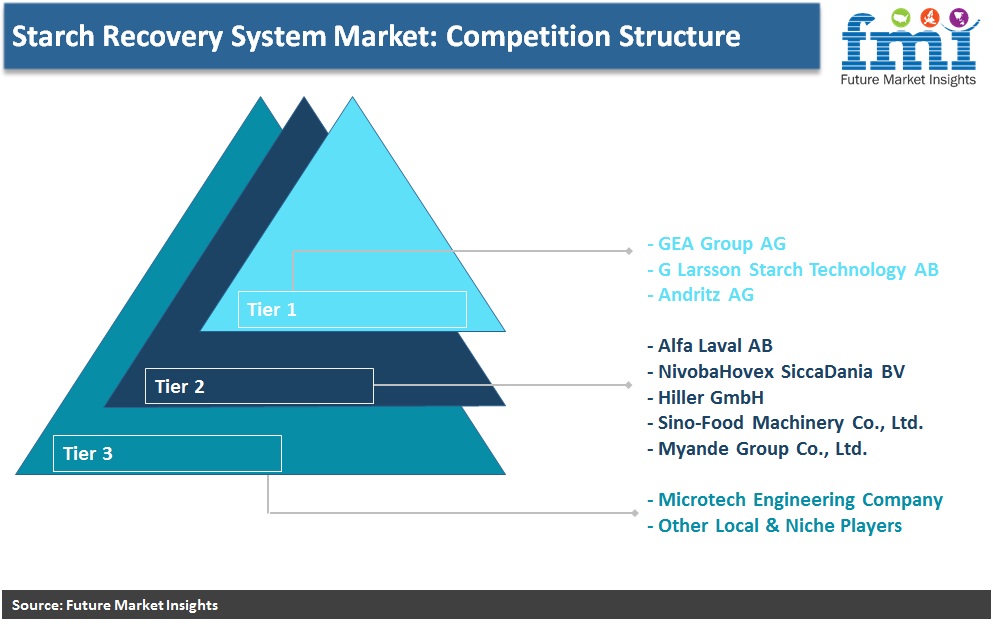 * This data is only a representation. Actual data may vary and will be available in report.
Click Here To Know How The Growth Will Unfold
Custom Market Research Services
FMI offers custom market research services that help clients to get information on their business scenario required where syndicated solutions are not enough.
Overview
Starch Recovery Systems Market: Global Industry Analysis 2015-2019 & Opportunity Assessment 2020-2030
A recent market study published by Future Market Insights on the Starch Recovery Systems market offers global industry analysis for 2015-2019 & opportunity assessment for 2019-2029. The study offers a comprehensive assessment of the most important market dynamics. After conducting a thorough research on the historical, as well as current growth parameters of the Starch Recovery Systems market, the growth prospects of the market are obtained with maximum precision.
Starch Recovery Systems Market Taxonomy
The global Starch Recovery Systems market is segmented in detail to cover every aspect of the market and present complete market intelligence to readers.
Component
Refining sieves
Hydrocyclones and centrifuges
Vacuum filters
Screw conveyors
Filling stations
Application
Frozen Products
Chips & Snack Pellets
Dehydrated Products
Filling stations
Region
North America
Latin America
Europe
South Asia
East Asia
Oceania
MEA
How the research was conducted?
Primary Research
C - Level Executives
Marketing Directors
Sales Heads
Production Managers
Distributors Heads
Sales Executives
Product Manufacturers
Distributors
Traders
Industry Experts
End Users
Current Market Dynamics and Challenges
Market Characteristics
Market Performance and Growth Quadrants
Competition Structure and Market Structure
Strategic Growth Initiatives
Near-term and Long-term Market Growth Prospects
Market Segment Splits and Authenticity
Opinions on Market Projections and Validity Of Assumptions
Secondary Research
Industry Publications

Industrial Week
Industrial Product Review
Industrial Magazine

Industry Associations

Dieticians Association
Food and Agriculture Organization

Company Press Releases
Annual Reports and Investor Presentations
Research Papers
Government Websites and Publications
Trade Websites
Primary Interview Splits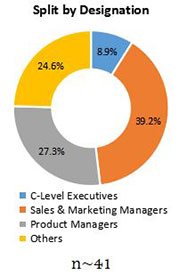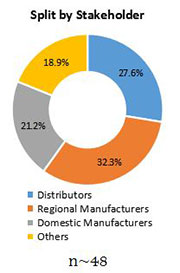 To Learn More About our Comprehensive Perspective on Starch Recovery Systems Market,
Get in touch
COVID -19 : Impact Analysis
Request the coronavirus impact analysis across industries and markets
Request Covid -19 Impact
CASE STUDIES
See how our work makes an impact.
At FMI, we design strategies that are adaptive, impactful, and implementable.