Nutritional and Allergen-Free Characteristics Drive Pea Starch Applications in Food and Beverage Industry
Pea starch is a polysaccharide variant which is used widely as a source of carbohydrates in a number of industries such as pharmaceuticals, animal feed, food and beverage, and cosmetics among others. In terms of market value, the global pea starch market is projected to grow at a healthy CAGR of more than 7 per cent through the forecast period between 2019 and 2029.
Dried peas has been found to be one of the most versatile pulse options, which has numerous end use applications. The material is a non GMO, gluten free, clean label, and all-natural, slow digestible starch, which has made it a popular diet option to control obesity without affecting the flavor of the end product it is added in. Further, pea production occurs around the world making the sourcing of pea starch substantially easier and driving up activity in the global pea starch market.
Non-Allergen Applications Widens Demographic of Pea Starch Consumers
The high amount of starch in peas is a key factor behind the growth of the global pea starch market, which can be largely attributed to the high rates of consumption for bakery and convenience foods. In addition, the growing health consciousness among consumers in the worldwide food and beverage industry, and changes in flavor, quality, and taste is also contributing to growth.
The global pea starch market has recently found application in baking, food processing and pharmaceutical products, which is pushing the manufacturers of end products to adopt larger quantities of pea starch, a trend which is driven by the popularity of sustainable and nutrition rich foods, without compromising on aspects of convenience, which will contribute to the rise of the pea starch market.
Further, the trend of gluten free prepared foods is performing well, owing to a growing population of gluten susceptible, health conscious people, which has resulted in an abrupt rise of the gluten free pea starch in a variety of bakery products.
In addition, pea starch also performs well in terms of structure and texture in baked goods, making it a popular alternative to starch from conventional sources such as tapioca, potato, and corn. Its gel like properties also have made pea starch a great extender ingredient for meat products such as sausages, sliced turkey, chicken nuggets, beef burgers, and chicken breasts.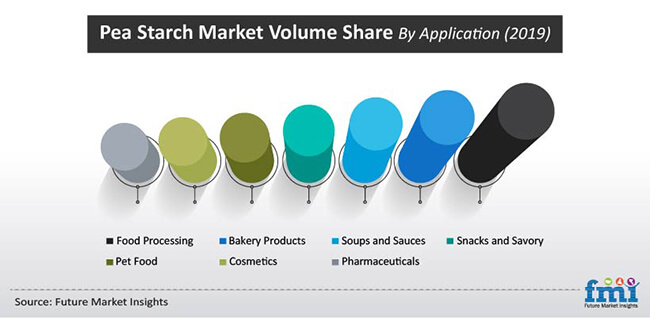 Mergers and Acquisitions Gain Center Stage in Business Strategy
The pea starch market is extremely competitive with major names in the industry including Axiom Foods Inc., Dakota Dry Bean, Parrheim Foods, Cargill Inc., Vestkorn, Roquette, Sanstar Bio-Polymers, Emsland Gourp, and American Key Products among others. The presence of numerous players in the market have boosted competitiveness. Consequently, manufacturers have moved to leverage strategic mergers and acquisitions.
The aggressive market is pushing companies to take on capital extensions and strategic alliances, in a bid to bolster their overall market share and productivity with the aid of tech innovations. North America is projected to account for the largest market share of more than 27 % owing to the high production and exports of pea starch around the world.
On the other hand, the APEJ and Latin American markets of pea starch are anticipated to grow at a substantially faster rate through the forecast period at CAGRs of 9.7 and 8 % respectively. This can be attributed to the demand for convenience foods, and growth of the local food processing sectors here.
FREQUENTLY ASKED QUESTIONS ABOUT PEA STARCH MARKET
What drives the Pea Starch market?
Pea starch is a versatile pulse that is non-GMO and gluten free product. Its synergy with digestive system promotes consumption of pea starch and the growth of pea starch market subsequently. Rampant global pea production makes for abundant raw material availability, a major factor that drives the global pea starch market.
Who are the major players in Pea Starch Market?
Highly competitive pea starch market is compelling manufacturers to move towards capital expansion and strategic alliances. Major players with strong presence in the pea starch market are:
Axiom Foods Inc.
Dakota Dry Bean
Parrheim Foods
Cargill Inc.
Vestkorn
Roquette
Sanstar Bio-Polymers
Emsland Gourp
American Key Products
Which regions will lead global sales of Pea Starch?
North America is a major producer and distributor of pea starch. Consequently it is also generating demand and leads the global sales of Pea Starch. This is followed by APEJ and Latin America with an increasing demand for convenience foods and development of food processing sector in these regions.
Which function type offers most lucrative growth opportunities?
Historically the gelling function of pea starch has led market growth and it continues to offer lucrative growth opportunities. Owing to this functionality, pea starch is extensively used in food & beverage products such as sauces, puddings, gravies, and dried soups.
What factors put market players at risk?
Retrograding effects impact the beneficial properties and characteristics of pea starch extracts. This is expected to restrain production output. Varied regulations and standards involving different authorities around the world will present road-block in entry of new market entrants.
Market Segmentation
Nature
Grade
Food Grade
Feed Grade
Industrial Grade
Application
Thickening and Binding
Texturising
Gelling
Others
End-Use
Soups and Sauces
Snacks and Savory
Bakery Products
Food Processing Industry
Pet Food Industry
Pharmaceuticals
Cosmetics
Region
North America
Latin America
Europe
Japan
APEJ
MEA
Need specific information?