Globally, the revenue generated from sales of pearlescent pigment is estimated to be around US$ 2,705.2 Mn in 2015, and is projected to expand at a CAGR of 4.1%, during the forecast period 2015-2025.
Pearlescent pigments are mainly utilized to attain high lustre and premium finishes for luxury cars. Demand for high performance and special effect pearlescent pigments for application in the automotive sector has gained traction in the past few years. These pigments are widely preferred in the automotive paints and coatings industry and are thereby anticipated to drive the demand during the forecast period.
Currently, white and black remain the top preferred colours in the automotive sector. However, consumer preference is rapidly shifting towards speciality colours, particularly chromatic colours, and this trend is anticipated to propel the demand for pearlescent pigments for application in automobiles globally. By the end of 2014, pearlescent pigments was used for paints in over 45% of the cars in the U.S. and 35% in Europe
Adoption of synthetic pearl pigments is mounting at a faster rate as compared to natural pearlescent pigments. Feasibility in production of synthetic pearl pigments tailored for specific end-use requirements gives it an edge over natural pearl pigments.
For instance, key players such as BASF SE and ECKART Effect Pigments are particularly focusing on development of synthetic pearlescent pigments for niche applications such as automotive topcoats and architectural finishes, where durability is a major factor along with aesthetic appeal for premium and luxury vehicles.
Leading manufacturers of pearlescent pigments are shifting their focus from natural mica based pigments to customized synthetic pearlescent pigments.
In 2013, ALTANA AG developed high-quality synthetic pearlescent pigment on the basis of borosilicate glass as a substrate.
Application Analysis
On the basis of application, the global pearlescent pigment market is segmented into automotive paints, personal care, paints & coatings, plastics, printing and others (architecture, decorative paints, home appliances and textiles). In the year 2014, the automotive paints segment accounted for almost 40% market share in terms of value. Paints and coatings segment in the global pearlescent pigment market accounted for highest volume sales with 39% share of the overall pearlescent pigment market.
However, the segment is expected to lose its share to the automotive paints segment over the forecast period. Personal care along with printing are the other niche application segment in the global pearlescent pigment market collectively expected to exhibit a CAGR of around 4% to account for over 20% revenue share of the global pearlescent pigments market by 2025 end.
There has been a significant increase in demand for pearlescent pigments, particularly for application in printing and food packaging. This has led to growth of a wider variety of pearlescent pigments with different colour index and special mica and metallic pigments. Rising application of pearlescent pigments in digital printing for quality of dispersion, viscosity and consistency is another trend observed in the pearlescent pigments market.
Packaging companies strive to meet increasing demand for high-quality graphics, which in turn is increasing their demand for pearlescent pigments.
In 2014, ECKART Effect Pigment launched a number of innovative pearlescent pigments based on synthetic mica, particularly targeting master batchers and compounders in the packaging industry.
Regional Analysis
Western Europe to Dominate in Terms of Market Share, while APEJ to witness Maximum Growth Rate Over the Forecast Period
Regionally, the global pearlescent pigment market is segmented into Asia Pacific Excluding Japan (APEJ), North America, Latin America, Western Europe, Eastern Europe, Middle East & Africa and Japan. Sales revenue of pearlescent pigments in Western Europe has been estimated to account for the largest market value share of 29.1% in 2015.
North America region is expected to represent an incremental opportunity of US$ 284 Mn between 2015 and 2025. Sales revenue of pearlescent pigments in APEJ was valued at US$ 447.8 Mn in 2014 and is anticipated to increase 1.8X over the forecast period. APEJ is anticipated to be the most lucrative market for pearlescent pigments, with sales revenue in China and India expected to witness CAGRs of 6.6% and 6.0% respectively, during the forecast period.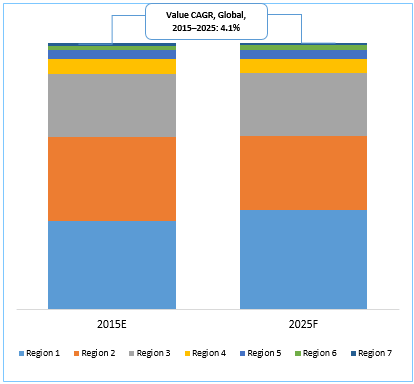 Competitive Landscape
Manufacturing have an eye on enhancing their production capacity, by commencing operations in new production facilities
BASF SE focuses on increasing production capacity of its effect pigments plants in order to cater to growing demand for high-performance pigments globally. In 2015, it announced investment of over US$ 275 Mn for increasing pigments production capacity and on R&D over the next four years. It also invested over US$ 12 Mn to expand the production capacity of its plant at Ludwigshafen. The company also focuses on increasing its footprint in the Asia Pacific high-performance pigments market
Merck KGaA has enhanced its pearlescent pigments production capacity through new facilities, one in Onahama, Japan, and the other in Gernsheim, Germany. These two sites have complete line of production of Xirallic pigments, based on aluminum oxide.
Fujian Kuncai Material Technology Co., Ltd entered into a joint venture agreement with Netherlands-based QolorTech B.V. in June 2015 in order to cater to growing demand for pearlescent pigments in Europe and Turkey.
Detailed profiles of companies are also included in the report to evaluate their strategies, key product offerings and recent developments. Some of the key players profiled in this study include BASF SE, Merck KgaA, DIC Corporation, ALTANA AG, Fujian Kuncai Material Technology Co., Ltd, Oxen Special Chemicals Co., Ltd, CRISTAL, Spectra Colours Ltd. Major players based in China and Japan are well known for production of high quality of synthetic pearl pigments.
Demand for pearlescent pigments in these countries is expected to mainly be driven by the rising demand for premium and luxury vehicles. North America and Western Europe has a relatively consolidated market, unlike APEJ which seems to be very much fragmented with large number of China based suppliers.
Key Segments
By Product Type
Natural Pearl Pigment
Synthetic Pearl Pigment
Glass Flake Pearl Pigment
By Structure Type
Substrate-free Pigment
Monolayer Pigment
Multilayer Pigment
By Application
Automotive Paints
Paints & Coatings
Personal Care
Plastics
Printing
Others
Region
North America
Latin America
Europe
East Asia
South Asia Pacific
Middle East & Africa
Need specific information?
Talk Show:
The Rise of Intelligent Packaging
Personalized, Connected and Sustainable
November 18, 2021
11:00-11:45 AM PST (USA & Canada)
This is a LIVE session