An Incisive, In-depth Analysis on the Pigmented Lesion Treatment Market
This study offers a comprehensive, 360 degree analysis on the Pigmented Lesion Treatment market, bringing to fore insights that can help stakeholders identify the opportunities as well as challenges. It tracks the global Pigmented Lesion Treatment market across key regions, and offers in-depth commentary and accurate quantitative insights. The study also includes incisive competitive landscape analysis, and provides key recommendations to market players on winning imperatives and successful strategies.
Increasing prevalence of pigmented lesions is driving the demand for its treatment globally. Pigmented lesions is one of the most common skin condition found among the geriatric population. It mostly appears on the face, however marks can emerge on other body parts as well. Aging and extreme sun exposure are considered as two of the leading causes of pigmented lesions. Other causes of the condition include exogenous and endogenous both malignant and benign aetiologies. Today, a spectrum of medications, therapies and laser treatment is available that can effectively treat and remove pigmented lesions marks. Pharmaceutical companies are introducing non-invasive med-aesthetic systems that can effectively reduce the impact of the condition. These novel medications are reliable, safe and comfortable. Moreover, many of these latest therapies are capable of clearing various types of skin effects of vascular and pigmented lesions without any side effects.
There are various types of pigmented lesion conditions, which include erythema, broken capillaries, poikilormera, solar lentigo, melisma, telangiectasia, rosacea, dyschromia, mottled and pigmentation. These condition can arise from an array of environmental and natural causes such as aging process, photodamage, and genetic makeup. In some cases, the condition may also be caused from side effects of certain medical procedures. Marks that occur from pigmented lesion can emerge in forms of pigment-related birthmarks, freckles, pigmented nevi, age spots, actinic keratosis and hyperpigmentation.
Intake of toxic substances, excessive use of synthetic cosmetics and smoking can also lead to pigmented lesion. Future Market Insights (FMI)'s new report reveals that the global pigmented lesion treatment market is set to surge at a CAGR of 6.5% during the forecast period (2017-2022).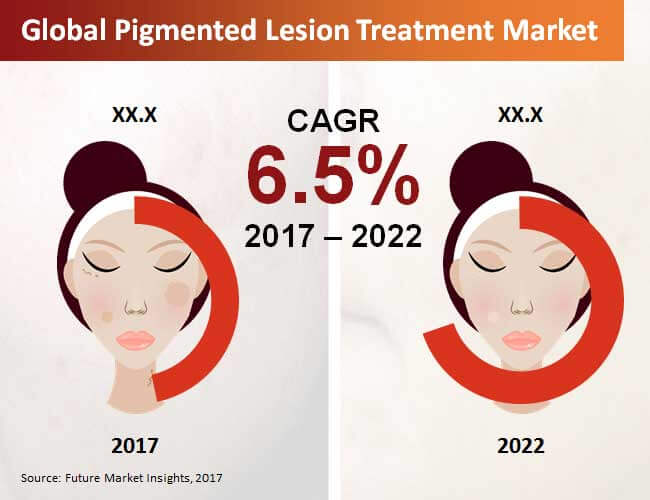 North America at the Forefront of Global Pigmented Lesion Treatment Market
North America is expected to remain the largest market for pigmented lesion treatment market during the forecast period. In terms of revenue, the region is expected to remain highly attractive in 2017 and beyond. This is primarily owing to high consumer awareness regarding availability of various pigmented lesion treatment devices. Between 2017 and 2022, North America pigmented lesions treatment market is projected to register a CAGR of 7%. This growth is likely to be characterised by factors such as widespread availability of advanced skin treatment techniques and presence of leading market players in the region. Moreover, elderly consumers in the region are increasingly opting for skincare therapies that can make them look younger as well as reduce various skin diseases including pigmented lesion.
IPL Devices a Leading Product Type Segment
On the basis of products, the IPL devices segment is expected to retain its top position over the assessment period. The segment currently represents for nearly 50% market share in terms of revenue and is estimated to surpass a valuation of US$ 190 Mn by 2022, reflecting a sound CAGR. Meanwhile, the energy based devices segment is estimated to account for the second largest revenues share of the market over 2022. This segment is likely to create an absolute $ opportunity of US$ 19.7 Mn between 2017 and 2022.
Dermatology Clinics will remain the Leading End User of Pigmented Lesion Treatment Devices Over 2022
On the basis of end user, the dermatology clinic segment is expected to remain highly attractive throughout the forecast period. The segment currently accounts for an overwhelming percent of market share in terms of revenues and is expected to exhibit 5.8% CAGR from 2017 to 2022.
Competitive Landscape
Leading market players profiled in FMI's report include Alma Lasers, Ltd., Fotona d.d., Sciton, Inc., EL.En. S.p.A., Lynton Lasers Ltd, Solta Medical Inc., Lumenis Ltd., Cynosure, Inc., Strata Skin Sciences, Inc., Syneron Medical Ltd., Lutronic Corporation, and Cutera Inc.
Note: The insights mentioned here are of the respective analysts, and do not reflect the position of Future Market Insights
The In-depth research report on "Pigmented Lesion Treatment Market: Global Industry Analysis (2012 – 2016) and Opportunity Assessment (2017 – 2022)" offers the reader an assessment of potential market consequences in order to have an accurate understanding of the changing market dynamics that are going to be crucial in the forthcoming years.
Analysis that You Can Count on
The report on the global market for pigmented lesion treatment focuses on the prime trends, threats, restraints, challenges, opportunities, growth drivers across key regions including Europe, North America, Asia Pacific, Europe, Latin America, the Middles East and Africa (MEA), Japan, Asia-Pacific excluding Japan (APEJ). The report gives an impartial opinion on the overall market by placing an accurate picture bearing in mind all the parameters including competition and end user worldwide. It becomes more important to provide statistical data in the research report in a rational way to identify the rhythm through the market. In addition, thorough analysis of the segments involved with subsequent data gathering process allows to draft the likely future market growth and an overall outlook of the global market for pigmented lesion with expert opinion and key insights that can provide the required solutions. The analysis on the global market for pigmented lesion is conducted with a very clear perception about the market and includes relevant statistical information on the basis of predefine market definition.
Research Methodology
In the initial phase of research procedure, extensive secondary research is conducted. This initially gathered resource aids the analysts to draw a blueprint of the overall product and get an idea of the current market scenarios at all the levels of the market. In addition, a thorough primary research is conducted and inputs from imminent market observers and industry experts are obtained. The information gathered from these procedures is triangulated to generate single data point with optimum accuracy. The information which is gathered is then evaluated and confirmed during the primary interviews, where every single data point in re-checked multiple time and finally the validated information is obtained, which is accurate at all levels. This exhaustive process of data analysis increases the credibility of the gathered data, which allows the reader to make well-informed decisions from the most-critical insights included in the study.
Market Nomenclature
The report on the global market for pigmented lesion treatment cover an elaborated segmentation with the help of which various implications of the sub segment breakdown, market's growth, regional scenario etc., can be identified.
| Product | End User |
| --- | --- |
| | |
| | |
| | |
| | |
Competition Dashboard supports maneuvering
A section of the report focuses of the key companies functioning in the global market for pigmented lesion. The section is highlighted by a sub-heading; competitive analysis, which mentions all the primary facts regarding the top market players, including their recent developments, pricing strategies, promotion tactics, geographical reach, product portfolio analysis, marketing strategies, mergers and acquisitions, expansion plans, key strategies, market shares, innovations, revenue, and other financials. Hence, this section of the report allows the reader to get a wider understanding about the activities of the respective market players to plan out their future strategies. The market players included in this section are the ones which have significant hold on the market, therefore, observing their market strategies can help the new market entrants to move forward swiftly and in a sustainable manner.
COVID -19 : Impact Analysis
Request the coronavirus impact analysis across industries and markets
Request Covid -19 Impact
CASE STUDIES
See how our work makes an impact.
At FMI, we design strategies that are adaptive, impactful, and implementable.