Chickpea Flour Market Analysis By Product Type (Desi, Kabuli), By Application (Bakery and Confectionery, Extruded products, Beverages, Animal feed, Dairy Products, Others), By Distribution Channel (Food Chain Services, Modern Trade, Convenience Store, Departmental Store, Online Sales Channel, and Others), and By Region – Forecast Period 2022-2032
Chickpea Flour Market - Analysis, Outlook, Growth, Trends, Forecasts
January 2022

REP-GB-6126

350 pages
Chickpea Flour Market Snapshot
[350 Pages Report] Market research by Future Market Insights (FMI) shows that the Chickpea Flour Market generated sales of nearly USD 4.15 billion in 2022.
| | |
| --- | --- |
| Market Size Value in 2022 | USD 4.15 billion |
| Market Forecast Value in 2032 | USD 6.70 billion |
| Global Growth Rate (2022 to 2032) | 4.8% |
| Forecast Period | 2022-2032 |
| Market Share of India in South Asia | ~25% |
The market is likely to grow at a CAGR of 4.8% CAGR through 2032 with a projection value of USD 6.7 billion. In 2021, the APEJ region held the largest market share for the chickpea flour market. By 2032, this region will hold a market of USD 3 billion. The US chickpea flour market is estimated at around USD 1.1 bn in 2021. Chickpea flour has recently gained popularity as gluten-free flour.
Chickpea flour is produced by grinding whole and dried chickpeas. Chickpeas predominantly grow in tropical and sub-tropical regions. Chickpea flour is prominently utilized in Indian cuisine while for cooking and baking. Chickpea is a staple ingredient in Southern Europe and South Asia. It comes in the pulses category and is known for being a cholesterol-free source of protein and fiber.
Chickpea flour is also a rich source of vitamins and minerals, and significantly boosts the intake of manganese and folate. Desi form of chickpea flour dominates the chickpea flour market currently and is estimated to hold USD 4.1 billion market share by 2032.
Increasing consumption of chickpea can be attributed to its high nutritional value among existing plant protein sources. Owing to the healthy balance of amino acids, relatively low levels of anti-nutritional factors, high levels of complex carbohydrates, and bioavailability of proteins, chickpea flour has emerged as a functional ingredient for the food processing industry. Chickpea flour also aids in curing various health problems like diabetes and cancer, coronary heart disease, obesity, and is highly popular in home remedies.
India Continues To Be Central To Global Demand For Chickpea Flour
India is one of the most important markets for chickpea flour, owing to the high production and consumption of chickpea in the country. The harvesting of chickpea is done during the month of mid-January to mid-March, and a decline in production during this time has the potential to alter the status quo in the global demand and supply. India's centrality to the global chickpea flour market is one of the key reasons for the dominance of Asia Pacific excluding Japan (APEJ) in the global chickpea flour market.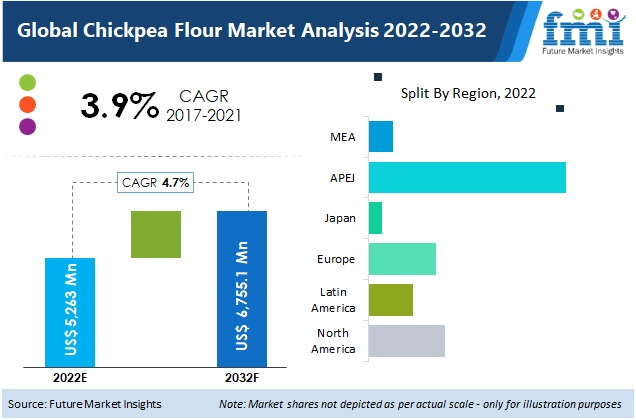 Awareness About Health Benefits Driving Adoption In Developed Countries
In developed regions, such as North America and Europe, chickpea flour has gained traction recently, as a large consumer base in the region is looking for healthy food products. In Mediterranean Europe, chickpea flour has been highly used in baking. The pervasive health and wellness trend is likely to provide an impetus to the demand for chickpea flour in North America and Europe during the assessment period, especially among the vegan and vegetarian population.
Sales Through E-Commerce Channels Creating New Growth Avenues
Traditionally, the sales of chickpea flour have remained resurgent through retail, food chain services, and modern trade. These distribution channels continue to be the leading channels for chickpea flour. However, in the recent past, sales through online channels have opened up new growth avenues for chickpea flour manufacturers. According to the report, sales through online stores are likely to surpass sales through departmental stores sometime during the forecast period.
Bakery And Confectionary Continue To Account For Bulk Of Demand
Chickpea flour is used in a wide range of applications, including bakery and confectionary, extruded products, beverages, animal feed, and dairy products. Among these, demand for chickpea flour is most formidable in bakery and confectionery segments across the world. By 2032, demand for chickpea flour through the bakery and confectionary segment is likely to be worth nearly USD 3.1 Billion. Extruded products are the second-largest application segment in the chickpea flour market.
Desi Chickpea Continues To Outsell Kabuli
On the basis of product type, demand for desi chickpea flour has traditionally remained higher than Kabuli flour. Desi seeds are smaller and more rounded than Kabuli. Desi chickpeas are known for growing even in poor soils and harsh conditions while Kabulis are high yield, nutty, have a firm texture, and mainly grow around the Mediterranean. The status quo is likely to remain unchanged during the forecast period, with desi chickpea flour likely to account for a higher revenue share of the market.
Competition Tracking
Leading companies in the chickpea flour market focus on collaboration and strengthening supply chains in a bid to consolidate their position. Some of the leading players in the market include Ingredion Incorporated, The Scoular Company, AGT food and ingredients, Archer Daniels Midland Co., SunOpta, Anchor Ingredients, Parakh Agro Industries Ltd, EHL Limited, Batory Foods, Diefenbaker Spice & Pulse, Blue Ribbon, ADM, Great Western Grain, Best Cooking Pulses, Bean Growers Australia, and CanMar Grain Products.
Scope Of Report
Attribute

Details

Market Size Value in 2021

USD 4.15 billion

Market Forecast Value in 2032

USD 6.70 billion

Global Growth Rate

4.8%

Forecast Period

2022-2032

Historical Data Available for

2017-2021

Market Analysis

MT for Volume and USD Mn for Value

Key Regions Covered

North America, Latin America, Europe, Japan, APEJ and MEA

Key Countries Covered

India, China, ASEAN, United States, Canada, Brazil, Mexico, Argentina, EU5, Russia, Australia and New Zealand, Japan, GCC countries, North Africa, South Africa, others.

Key Market Segments Covered

Product Type, Distribution Channel, Application, and Regions

Key Companies Profiled

Parakh Agro Industries Ltd
Ingredion
CanMar Grain Products
The Scoular Company
SunOpta
Bean Growers Australia
EHL Limited
Blue Ribbon
Batory Foods
Diefenbaker Spice & Pulse
Great Western Grain
Best Cooking Pulses
Others

Pricing

Available upon Request
World's Most Profilic Intelligence Engine
Get Access To The World's Largest Market Research Database.
Sign Up Now
Chickpea Flour Market segmentation
Region:
North America
Latin America
Europe
Japan
APEJ
MEA
Product Type:
Distribution Channel:
Food Chain Services
Modern Trade
Convenience Store
Departmental Store
Online Store
Other Distribution Channel
Application:
Bakery and Confectionery
Extruded products
Beverages
Animal Feed
Dairy Products
Other Applications
Key Questions Answered in the Report
How much is the chickpea flour market currently worth?
Currently chickpea flour market is worth more than USD 4.15 Bn.
At what CAGR is the market expected to grow?
Chickpea flour consumption is expected to grow at a CAGR of around 4.8% during the period 2022-2032.
How was the performance in the last five years?
In terms of revenue, chickpea flour grew at a CAGR of around 5.4% during 2017-2021.
What are the key trends boosting Chickpea flour sales?
Nutritional, gluten-free, and allergen-free characteristics of chickpea flour, increasing demand for chickpea flour-based food and beverages, rising health awareness among masses, and organic becoming the new trend are the latest trends being observed in the market which is driving the chickpea flour market.
How are market players reacting to the new developments in the market?
Market players are opting for technological advancement, investments in research and development, new product developments, and production capacity expansion.
Which are the major countries driving demand for chickpea flour?
India, The US, Germany, France, and China are the major countries driving demand for chickpea flour.
Who are the major players in Chickpea flour Market?
The major players involved in the chickpea flour market are Ingredion Incorporated, AGT Food & Ingredients, Bean Growers, Great Western Grain, Parakh foods, Diefenbaker Seed Processors Ltd, Archer Daniels Midland Company, SunOpta, EHL Limited, Anchor Ingredients, and The Scoular Company among others.
What outlook does APEJ provide?
APEJ holds around 42% of the total chickpea flour revenue share.
At what rate will the U.S. chickpea flour market grow?
US chickpea flour market is projected to grow at a CAGR of around 4.9% over the next ten years.
At what level does the report reflect pricing analysis?
The report presents a detailed cost analysis of chickpea flour based on product type i.e. desi and kabuli.
Need specific information?
Our Clients