Introduction
In 2020, the overall sales for wound irrigation systems market witnessed a massive decline due to the Covid-19 crisis as lockdown was implemented and all the factorial units were closed which led the manufacturing companies to face immense losses. Now in 2021, the global manufacturers are giving entire focus on improving their sales and profitability through product innovations and upgrades.
Leading corporations including Zimmer Biomet, Centurion Medical Products Corporation, CooperSurgical Inc., NL- Tec, IrriMax Corporation, Teleflex, Inc., Molnlycke Health Care Ltd., B. Braun Medical Inc., Bionix Development Corporation and Westmed, Inc., are taking initiatives to increase awareness regarding the benefits of wound irrigations systems among healthcare professionals and are also focussing on the establishment of research institutes in different regions to come up with improvements in their offerings. They are adopting business strategies such as sales contracts, strategic alliances, acquiring technical expertise, product approvals, patents and events, joint ventures, partnership agreements, collaborations, digital marketing, mergers and acquisitions, capacity utilisations, technological advancements etc to lead the global market for the wound irrigation systems with largest market share.
For instance, one of the leading companies in the wound irrigation systems market, Zimmer Biomet, recently announced its intent to create Spine and Dental Businesses to Combine and Form a New Independent, Publicly Traded Company (NewCo) to Optimize Resource Allocation and Drive toward Market Leadership. In addition to this, the company launched Bactisure™ Wound Lavage which is designed especially for advancing Biofilm Removal. The product gained wide popularity for its debris removal properties.
North America is predicted to rule the global market for wound irrigation systems through 2030 owing to increasing demands from healthcare spending, technological advancements and increased government investments. The rising number of accidents has a massive influence on shaping global wound irrigation systems market trends, not to mention, the manufacturing and marketing activities of key players. Moreover, a growing diabetic and geriatric population is anticipated to keep the North America wound irrigation systems market afloat in the competitive global wound irrigation systems market. Presence of leading manufacturing companies that are manufacturing and innovating the products globally contributes to make Asia Pacific a leading region witnessing a growing rate. In India, the Government is encouraging growth by planning to increase public health spending which is likely to augment the progress exponentially.
According to the research report published by Future Market Insights, the global wound irrigation market is expected grow at a slow rate during the assessment period, 2017-2027. However, it did not reflect slack or negative growth since past years and is likely to show a slow yet an upward rise in the coming years. The revenue generated by global wound irrigation market in 2017 reached US$ 230.2 Mn and by the end of the assessment year (2027), it is estimated to reach a value of around US$ 300 Mn.
Emergence of e-commerce-based distribution channels and growing demand for advanced wound care in homecare settings to present huge growth opportunities
The retail e-commerce channel has recorded significant attraction of consumers in the last few years, and is expected to show solid gain over the forecast period. The sale of wound care products through the e-commerce channel has also increased in the last few years, where the e-commerce companies are providing attractive discounts to their customers.
Besides, leading manufacturers of wound irrigation systems are also collaborating with e-commerce channel partners, such as Walmart, Walgreens, Amazon and E-bay, to promote products and expand their network. Healthcare facilities are also upgrading practices and systems in order to take advantage of the ease of online procurement.
Technological advancements have aided in enhancing treatment of chronic wounds. Initial cost of advanced wound care products is relatively higher than that of conventional treatments. Manufacturers of wound care products are developing sophisticated systems with features that enable safe use in homecare settings. The adoption of these systems in homecare settings reduces the hospital stay and cost of treatment which could lead to rising healthcare expenditures.
This provides an incentive for the healthcare systems to cut down on spending. Use of wound irrigation systems in homecare settings also adds an element of comfort at home and also ensures that patients are safer from reinfection, which can lead to possible amputations. This provides opportunities for both manufacturers and healthcare systems to adopt the best practices to slowly shift care settings away from healthcare facilities.
Acute wound segment is expected to cement its dominance throughout the forecast period
Acute wound segment in the wound type category is anticipated to grow at a comparatively slow rate yet is expected to lead the global market throughout the forecast period. The acute wound segment is estimated to largely contribute to the growth of the global market with a high estimation of more than US$ 135 Mn in 2017 and is likely to continue its dominance till the end of the period of assessment, where it is expected to touch a value more than US$ 175 Mn.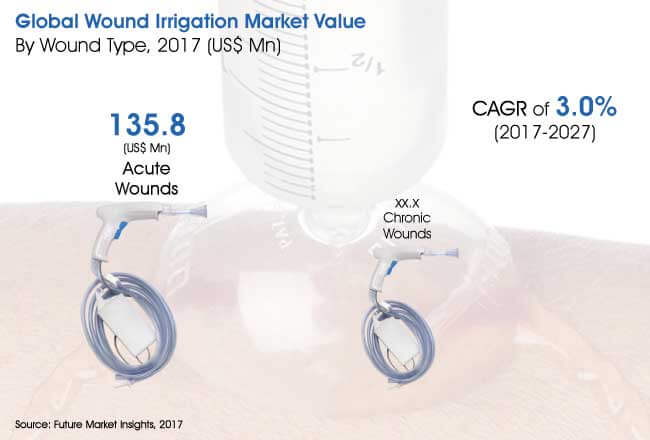 Surgical wounds segment growth to support the growth of the parent segment
Surgical wounds sub segment in the acute wound segment is estimated to touch a valuation of more than US$ 80 Mn by the end of the year of assessment. In 2017, the surgical wounds segment is valued at around US$ 68 Mn and is projected to grow at a sluggish CAGR throughout the forecast period. The traumatic wounds sub segment is the second largest segment pushing the revenue of the parent segment.
Market Segmentation
The global wound irrigation systems market is segmented in detail so as to cover every aspect of the market and present a complete market intelligence approach in front of the reader.
By Product Type
Manually Operated
Battery Operated
By Wound Type
Acute Wounds
Chronic Wounds
By End User
Hospitals
Ambulatory Surgical Centres
Clinics
Long Term Care Centres
Homecare Settings
By Region
North America
Latin America
Western Europe
Eastern Europe
Asia Pacific excluding Japan
Japan
Middle East and Africa
Need specific information?