An Incisive, In-depth Analysis on the Wound Irrigation System Market
This study offers a comprehensive, 360 degree analysis on the Wound Irrigation System market, bringing to fore insights that can help stakeholders identify the opportunities as well as challenges. It tracks the global Wound Irrigation System market across key regions, and offers in-depth commentary and accurate quantitative insights. The study also includes incisive competitive landscape analysis, and provides key recommendations to market players on winning imperatives and successful strategies.
According to the research report published by Future Market Insights, the global wound irrigation market is expected grow at a slow rate during the assessment period, 2017-2027. However, it did not reflect slack or negative growth since past years and is likely to show a slow yet an upward rise in the coming years. The revenue generated by global wound irrigation market in 2017 reached US$ 230.2 Mn and by the end of the assessment year (2027), it is estimated to reach a value of around US$ 300 Mn.
Emergence of e-commerce-based distribution channels and growing demand for advanced wound care in homecare settings to present huge growth opportunities
The retail e-commerce channel has recorded significant attraction of consumers in the last few years, and is expected to show solid gain over the forecast period. The sale of wound care products through the e-commerce channel has also increased in the last few years, where the e-commerce companies are providing attractive discounts to their customers. Besides, leading manufacturers of wound irrigation systems are also collaborating with e-commerce channel partners, such as Walmart, Walgreens, Amazon and E-bay, to promote products and expand their network. Healthcare facilities are also upgrading practices and systems in order to take advantage of the ease of online procurement.
Technological advancements have aided in enhancing treatment of chronic wounds. Initial cost of advanced wound care products is relatively higher than that of conventional treatments. Manufacturers of wound care products are developing sophisticated systems with features that enable safe use in homecare settings. The adoption of these systems in homecare settings reduces the hospital stay and cost of treatment which could lead to rising healthcare expenditures. This provides an incentive for the healthcare systems to cut down on spending. Use of wound irrigation systems in homecare settings also adds an element of comfort at home and also ensures that patients are safer from reinfection, which can lead to possible amputations. This provides opportunities for both manufacturers and healthcare systems to adopt the best practices to slowly shift care settings away from healthcare facilities.
Acute wound segment is expected to cement its dominance throughout the forecast period
Acute wound segment in the wound type category is anticipated to grow at a comparatively slow rate yet is expected to lead the global market throughout the forecast period. The acute wound segment is estimated to largely contribute to the growth of the global market with a high estimation of more than US$ 135 Mn in 2017 and is likely to continue its dominance till the end of the period of assessment, where it is expected to touch a value more than US$ 175 Mn.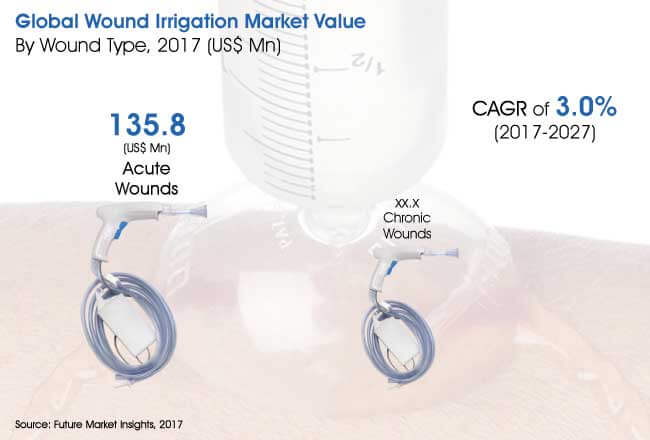 Surgical wounds segment growth to support the growth of the parent segment
Surgical wounds sub segment in the acute wound segment is estimated to touch a valuation of more than US$ 80 Mn by the end of the year of assessment. In 2017, the surgical wounds segment is valued at around US$ 68 Mn and is projected to grow at a sluggish CAGR throughout the forecast period. The traumatic wounds sub segment is the second largest segment pushing the revenue of the parent segment.
As the healthcare industry is growing tremendously and in-sync with the advancements in technologies, the adoption of innovative ways to treat various health conditions is also increasing to a new high. Wound irrigation devices are witnessing immense demand in various surgical operations, sometimes in post-surgical procedures, to effectively treat infections triggered by surgeries. A mounting number of healthcare companies are introducing wound irrigation solutions that can accelerate the wound healing process by cleaning, decontaminating, and moistening intraoperative and postoperative wounds. With hospitals and other healthcare organizations considering postoperative care as an important service, the demand for wound irrigation devices is expected to surge, ultimately fostering growth of the wound irrigation systems market in the coming future.
Weighted analysis to achieve strategic proficiency
The market research study on wound irrigation systems market drafted by Future Market Insights is an extensive research publication that covers the global scenario of wound irrigation systems market. It includes various macroeconomic factors, opportunity assessment, key growth drivers, restraints and vital segmental analysis. The quantification of data pertaining to these aspects with the help of statistical representations and analysis giving a holistic and an unbiased view of the entire market. The research publication assists the reader in judging the future prospects in wound irrigation across key regions in the globe. Every market segment is assessed in different regions giving a heads up to the reader and assisting in determining revenue pockets for the growth of his/her business. The statistical analysis and forecasting helps in getting a clear market understanding and its scenario in the future based on market acumen of current market standing and historical data. Data mining and number crunching is done with extreme precision to cover analysis of the entire ecosystem of the wound irrigation systems market. All these insights and qualitative and quantitative analysis of the market is presented in a systematic format in the research report titled "Wound Irrigation Systems Market: Global Industry Analysis (2012-2016) and Opportunity Assessment (2017-2027)".
Market Segmentation
The global wound irrigation systems market is segmented in detail so as to cover every aspect of the market and present a complete market intelligence approach in front of the reader.
By Product Type

By Wound Type

By End User

By Region

Manually Operated
Battery Operated

Acute Wounds
Chronic Wounds

Hospitals
Clinics
Long Term Care Centres
Homecare Settings

North America
Latin America
Western Europe
Eastern Europe
Asia Pacific excluding Japan
Japan
Middle East and Africa
Assumptions used in this research report
Yearly change in inflation rate has not been considered while forecasting market numbers
Weighted Average Selling Price (ASP) has been considered to deduce market values
Bottom-up approach has been used to asses market numbers for wound irrigation systems
Top-down approach has been used to counter-validate the reached numbers for wound irrigation systems market numbers
All values for market size are in US$ (US Dollar)
All the indicated denominations are in US$ (US Dollar)
Forecast period considered for calculation is 2017–2027
Historical trend has been analysed to track data
Reasons supporting your investment in this study
This research study gives a near to 100 percent accurate results pertaining to every segment globally as well as regionally, during the current year as well as 10 years down the line (2017-2027). To ensure data and statistical accuracy, an effective research methodology has been followed that covers extensive secondary research to acquire relevant market details such as overall market size, top players in the industry, top products, important regions, new developments etc., which is validated using primary research to remove deviations and arrive at a data with high precision. This is done by interviewing many industry specialists and subject matter experts, and also the data extracted from company websites, white papers, financial reports etc. All the information gathered is then integrated by Future Market Insights analysts to arrive at final data points pertaining to the global wound irrigation systems market. The market statistics are presented in a systematic and organised manner with diagrams, graphs etc., which helps the readers grasp the key outcomes at just a single glance. Moreover, a 24x7 analyst support is extended to our clients should the need be.
COVID -19 : Impact Analysis
Request the coronavirus impact analysis across industries and markets
Request Covid -19 Impact
Akshay Godge
Client Partner - Global Business Development
CASE STUDIES
See how our work makes an impact.
At FMI, we design strategies that are adaptive, impactful, and implementable.