Growing Usage in Spray Coatings to Boost Demand for 2-Ethylhexyl Acetate, Finds FMI Study
Jan 21,2020 | Chemicals & Materials
High boiling point and good solvent power of 2-ethylhexyl acetate maket it a popular solvent in the formulation of paints and coatings. Through continuous exploration of its properties, 2-ethylhexyl acetate is finding application in spray coatings and dip-coating technologies. Thus, rising demand for paints & coatings, globally, is anticipated to fuel the demand for 2-ethylhexyl acetate.
The global 2-ethylhexyl market is expected to witness decent growth at a CAGR of 4% over the forecast period of 2019–2029, and reach a valuation of US$ 310 Mn by 2029.
Key Takeaways of 2-Ethylhexyl Acetate Market Study
Purity ≥ 99% is observed to be most-preferred grade type in the market, owing to increasing demand for high-quality products and tightening regulatory scenario.
2-ethylhexyl acetate is used as a brightener in leather processing, and as an additive in fragrance formulation. Increasing consumption of cosmetic & personal care products is estimated to drive the demand for 2-ethylhexyl acetate as a performance chemical. However, the slow growth of the leather industry can have a negative impact on the market.
2-ethylhexyl acetate is also used as a solvent in printing and screen inks. The demand for 2-ethylhexyl acetate is expected to rise, owing to increased consumption of printing inks in the packaging industry.
Emerging economies such as India, China, and Mexico are estimated to witness lucrative growth. The positive outlook for the automotive industry and growth of the paints & coatings industry are major factors offering growth opportunities for the 2-ethylhexyl acetate market in these countries.
"2-ethylhexyl acetate is effectively being used as an alternative to conventional solvents, which have relatively higher levels of volatile organic components (VOCs). Increasing regulations regarding VOC components will propel the demand for 2-ethylhexyl acetate in the foreseeable future."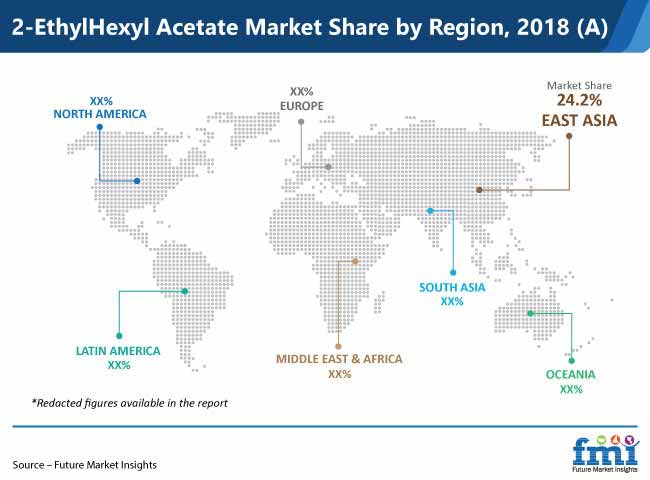 2-Ethylhexyl Acetate Market: Competition Analysis
For More Detailed Insights on 2-Ethylhexyl Acetate Market
The global 2-ethylhexyl acetate market is significantly consolidated, with only a few leading market participants accounting for a high market share. Adoption of integrated business models for controlling the procurement of raw material and supply chain network is one of the key strategies adopted by leading market players. Continuous product & technological innovation and development of customized solutions are few of the key trends being observed in the market. Some of the key players identified in the 2-ethylhexyl acetate market are Chemoxy International Ltd., BASF SE, Polynt SpA, and Eastman Chemical Company, among others.
How will the market shape up?
Rapid industrialization across the globe and growing consumption of paints & coatings for both, decorative and protection purposes, will drive the demand for 2-ethylhxyl acetate as an industrial solvent. Apart from this, 2-ethylhexyl acetate is also estimated to witness rise in demand as an additive in cleaners and fragrance formulation. Shifting trend towards the adoption of water-borne coatings or high-solid coatings might hamper market growth in the foreseeable future.
What does the report offers?
The recent market study published by Future Market Insights offers conclusive analysis on the global 2-ethylhexyl acetate market, and delivers noteworthy insights through organized market research. The report offers in-depth market analysis of historical performance from 2014 to 2018 and opportunity assessment for 2019–2029. The market study provides comprehensive insights on different aspects of the 2-ethylhexyl acetate market based on purity, application, and end use, across the targeted seven regions.
For additional information, write to the analyst at press@futuremarketinsights.com
About Chemicals & Materials division of FMI
The Chemicals & Materials division at FMI offers distinct and pin-point analysis about the chemicals & materials industry. Coverage of the chemicals market extends from commodity, bulk, specialty and petrochemicals to advanced materials, composites, and nanotechnology. The team also puts special emphasis on 'green alternatives', recycling and renewable technology developments, and supply-demand trade assessment. Our research studies are widely referred by chemical manufacturers, research institutions, channel partners, and government bodies for developing – 'The Way Forward'.
About Future Market Insights (FMI)
Future Market Insights (FMI) is a leading provider of market intelligence and consulting services, serving clients in over 150 countries. FMI is headquartered in London, the global financial capital, and has delivery centres in the U.S. and India. FMI's latest market research reports and industry analysis help businesses navigate challenges and take critical decisions with confidence and clarity amidst breakneck competition. Our customized and syndicated market research reports deliver actionable insights that drive sustainable growth. A team of expert-led analysts at FMI continuously track emerging trends and events in a broad range of industries to ensure that our clients prepare for the evolving needs of their consumers.