3D Printing Market to Expand 7X by 2029, on Back of Rapidly Rising Demand for 3D Printed Products in Automotive Industry
The adoption of binder jetting and selective laser sintering (or SLS) has allowed automotive manufacturers to develop aesthetically-advanced automotive parts. However, fragility and reduced running time were a few drawbacks of these 3D printing technologies. Nowadays, fused filament fabrication (FFF), a trending technology, is used to manufacture efficient prototypes and sturdy end-use parts.
3d Printing Market
A recent market study published by Future Market Insights on the 3D printing market includ...
During the forecast period, the automotive industry is estimated to offer an incremental opportunity worth nearly US$ 2 Bn in the global 3D printing market.
Key Takeaways of 3D Printing Market Study
Accelerated adoption of 3D printing technology in aerospace and architecture industries is estimated to propel the growth of the global 3D printing market during the forecast period.
Extremely high initial expenditure and maintenance fees, along with pricing and compatibility restrictions pertaining to materials, are some factors hampering the adoption of industrial printers in the global 3D printing market.
Adoption of binder jetting and selective laser sintering (SLS) technologies is expected to gain traction during the forecast period.
Till date, entry-level 3D printers have recorded the highest deployment in the global 3D printing market, owing to increasing technical awareness among consumers and economically feasible pricing.
"Manufacturers operating in the automotive, aerospace, manufacturing and healthcare industries are actively procuring 3D printing technologies. Demand is expected to further increase with rise in the adoption of smart products, which leads to the introduction of complex designed solutions."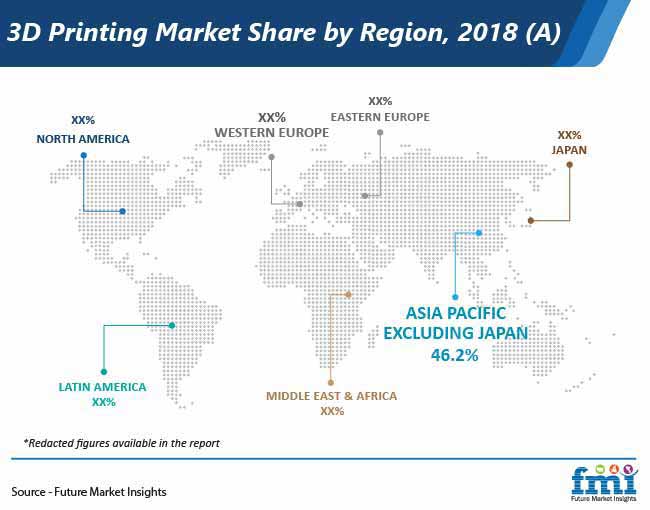 Competition Landscape of 3D Printing Market
3D printing solution providers are entering into partnerships and collaborations with other regional players and raw material providers in the market to enhance and jointly develop their product portfolios. These partnerships and collaborations are increasing continuously to fulfill the growing demand for advanced, yet cheaper 3D printing technologies around the globe, and provide customers with swift access to 3D printing solutions.
Also, product innovation and technology development activities have been the centerpieces in the 3D printing market. These strategies have helped vendors expand their market presence and enhance user experience. Moreover, via innovation and development, various vendors are focusing on enhancing their solution attractiveness among maximum consumers.
More Valuable Insights on 3D Printing Market
FMI's research on the 3D printing market is segmented into four major segments. By level, the global 3D printing market is segmented into entry-level, hobbyist, enthusiast, professional, and industrial. With respect to technology, the global 3D printing market is segregated into material extrusion, vat polymerization, selective laser sintering, material jetting, and binder jetting, among others. With regards to industry, the global 3D printing market has been segmented into automotive, aerospace, industrial/business, consumer electronics, medical, research and academia, government/military, and architecture, among others. This extensive segmentation of the market helps readers evaluate lucrative opportunities in the 3D printing market.
For additional information, write to the analyst at [email protected]
About Technology Division at Future Market Insights
The technology team at Future Market Insights offers expert analysis, time efficient research, and strategic recommendations with an objective to provide authentic insights and accurate results to help clients worldwide. With a repertoire of over 100+ reports and 1 million+ data points, the team has been analyzing the industry lucidly in 50+ countries for over a decade. The team provides a brief analysis on key trends including competitive landscape, profit margin, and research development efforts.
About Future Market Insights (FMI)
Future Market Insights (FMI) is a leading provider of market intelligence and consulting services, serving clients in over 150 countries. FMI is headquartered in Dubai, and has delivery centers in the UK, U.S. and India. FMI's latest market research reports and industry analysis help businesses navigate challenges and make critical decisions with confidence and clarity amidst breakneck competition. Our customized and syndicated market research reports deliver actionable insights that drive sustainable growth. A team of expert-led analysts at FMI continuously tracks emerging trends and events in a broad range of industries to ensure that our clients prepare for the evolving needs of their consumers.