Surpassing the market value of US$ 1.8 Bn in 2019, global demand for animal artificial insemination is projected for a healthy CAGR during the forecast period (2019 - 2029). Increasing investments in artificial insemination procedures for canine and ruminants are particularly driving the animal artificial insemination market. Frequent new product launches and introduction of novel methodologies will remain instrumental to market build-up. A new Future Market Insights (FMI) study suggests that the market will reap maximum benefit from dairy farmers, who aim to produce genetically better breeds for large-scale productions of dairy products. Moreover, a sizeable consumer population continues to prefer animal derived protein, which remains a significant opportunity in the animal artificial insemination market.
Key Takeaways of Animal Artificial Insemination Market Study
Reagent media remain the highly preferred product in animal artificial insemination market, owing to their significance in semen culture and preservation during animal artificial insemination procedure.
Increasing adoption of animal artificial insemination methods for ruminants will account for a notable market share.
Semen collection procedures continue to contribute around three-fourth of global market value, owing to better sperm viability, lower chance of contamination, and absence of extraneous secretions.
North America and East Asia collectively capture around 43% of the market share.
Governments across Asia are rising fund for R&D of improved animal food production and initiatives for the protection of important indigenous breeds. This would be a critical factor driving growth of the animal artificial insemination market in the region.
Growing adoption of advanced semen sexing technologies for animal breeding, aquaculture, and dairy farming is projected to propel growth of the global animal artificial insemination market growth.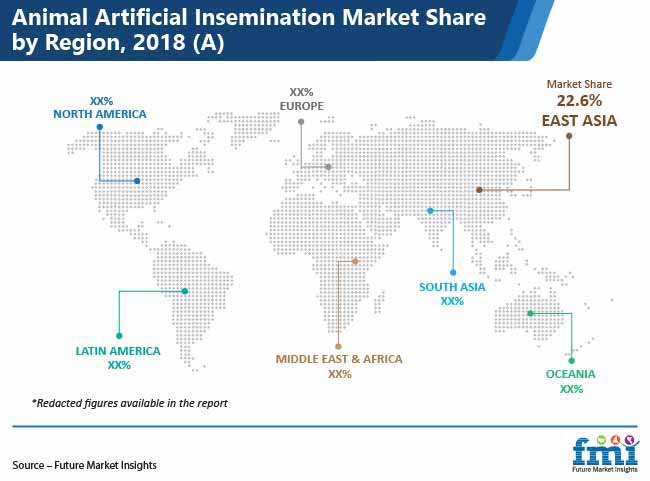 Greater Emphasis on Acquiring Small Businesses
Increasing strategic acquisition activities by key market players are the key factors responsible for intense competition among animal artificial insemination market players. Several companies are focusing on small business acquisition to increase their product portfolio and expand market share. For example, in August 2019, Elanco Animal Health Inc. announced agreement to acquire Bayer's Animal Health Business.
For More Detailed Insights on Animal Artificial Insemination Market
What Does the Report Cover?
Future Market Insights offers a unique perspective and actionable insights on animal artificial insemination market in its latest study, presenting historical demand assessment from 2014 - 2018 and projections from 2019-2029 based on product type (insemination equipment, artificial insemination syringes, insemination sheaths, artificial insemination applicator, thawers, accessories, artificial insemination kits, artificial insemination straws, reagent media and others), procedure type (semen collection procedures and insemination procedures), animal type (canine, feline, swine, bovine, equine, and ruminant), end user (animal hospitals, animal clinics, animal breeding centers, and others) in seven key regions.
To gain detailed insights on how the growth of animal artificial insemination market will unfold over the following years, write to [email protected]
About Healthcare division of FMI
The Healthcare team at Future Market Insights has consistently tracked and analyzed rapidly evolving trends and developments in the global healthcare industry, encompassing pharmaceuticals and medical devices markets. The team facilitates corporates, government, investors, and associated audiences in the healthcare sector to identify and accentuate vital aspects applicable to product strategy, regulatory landscape, technology evolution, and other crucial issues to achieve sustainable success. Our unique approach to gathering market intelligence equips you in devising innovation-driven trajectories for your business. Know more about our sector coverage.
About Future Market Insights (FMI)
Future Market Insights (FMI) is a leading provider of market intelligence and consulting services, serving clients in over 150 countries. FMI is headquartered in London, the global financial capital, and has delivery centres in the U.S. and India. FMI's latest market research reports and industry analysis help businesses navigate challenges and take critical decisions with confidence and clarity amidst breakneck competition. Our customized and syndicated market research reports deliver actionable insights that drive sustainable growth. A team of expert-led analysts at FMI continuously track emerging trends and events in a broad range of industries to ensure that our clients prepare for the evolving needs of their consumers.