Biochar Fertilizer Market to Surge at 14.56% CAGR, Restricted Production Activities Due to Lockdown Imposed to Contain Coronavirus May Impact Growth, says FMI
May 18,2020 | Food and Beverages
The global biochar market size is expected to reach US$ 3,714.3 Mn by the end of 2029. Future Market Insights predicts the market to rise at an impressive CAGR of 14.56% between 2019 and 2029. According to the report, North America is expected to account for the leading share in the global biochar market and is estimated to be experiencing robust growth over the forecast period. The high growth of the North America biochar fertilizer market is due to rapid population growth, urbanization, increasing demand in organic product has taken keen interest of biochar fertilizer farming and awareness
It includes in-depth insights into the biochar fertilizer market. Some of these are:
The estimated value of the market was at US$ 954.0 Mn in 2019.
Increasing demand for organic food products is expected to drive market growth.
Expansion of agricultural sector in inorganic fertilizer and compound segments in developing economies and the launch of advanced and organic products and technologies are expected to create growth opportunities for biochar market.
North America is anticipated to remain the leading market for biochar fertilizer through the forecast period, trailed by Europe.
Rise in technologies of agricultural applications such as pyrolysis increases the demand for biochar fertilizer.
"The rising awareness about biochar fertilizer increases the demand for organic products. Advancements in agricultural technologies such as the advent of pyrolysis which improves soil amendments, water consumption treatment reduction and carbon absorption methods used in biochar fertilizer will propel the growth for biochar fertilizer market. Besides growth strategies undertaken by leading players will have considerable influence on the market's trajectory. As companies adopt innovative strategies to gain competitive advantage, the impact will be felt on the growth prospect of the overall market," said a lead analyst at FMI.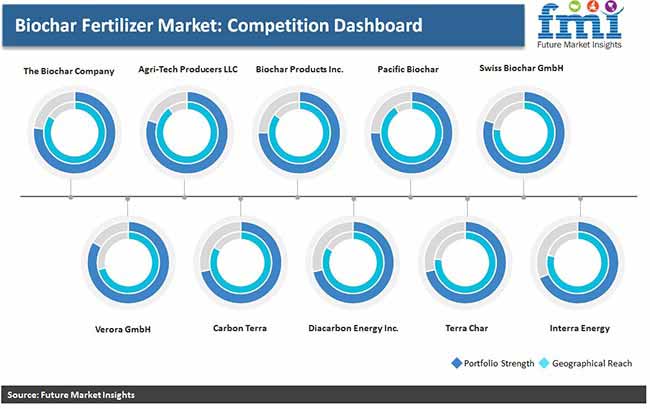 Production Disruptions Due to COVID-19 Outbreak will Impact Growth
For More Detailed Insights on Biochar Fertilizer Market
While the number of coronavirus continues to rise, global pandemic concerns and consequent economic impacts have increased, creating growth gaps in the global biochar fertilizer markets. Additionally, disruptions to the supply chain could in some way adversely affect the market. Suppliers of small-scale biochar fertilizer manufacturers expect a fall in demand as the disease spreads across the region. Given the situation, the healthcare segment's observed demand can also be affected by ongoing ramps and restrictions.
Who is Winning?
Some of the players functioning in this market include ECOSUS, Cool Planet, Biochar Supreme, NextChar, Terra Char, Genesis Industries, Interra Energy, CharGrow, Pacific Biochar, Biochar Now, The Biochar Company (TBC), ElementC6, Vega Biofuels, Carbon Gold, Kina, Swiss Biochar GmbH, BlackCarbon, Carbon Terra, Sonnenerde, Biokol, Verora GmbH, Biochar Products Inc., Diacarbon Energy Inc., Agri-Tech Producers LLC, Green Charcoal International, Vega Biofuels Inc, Full Circle Biochar, Pacific Pyrolysis Pty Ltd.. In recent years more research and development technologies has been developed in the biochar industry. Companies such as Phoenix Energy, Pacific Pyrolysis, 3R ENVIRO Tech Group and Cool Plant Power Systems Inc. delivers pyrolysis technology to solve and manufacturer energy solutions. The manufacturers concentrate primarily on new product launch and strategic alliance, merger and acquisition, collaboration to extend their presence in the coming years.
Get Valuable Insights into Biochar Fertilizer Market
Future Market Insights, in its new report, presents an unbiased analysis of the global biochar fertilizer market, covering historical demand data and forecast figures for the period between 2019 and 2029. The study divulges compelling insights into growth witnessed in the market. The global biochar market is segmented on the basis of type, application and region. Based on product type, the market is segmented into Organic Fertilizer, Inorganic Fertilizer and Compound Fertilizer. On the basis of the application the market is segmented into gardening, agriculture and household. Regionally, the market can be segmented into North America, Latin America, Europe, East Asia, South Asia, Oceania and MEA.
About Food & Beverages division of FMI
Expert analysis, actionable insights, and strategic recommendations - the Food & Beverages team at FMI helps clients from all over the globe with their unique business intelligence needs. With a repertoire of over 1,000 reports and 1 million+ data points, the team has analyzed the food & beverage industry lucidly in 100+ countries for over a decade. The team provides end-to-end research of the global food & beverage market and consulting services; know how we can help.
About Future Market Insights (FMI)
Future Market Insights (FMI) is a leading provider of market intelligence and consulting services, serving clients in over 150 countries. FMI is headquartered in London, the global financial capital, and has delivery centres in the U.S. and India. FMI's latest market research reports and industry analysis help businesses navigate challenges and take critical decisions with confidence and clarity amidst breakneck competition. Our customized and syndicated market research reports deliver actionable insights that drive sustainable growth. A team of expert-led analysts at FMI continuously track emerging trends and events in a broad range of industries to ensure that our clients prepare for the evolving needs of their consumers.