Cheese Powder Market to Surge at Above 7.3% CAGR, Spurred by Rising Demand for Convenience Food
Apr 07,2020 | Food and Beverages
The global cheese powder market size is expected to reach US$ 2612.2 Mn by the end of 2030. According to a study by Future Market Insights (FMI), the market will show a steady rise at 7.3% CAGR between 2020 and 2030. According to the report, increasing demand for ready-to-eat (RTE) and ready-to-cook (RTC) food products among consumers is expected to boost the market growth of cheese powder globally. The report offers a comprehensive overview of the market, covering key growth drivers, restraints, opportunities, and prevailing trends. It uses unique research methods to offer the most accurate analysis of the market.
It includes in-depth insights into the clean label ingredients market. Some of these are:
The estimated value of the market was at US$ 1291.26 Mn in 2020. Through the course of the report's forecast period, the market is exhibited to show a steady pace of growth.
The market in North America is expected to dominate the global cheese powder market during the forecast period.
Supply chain disturbances and decelerated demand due to coronavirus may have a negative impact on growth.
The Asia-Pacific market is expected to generate the highest CAGR.
Increasing urbanization in developing countries such as India and China.
Key players are likely to focus on product innovations to stay relevant in developed markets.
"Increasing use of cheese powder as an ingredient in hotels & restaurants, and food processing industries is expected to drive the growth of the global demand for cheese powder. Customer consumption of baked savory goods and sweet and savory snacks further propels market growth in cheese powder," said a lead analyst at FMI.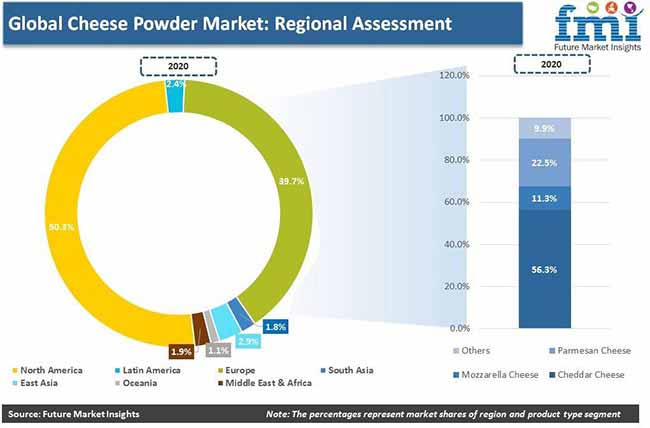 Growing Application of Cheese in Food and Beverage Industry Aids Growth
The product finds a spectrum of applications across food & beverages along with consumer changing tastes resulting in a preference for convenience foods has proliferated the product demand. In addition to this, elongated shelf life of the product has made it the first choice for package food items. Furthermore, ability of cheese powder to impart good taste and flavor to the food items has made the consumers tilt towards the product. Moreover, massive customer emphasizes on nutrient value of the product like high protein & vitamin content and low calories will offer lucrative growth prospects for the market. This will nullify the impact of hindrances on the market. Again, the manufacturers are trying to offer better product quality & flavors along with attractive & durable packaging, thereby effectuating the growth& scope of the business.
For More Detailed Insights on Cheese Powder Market
Who is winning?
The key strategies adopted by companies to expand are new launches, expansions, acquisition, and mergers. Some of the major players in the cheese powder market, globally are Dairi Concepts, Kerry Group, ADM (WILD Flavors and Specialty Ingredients), Blue Grass Dairy, All American Foods among others.
In addition to this, mergers and acquisition remains a popular strategy among market players. Companies intend to expand their regional footprint through strategic collaborations.
Get Valuable Insights into Cheese Powder Market
Future Market Insights, in its new report, presents an unbiased analysis of the global cheese powder market, covering historical demand data and forecast figures for the period between 2020 and 2030. The study divulges compelling insights into growth witnessed in the market. On the basis of product type, the market is segmented into cheddar, parmesan and mozzarella. On the basis of application, the market is segmented into bakery & confectionery, sweet & savory snacks, sauces, dressings, dips & condiments and ready meals. Also, the study provides an analysis of the cheese powder market in the emerging and established markets across the world, including North America, Europe, Asia-Pacific, South America, and Middle East & Africa.
About Food & Beverages division of FMI
Expert analysis, actionable insights, and strategic recommendations - the Food & Beverages team at FMI helps clients from all over the globe with their unique business intelligence needs. With a repertoire of over 1,000 reports and 1 million+ data points, the team has analyzed the food & beverage industry lucidly in 100+ countries for over a decade. The team provides end-to-end research of the global food & beverage market and consulting services; know how we can help.
About Future Market Insights (FMI)
Future Market Insights (FMI) is a leading provider of market intelligence and consulting services, serving clients in over 150 countries. FMI is headquartered in London, the global financial capital, and has delivery centres in the U.S. and India. FMI's latest market research reports and industry analysis help businesses navigate challenges and take critical decisions with confidence and clarity amidst breakneck competition. Our customized and syndicated market research reports deliver actionable insights that drive sustainable growth. A team of expert-led analysts at FMI continuously track emerging trends and events in a broad range of industries to ensure that our clients prepare for the evolving needs of their consumers.