Condition Monitoring Service Market Buoyant with Flourishing Power Generation Industry; Adoption Exhibits a Notable Decline Amid COVID-19 Pandemic: FMI
Apr 10,2020 | Industrial Automation & Equipment
The global demand for condition monitoring services is projected to surpass the valuation of over US$ 4 Bn by 2030 end. As suggested by a new Future Market Insights (FMI) report, substantial growth in the condition monitoring service market is mainly backed by the growth of the power generation industry, which holds a prominent share of the overall market value, closely followed by the chemical and petrochemical industries.
Increasing urbanization and rapid industrialization are creating massive opportunities for key market players in the automotive & transportation industry, thereby bolstering the adoption of condition monitoring services in global market. On the flip side, the current global coronavirus pandemic is expected to cost global economy about US$ 1 Tn in 2020, as per the UN Conference on Trade and Development. The automotive, logistics, and petrochemicals industries, in particular, are well within the radar of the potential impact of the virus. Several business executives have halted their manufacturing operations, given the large-scale lockdowns in majority of countries. As the COVID-19 pandemic spreads, condition monitoring services would see a notable decline in their adoption.
Key Takeaways of Condition Monitoring Service Market Study
According to our research, the portable machine diagnostic segment is shaping the revenue pool of the condition monitoring service market as the portable equipment is used to analyze data from the sensors, saving time of operation.
In current scenario, integration of condition monitoring software with computerized maintenance management services & process control software is an emerging trend in the global condition monitoring service market.
North America is a prominent market for condition monitoring services and is expected to continue its hegemony, owing to its strong industrial growth and high adoption of the services in the region.
In the global condition monitoring service market, over 55% of the revenue comes through vibration analysis and oil analysis segments. Rising focus on maintenance in order to minimize the asset downtime is fueling the deployment of both the techniques.
In order to minimize the asset downtime, it is necessary to monitor the assets continuously or in regular intervals, especially in facilities such as power generation and petrochemical plants. Given the criticality of highly accurate results in such facilities, manufacturers are striving to further develop condition monitoring software that can be integrated into the services to record the data.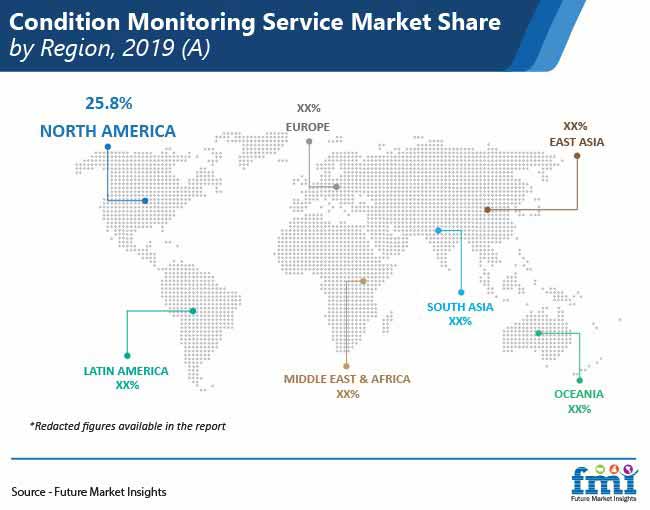 Competition Landscape Analysis
The global condition monitoring service market is slightly competitive, with the presence of moderate number of local and global manufacturers. Key manufacturers such as SKF, Fuji Electric, Siemens AG, ABB, Honeywell International Inc., Meggit PLC, General Electric, and Parker Hannifin Corp. account for nearly half of the share of the overall market. Manufacturers are focusing on strengthening their product portfolio by launching advanced condition monitoring services and collaborating with end users.
For More Detailed Insights on Condition Monitoring Service Market
South Asia Represents Potential Growth Avenues
The demand for condition monitoring services is expected to gain traction in South Asia in the coming years, owing to increasing investments in power generation, and petrochemical industries. Governments in countries such as India, and Indonesia are encouraging private sector players to minimize the deficit in power in order to fulfill maximum power requirements. This, in turn, is underpinning the condition monitoring service market in the region.
More About the Report
The research report analyzes the total sales of condition monitoring services on the basis of volume (units) and value (US$ Mn). The condition monitoring service market is projected on the basis of factors such global energy consumption, oil & gas industry outlook, wind energy installed capacity, hydropower installed capacity, and natural gas production and consumption in various regions. Also, the report includes a competition analysis section that includes tier structure analysis, market structure analysis, competition development, and other crucial information of condition monitoring service providers.
For additional insights on how the market growth will unfold during the near- and long-term future, write to [email protected]
About Industrial Automation & Equipment division of FMI
The Industrial Automation & Equipment division at FMI adopts a novel approach and innovative perspective in analyzing the global machinery and industrial automation market. A range of FMI's market research reports offer comprehensive coverage of capital, portable, process, construction, industrial, and special purpose machinery used across manufacturing sector. The team also conducts distinctive analysis about installed base, consumables, replacement, and USP-feature application matrix, making us a prominent voice of authority in the industry. We are associates of choice for established as well as budding industry stakeholders and channel partners when it comes to sustain, grow, and identify new revenue prospects.
About Future Market Insights (FMI)
Future Market Insights (FMI) is a leading provider of market intelligence and consulting services, serving clients in over 150 countries. FMI is headquartered in London, the global financial capital, and has delivery centres in the U.S. and India. FMI's latest market research reports and industry analysis help businesses navigate challenges and take critical decisions with confidence and clarity amidst breakneck competition. Our customized and syndicated market research reports deliver actionable insights that drive sustainable growth. A team of expert-led analysts at FMI continuously track emerging trends and events in a broad range of industries to ensure that our clients prepare for the evolving needs of their consumers.