Demand for Digital Marketing Analytics Soars with Growing Need for Real-time Analytics for Personalized Ad Delivery; FMI Report Analyses COVID-19 Impact
Apr 10,2020 | Electronics, Semiconductors, and ICT
Having surpassed revenues of over US$ 1.8 Bn in 2018, global digital marketing analytics market is projected for stupendous expansion at an impressive CAGR of 14% during the forecast period of 2019 to 2029. The demand for digital marketing analytics across various sectors is increasing significantly owing to continuous growth in online purchases through mobile apps and growing importance to increase customer retention rates across various online services.
In addition, growing dependence on digital marketing analytics across organizations to track mobile advertisement effectiveness with real-time data and to deliver personalized ads and promotions targeting individual customers based on their interests and past behavior, is also witnessed. This is anticipated to fuel the demand for digital marketing analytics solutions across various industries, for effective marketing /advertising operations.
Potential Impact of COVID-19 on Adoption of Digital Marketing Analytics
Digital marketing companies are facing the heart of coronavirus outbreak, translating into a 180-degree shift in their strategic plans for the near term. Partial or complete lockdowns, pushing the adoption of work from home culture, are proving to be changing the dynamics of digital marketing analytics market drastically in the near future.
Demand is increasing for digital marketing analytics solutions among smart TV application developers in order to obtain efficient understanding of app usage, to take data-driven decisions regarding future app investment, and also to sustain in the increasingly competitive environment. This in turn, is expected to create major business opportunity for digital marketing analytics solution providers in the smart TV segment.

For More Detailed Insights on Digital Marketing Analytics Market
Key Takeaways of Digital Marketing Analytics Market Study
The adoption of digital marketing analytics solution and tools is anticipated to grow significantly in small and medium enterprises.
Social media marketing one of the primary applications of marketing analytics has been on the rise owing to many developments, such as chatbot and other applications.
Software segment to hold the largest market share of the digital marketing analytics market.
Business partnerships help increase business revenue, and new innovations in IT are enabling digital marketing analytics solution providers reach new potential customers, globally.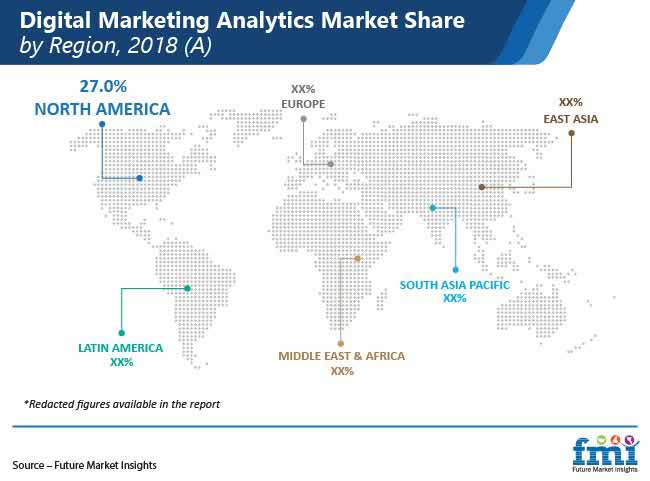 Growing Need for Integrated Digital Marketing Analytics Solutions to Propel Market Growth
Increasing number of connected personal device such as smartphones, laptops, tablets and wearable devices is driving the need for integrated digital marketing analytics solution to organize data across multiple devices. Integrated analytics solution tracks user behaviour across various devices and helps to deliver highly personalized customer experience.
For instance, healthcare companies can deliver customized advertisement to a user connected with a smartphone and wearable device that is designed for fitness purposes, based on real-time factors.
Learn More About FMI's Digital Marketing Analytics Market Study
In its latest report, Future Market Insights offers an unbiased analysis of the global digital marketing analytics market, providing historical data for period of 2014-2018 and forecast statistics for the period of 2019-2029. To understand opportunities in the digital marketing analytics market, the market is segmented on the basis of solution (software, services), application (social media marketing, email marketing, SEO marketing, pay per click marketing, content marketing, video marketing, display marketing), and end-user (small and medium enterprises, large enterprises), across seven major regions.
A comprehensive view of the digital marketing analytics market has led our analysts to conclude that, the market is escalating at a significant rate owing to growing demand for real-time analytics to deliver personalized ads. Digital marketing analytics market in regions such as East Asia and Europe is anticipated to grow at high rates during the forecast period, owing to increased adoption of digital marketing analytics solutions and tools across various industries. Alliances with other providers, along with regional expansion, are some strategies opted by key players in these regions to fuel market growth.
For additional insights, write to the team of expert research analysts at [email protected]
About Electronics, Semiconductors, and ICT division of FMI
The electronic, semiconductors, and ICT division at Future Market Insights focuses on tracking and analyzing ever-changing dynamics of the IT and telecommunication industry. The ICT team has also executed several complex projects pertaining to the convergence of healthcare and ICT, rapid adoption of 'as-a-service' business model, growth prospects of consumer electronics market, and evolution in design and fabrication of semiconductors. To help clients from all over the globe meet their unique needs, the team offers a variety of customized market research reports and consulting services: reach out to explore how we can help.
About Future Market Insights (FMI)
Future Market Insights (FMI) is a leading provider of market intelligence and consulting services, serving clients in over 150 countries. FMI is headquartered in London, the global financial capital, and has delivery centres in the U.S. and India. FMI's latest market research reports and industry analysis help businesses navigate challenges and take critical decisions with confidence and clarity amidst breakneck competition. Our customized and syndicated market research reports deliver actionable insights that drive sustainable growth. A team of expert-led analysts at FMI continuously track emerging trends and events in a broad range of industries to ensure that our clients prepare for the evolving needs of their consumers.