Ethoxyquin Market to Surge At 3.5% CAGR, Lockdown Imposed across Various Nations to Contain Covid-19 May Hamper Growth, says FMI
Apr 07,2020 | Food and Beverages
The global ethoxyquin market size is expected to reach US$ 324.4 Bn by the end of 2029. According to a study by Future Market Insights (FMI), the market will show a steady rise at 3.5% CAGR between 2019 and 2029. According to the report, rising consumption of pet food preservatives, increasing trade of food items among distant countries. The report offers a comprehensive overview of the market, covering key growth drivers, restraints, opportunities, and prevailing trends. It uses unique research methods to offer the most accurate analysis of the market.
It includes in-depth insights into the Ethoxyquin market. Some of these are:
The estimated value of the market was at US$ 230 Mn in 2019. Through the course of the report's forecast period, the market is exhibited to show a steady pace of growth.
Regionally, North America has emerged as a key market for Ethoxyquin.
Latin America and Asia will remain steady as key markets for Ethoxyquin.
Outbreak of coronavirus worldwide will affect the demand of ethoxyquin due to various factors such as disruptions in supply-chain, less demand worldwide and restricted availability of raw materials.
The U.S. is the one of the worst hit countries by this pandemic. This may have a negative impact on the demand witnessed in North America.
Key players are likely to focus on product innovations and business collaborations to stay relevant in developed markets.
"Despite rising awareness about benefits of pesticides, demand witnessed in the market may be limited due to the recent coronavirus outbreak. Leading players need to come up with aggressive strategies to salvage their growth prospects" said a lead analyst at FMI.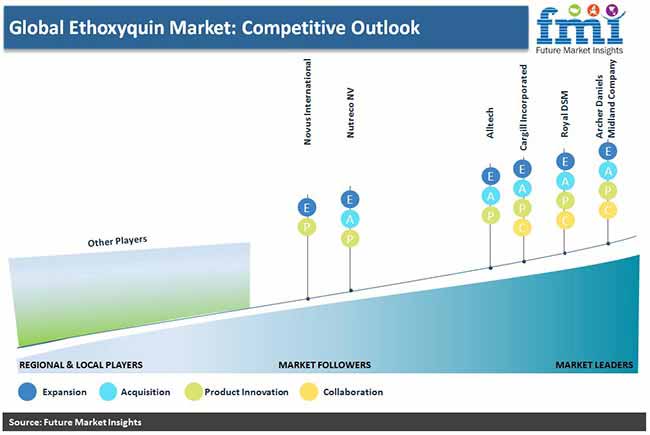 Rising Consumption of Pet Food Preservatives will Surge the Growth of the Market
Ethoxyquin is widely used in animal feed on account of protection it provides against lipid peroxidation. It can't be used in food items intended to be consumed by humans. However, it can be carried ahead by pet feed to farmed fish and poultry, which makes human consumption possible. Moreover, rise in pet health care centres and veterinaries fuel the market growth. Further, Rise in prices of feed and minimized feed wastages due to oxidation drive the market growth. In addition, increase in awareness for benefits of antioxidants on animal health fuels the market. However, strict government policies are projected to restrain the growth of the market.
Who is Winning?
Some of the leading players operating in the Ethoxyquin market are Camlin Fine Sciences Ltd., Merck KGaA., Mitsui & Co. Ltd., Shanghai Fuda Fine Material Co. Ltd., Skystone Feed Co. Ltd., Industrial Técnica Pecuaria S.A., Kemin Industries Inc., Jiangsu Zhongdan Group Co. Ltd., Impextraco N.V., and Rensin Chemicals Ltd.
For More Detailed Insights on Ethoxyquin Market
North America is expected to witness similar growth trend over the forecast period owing to lesser number of challenges and restraints. Europe is also expected to maintain its trend over the forecast period, owing to presence of stringent regulations regarding use of feed additives by EC.
In addition to this, It is widely used as pet food preservative owing to increasing need to preserve the food for longer duration, thus enabling long distance shipment, and reduction of waste. It is also used in spices to retain colors which may fade with time as a result of oxidation.
Get Valuable Insights into Ethoxyquin Market
Future Market Insights, in its new report, presents an unbiased analysis of the global Ethoxyquin market, covering historical demand data and forecast figures for the period between 2019 and 2029. The study divulges compelling insights into growth witnessed in the market. In terms of product, the market can be segmented in ethoxyquin-95 Oil, ethoxyquin-66 powder, and ethoxyquin-33 powder. In terms of application, it is divided into pet food preservative, pesticides, and spice colour preservative. Regionally, the market can be segmented into North America, Latin America, Europe, East Asia, South Asia, Oceania and MEA
About Food & Beverages division of FMI
Expert analysis, actionable insights, and strategic recommendations - the Food & Beverages team at FMI helps clients from all over the globe with their unique business intelligence needs. With a repertoire of over 1,000 reports and 1 million+ data points, the team has analyzed the food & beverage industry lucidly in 100+ countries for over a decade. The team provides end-to-end research of the global food & beverage market and consulting services; know how we can help.
About Future Market Insights (FMI)
Future Market Insights (FMI) is a leading provider of market intelligence and consulting services, serving clients in over 150 countries. FMI is headquartered in London, the global financial capital, and has delivery centres in the U.S. and India. FMI's latest market research reports and industry analysis help businesses navigate challenges and take critical decisions with confidence and clarity amidst breakneck competition. Our customized and syndicated market research reports deliver actionable insights that drive sustainable growth. A team of expert-led analysts at FMI continuously track emerging trends and events in a broad range of industries to ensure that our clients prepare for the evolving needs of their consumers.