FTIR Gas Analyzer Sales to Gather Pace as Automakers Make Strides to Reduce Vehicle Emissions, Says FMI
Oct 11,2019 | Testing Equipment
A new market research report by Future Market Insights on the FTIR gas analyzer market includes the global industry analysis for 2014–2018 and opportunity assessment for 2019–2029. The report analyses the FTIR gas analyzer market and provides critical insights for the forecast period of 2019-2029. As per the findings of the report, the global FTIR gas analyzer market is projected to experience significant growth over the forecast period due to multiple driving factors.
The global FTIR gas analyzer market is valued at ~US$ 1 Bn in 2019 and is expected to increase at a CAGR of ~8.0% during the forecast period of 2019-2029. This growth is majorly driven by the increasing usage of FTIR gas analyzers in rapidly expanding end-use industries such as automotive, chemical, agriculture, oil & gas, and research & development, among others.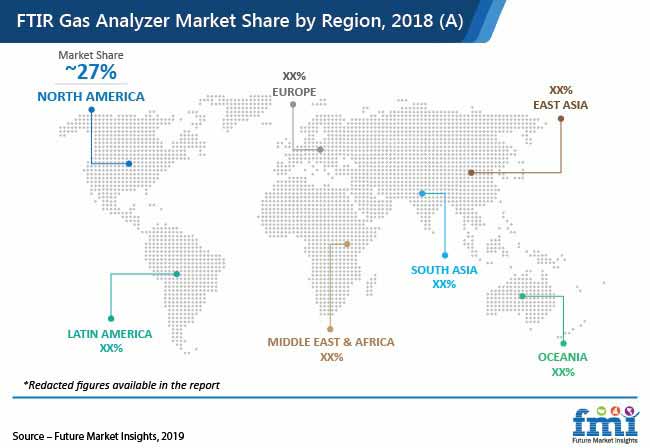 While the automobile manufacturers are constantly focusing on production of vehicles with reduced emissions, the chemical industry is ready to touch new heights amid the rise of circular economy. Such factors are envisaged to remain instrumental in the growth of the FTIR gas analyzer market, according to FMI's analysis.
Lucrative Growth Opportunities in North America & East Asia
Regions such as North America and East Asia are anticipated to hold a prominent FTIR gas analyzer market share in terms of value, finds FMI. Moreover, East Asian countries such as China are likely to offer greater opportunities for FTIR gas analyzer market, on the account of rapidly expanding chemical and automotive industries. Some macro factors such as increasing contribution of the automotive sector towards GDP growth, value-added operation and production, research and development investment, growth of end-use industries, population, and presence of distributors, among others are also playing role in shaping market growth. There are stricter regulations on vehicle emissions for environmental monitoring in East Asian countries, especially in China. Therefore, the demand for FTIR gas analyzers is estimated to increase significantly during the forecast period at a substantial CAGR.
For More Detailed Insights on FTIR Gas Analysers Market
In addition, the analytical testing equipment manufacturing industry of East Asia is gaining significant and positive momentum, which is forecasted to fuel the growth of the FTIR gas analyzer market in East Asia.
Rapidly Growing Chemical Industry Boosting Demand
The global market of FTIR gas analyzer has been segmented on the basis of portability, end use, equipment, and regions such as North America, Latin America, Europe, South Asia, East Asia, Oceania, and Middle East & Africa. The FMI report also includes analysis of developing countries.
Based on portability, FTIR gas analyzers are segmented as portable and rack mount. Portable FTIR gas analyzer is expected to hold a majority share, because of ease of application and accessibility.
Based on end use, the market is segmented in automotive, chemical, agriculture, oil & gas, research & development, and others. Growing adoption by the oil & gas industry is expected to result in increased market share during the forecast period.
Based on equipment, the FTIR gas analyzer market is segmented as high concentration range (up to ppm level) and low concentration range (ppm and ppb level). The low concentration range remains highly preferred among the end users, as compared to the high concentration range.
FTIR Gas Analyzer Market: Vendor Insights
The report highlights some of the prominent market players that are holding significant shares of the FTIR gas analyser market. Some of the key players in the global FTIR gas analyzer market are Bruker, HORIBA, Ltd., MKS Instruments, Inc., ABB, Thermo Fisher Scientific Inc., Gasmet Technologies Oy, Protea Ltd., VASTHI ENGINEERS, Envea™ Altech Environment U.S.A, and Agilent Technologies, Inc.
For additional insights on the FTIR gas analyzer landscape, write to the analyst at press@futuremarketinsights.com
About Testing Equipment division of FMI
The Testing Equipment division of FMI is a specialized department catering to unique requirements in the industry. Exclusive coverage of the testing equipment market includes valuable information on regular, compliance, destructive, and non-destructive testing services and associated equipment. The team also executes several complex projects pertaining to the area of manufacturing and process industries, research and academia, testing and certification institutions, government agencies dealing into scientific and environmental research, and defense organizations. Our research studies are trusted and widely referred by stakeholders for gaining insights and developing cutting edge strategies.
About Future Market Insights (FMI)
Future Market Insights (FMI) is a leading provider of market intelligence and consulting services, serving clients in over 150 countries. FMI is headquartered in London, the global financial capital, and has delivery centres in the U.S. and India. FMI's latest market research reports and industry analysis help businesses navigate challenges and take critical decisions with confidence and clarity amidst breakneck competition. Our customized and syndicated market research reports deliver actionable insights that drive sustainable growth. A team of expert-led analysts at FMI continuously track emerging trends and events in a broad range of industries to ensure that our clients prepare for the evolving needs of their consumers.