The generic pharmaceutical industry is witnessing a significant surge in the number of FDA-approved new generic entities every year, owing to numerous factors such as growing number of patent expiries, government policies and demographics, new higher-value opportunities in complex generics and biosimilars, pace of abbreviated new drug application (ANDA) approvals by the FDA, and introduction of cost-effective injectables through mergers and consolidation in the generic injectable market. Primary factors for the growth of the generic injectable market include nature and degree of portfolio differentiation, and scale and age of manufacturing facilities. Growing drug shortages and formation of task forces to overcome these challenges, growing CAPEX index in various countries, and supply of life-saving essential injectable drugs, specifically in emerging and developing countries, are driving market growth.
The global generic injectable market was estimated to be valued at around US$ 64 Bn in 2018, with the market expected to exhibit a CAGR of nearly 12% during the forecast period (2019-2029).
Key Takeaways of Generic Injectable Market Study
Uninterrupted focus on areas of strength while striving for higher complexity portfolios and pipelines is the core strategy outlined for success in the injectable pharmaceutical space.
High upfront capital investments as well as maintenance of CAPEX to maintain USFDA cGMP-compliant generic sterile injectable plants to increase gross margins.
The sale of biologics such as monoclonal antibodies, vaccines, etc., in the global generic injectable market, has increased significantly, owing to vast benefits over branded drug entities and availability of cost-efficient alternatives.
Increasing government budget deficits and higher government debt burdens have resulted in increasing focus on reducing healthcare spending/pricing.
Drastic reduction in development time and growing consolidation efforts by manufacturers are expected to boost the demand for small molecule generic injectables and large molecule generic injectables in the healthcare industry.
Monoclonal antibodies with comparatively higher biosimilar capabilities and price advantage over branded injectables are expected to generate significant revenue.
"Demand from emerging markets, improvements in product formulations, loss of exclusivity (LOE), and growth strategies based on acquisitions and mergers are projected to offer key growth opportunities for the generic injectable market."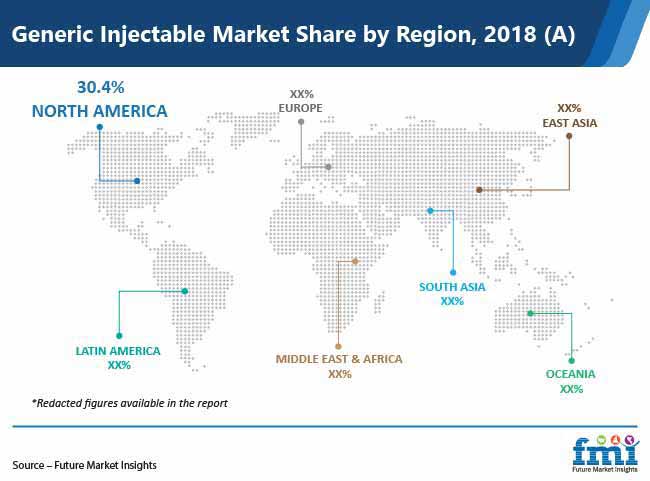 Strategic Acquisition by Key Players to Widen Regional Presence
Leading players in the generic injectable market such as Pfizer Inc., Hospira Inc., Hikma, and Mylan are concentrating on business expansions by mergers and distribution agreements, and capturing the untapped potential of the generic injectable market.
For More Detailed Insights on Generic Injectable Market
In 2015, Pfizer Inc. acquired Hospira Inc., the largest generic injectable manufacturer for US$ 17 billion. With this acquisition, Pfizer Inc. entered deep into the generic injectable market and leveraged the core assets of Hospira in generic injectables. This acquisition further strengthened Pfizer's hold of the generic injectable business.
The significant acquisition led by Hikma Pharmaceuticals Inc. in 2014 for the U.S. generic injectable assets of Boehringer Ingelheim, Hikma gained a portfolio of 88 generics in the specialized and niche segments of the market, including respiratory, oncology, controlled, and extended release substances.
Acquisition of Par Pharma Group by Endo International PLC in 2015.
Additionally, recent acquisitions were driven by the need to acquire product portfolios, development pipelines, and manufacturing capabilities of existing injectable players, to consolidate market share and accelerate entry into the promising U.S. generic injectable market.
More Valuable Insights on Generic injectable Market
Future Market Insights brings a comprehensive research report on forecasted revenue growth at global, regional, and country levels, and provides an analysis of the latest industry trends in each of the segments from 2014 to 2029. The global generic injectable market is segmented in detail to cover every aspect of the market and present a complete market intelligence approach to the reader. The study provides compelling insights on the generic injectable market on the basis of product (monoclonal antibodies, immunoglobulin, cytokines, insulin, peptide hormones, blood factors, peptide antibiotics, vaccines, small molecule antibiotics, chemotherapy agents, and others), molecule type (small molecules and large molecules), application (oncology, infectious diseases, diabetes, blood disorders, hormonal disorders, musculoskeletal disorders, CNS diseases, pain management, and cardiovascular diseases), route of administration (intravenous (IV), intramuscular (IM), and subcutaneous (SC)), and distribution channel (hospital pharmacies, retail pharmacies, drug stores, and online pharmacies), across seven major regions.
For additional information, write to the analyst at press@futuremarketinsights.com
About Healthcare division of FMI
The Healthcare team at Future Market Insights has consistently tracked and analyzed rapidly evolving trends and developments in the global healthcare industry, encompassing pharmaceuticals and medical devices markets. The team facilitates corporates, government, investors, and associated audiences in the healthcare sector to identify and accentuate vital aspects applicable to product strategy, regulatory landscape, technology evolution, and other crucial issues to achieve sustainable success. Our unique approach to gathering market intelligence equips you in devising innovation-driven trajectories for your business. Know more about our sector coverage.
About Future Market Insights (FMI)
Future Market Insights (FMI) is a leading provider of market intelligence and consulting services, serving clients in over 150 countries. FMI is headquartered in London, the global financial capital, and has delivery centres in the U.S. and India. FMI's latest market research reports and industry analysis help businesses navigate challenges and take critical decisions with confidence and clarity amidst breakneck competition. Our customized and syndicated market research reports deliver actionable insights that drive sustainable growth. A team of expert-led analysts at FMI continuously track emerging trends and events in a broad range of industries to ensure that our clients prepare for the evolving needs of their consumers.