Increasing competition among hospitals to provide quality care has resulted in rising demand for laboratory information systems (LIS) in healthcare settings. Laboratory information systems enable systematic documentation, less paper work, and reduced errors associated with clinical test report writing. Moreover, they act as a support system for enhancing decision-making in a clinical workflow.
Such technical advantages are driving the adoption of laboratory information system services. FMI - a well-established name in the market research domain, forecasts that, the laboratory information systems market will reach a valuation of around US$ 4.2 Bn by 2030.
As rapid testing is considered a key technique to treat COVID-19 patients, laboratory management and administration is becoming the center of gravity in the healthcare infrastructure. Hospital information systems have become cornerstones behind the exponential growth of hospitals, and with further tech-driven transformation, the trend continues to spur the growth of adjacent industries as well. Conventional clinical laboratories utilize (LIS) and laboratory information management systems (LIMS) to effectively manage data and assure regulatory compliance. Consequently, laboratories are facing difficulties with unreliable influx of COVID-19 testing samples, let alone reliability and accuracy. LIS will thereby see swelling demand growth to aid labs enhance their workflow amidst the COVID-19 pandemic.
"Intensifying need to make sense of tons of data in small and large diagnostic and medical laboratories in order to offer customized and patient-centric care delivery is expected to drive the growth of the laboratory information systems market over the coming years."
Key Takeaways of Laboratory Information Systems Market Study
For More Detailed Insights on Laboratory Information Systems (LIS) Market
In terms of component, services are expected to contribute over 60% of the LIS market share.
Owing to continuous technological advancements in the healthcare sector, the cloud-based delivery mode remains the preferred choice among customers.
Clinics would capture a greater slice of the laboratory information systems market size, as they prefer LIS services for performing diagnostic tests.
North America represents the most lucrative market, owing to well-established service laboratories. Western Europe is expected to offer lucrative opportunities, given at-scale introduction of healthcare programs that encourage the usage of patient-centric electronic medical record systems.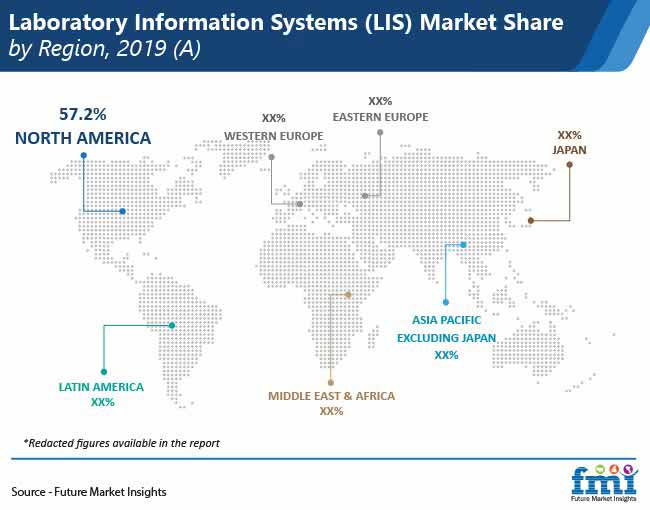 Demand for Powerful IT Systems in Diagnostic & Medical Laboratories
Increasing need to manage large pools of data in small and large diagnostic and medical laboratories is expected to boost the adoption of LIS. Also, it is estimated that, the use of laboratory information systems helps improve the accuracy of diagnostic tests, and, in turn, enhances the efficiency and productivity of laboratories. Laboratories are thus focusing on achieving automation in 'Lab Procedure', creating major growth opportunities for vendors in the laboratory information systems market.
Want more insights?
The LIS market, a new study by Future Market Insights, opines on the application of laboratory information systems from 2015-2019, and presents demand projections for 2020–2030, on the basis of component (software, hardware, and services), delivery mode (on-premise and cloud based), and end user (hospitals, clinics, independent laboratories, and others), across seven prominent regions.
For additional information, write to the analyst at press@futuremarketinsights.com
About Healthcare division of FMI
The Healthcare team at Future Market Insights has consistently tracked and analyzed rapidly evolving trends and developments in the global healthcare industry, encompassing pharmaceuticals and medical devices markets. The team facilitates corporates, government, investors, and associated audiences in the healthcare sector to identify and accentuate vital aspects applicable to product strategy, regulatory landscape, technology evolution, and other crucial issues to achieve sustainable success. Our unique approach to gathering market intelligence equips you in devising innovation-driven trajectories for your business. Know more about our sector coverage.
About Future Market Insights (FMI)
Future Market Insights (FMI) is a leading provider of market intelligence and consulting services, serving clients in over 150 countries. FMI is headquartered in London, the global financial capital, and has delivery centres in the U.S. and India. FMI's latest market research reports and industry analysis help businesses navigate challenges and take critical decisions with confidence and clarity amidst breakneck competition. Our customized and syndicated market research reports deliver actionable insights that drive sustainable growth. A team of expert-led analysts at FMI continuously track emerging trends and events in a broad range of industries to ensure that our clients prepare for the evolving needs of their consumers.