The global land survey equipment market was valued at ~US$ 6.9 Bn in 2018, and is estimated to increase at a CAGR of ~ 6% through the next decade. A new research report by Future Market Insights (FMI) on the land survey equipment market thoroughly analyzes the land survey equipment market and also states few key insights for the forecast period of 2019-2029.
Technological advances and the consequently improving precision levels of land survey equipment continue to significantly uphold the market growth. In addition, incorporation of enhanced safety features into newly innovated models of land survey equipment are likely to particularly benefit sales in the near future.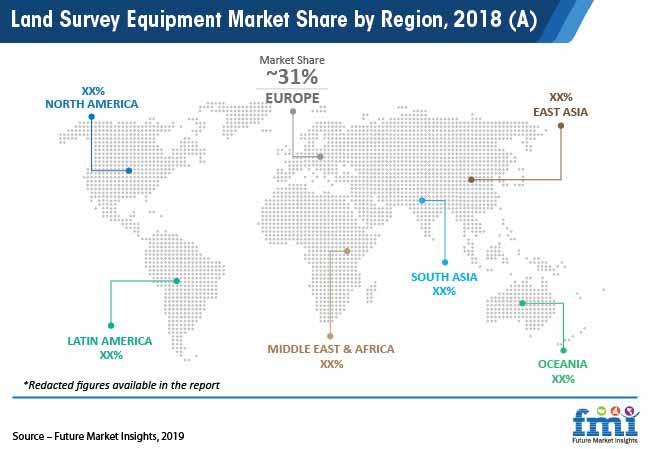 On the basis of product-wise analysis of the land survey equipment market, GNSS systems, total stations, and UAV are a few equipment, hold substantial value shares in global market. By the end of 2029, a similar trend is expected to prevail in the market with prominent applications for aforementioned products in diverse end-use sectors.
While a majority of demand for land survey equipment is accounted by the flourishing building and construction industry, the report opines that the contribution from the oil & gas as well as mining industries is highly likely to witness a steep rise in the course of coming years. The study also highlights that agricultural land surveys will remain an important contributor to the global demand for land survey equipment, particularly across developing regions.
Flourishing Growth Prospects in Asian Markets
For More Detailed Insights on Land Survey Equipment Market
FMI's market analysis based on industry verticals reveals that the construction industry will account for a leading share in terms of demand for land survey equipment, at a global level. The mining industry is expected to hold a trivial share in the market in countries, such as Russia, China, and Australia, which register a sizable share in global mining production. Also, the oil & gas industry will see an upsurge in East Asia, and downstream production in the Middle Eastern region.
While East Asia is expected to account for a decent share, it also has also been listed as a region with prominent prospects for the future growth of the market. Heavy upstream oil and gas production and increased mining exploration in the region are expected to provide a robust sales perspective for the market. The South Asia region is likely to have substantial growth on the back of heavy construction commencements in the market of India and Malaysia. The growth in aforementioned countries will be in the public as well as private construction segments.
Land Survey Equipment Market: Vendor Insights
Key market players operating in the global land survey equipment market are Trimble Inc, Topcon Positioning Group, Robert Bosch, Hexagon, South Surveying & Mapping Instrument Co., Ltd., Stonex Srl, Nikon, Shanghai Huace Navigation Technology Ltd., Survey Copter, PASI Srl, Geotrax International Products, KSA Land Surveyors Company, Dahle, and several others.
The Europe land survey equipment market is considerably concentrated with some players holding significant shares in the market. These players are offering land survey equipment under several brands. For additional insights on the land survey equipment landscape, write to the analyst at press@futuremarketinsights.com
About Industrial Automation & Equipment division of FMI
The Industrial Automation & Equipment division at FMI adopts a novel approach and innovative perspective in analyzing the global machinery and industrial automation market. A range of FMI's market research reports offer comprehensive coverage of capital, portable, process, construction, industrial, and special purpose machinery used across manufacturing sector. The team also conducts distinctive analysis about installed base, consumables, replacement, and USP-feature application matrix, making us a prominent voice of authority in the industry. We are associates of choice for established as well as budding industry stakeholders and channel partners when it comes to sustain, grow, and identify new revenue prospects.
About Future Market Insights (FMI)
Future Market Insights (FMI) is a leading provider of market intelligence and consulting services, serving clients in over 150 countries. FMI is headquartered in London, the global financial capital, and has delivery centres in the U.S. and India. FMI's latest market research reports and industry analysis help businesses navigate challenges and take critical decisions with confidence and clarity amidst breakneck competition. Our customized and syndicated market research reports deliver actionable insights that drive sustainable growth. A team of expert-led analysts at FMI continuously track emerging trends and events in a broad range of industries to ensure that our clients prepare for the evolving needs of their consumers.