Increasing reliance on AI/ML technologies (Artificial Intelligence and Machine Learning) has been shaping the legal transcription market over the recent past. Complementing its accelerated move towards automation, this legal sector is expected to witness major investments in automating legal transcription services. Global demand for legal transcription services and solutions accounted for revenues worth US$ 3 Bn in 2018, as indicated by a new intelligence report of Future Market Insights (FMI). The market value is anticipated to grow at a CAGR of ~6% during the period of projection, 2019 - 2029.
Paradigm shift from traditional stenography process to advanced digital reporting process remains the primary factor upholding demand for legal transcription services and solutions. AI/ML technologies are trending, creating potential growth opportunities for legal transcription market participants. Moreover, the growing trend of outsourcing legal processes to external firms on the basis of set parameters and timelines is expected to propel the growth of legal transcription market in the near future.
Key Takeaways – Legal Transcription Market Study
Heavy investments in legal tech startups in Asia Pacific is driving regional presence and innovation in the region.
Technological innovation and increasing penetration of next-generation technologies such as AI/ML, Natural Language Processing (NLP), Blockchain, and Analytics are expected to create potential growth opportunities in legal transcription marketplace.
Diverse pricing models and legal formats continue to be the key challenges in legal transcription market. However, partnerships with regional and local players are expected to be key factors fueling market growth.
Customers are demanding more predictability and pricing transparency when it comes to legal transcription services spending.
Rapid technology changes in legal and judicial systems and increasingly sophisticated client markets are some factors bolstering the demand for legal transcription services.
The demand for legal transcription services from legal attorneys is likely to increase at the CAGR of ~8% during the forecast period.
Legal firms are witnessing digital transformation, in the pursuit of a shift towards complete automation. While this will unlock several untapped opportunities for them, it is being observed that prominent legal service providers are leveraging the benefits of technologies like AI and automated speech recognition (ASR). The ones with a first-mover advantage will stay ahead in the game.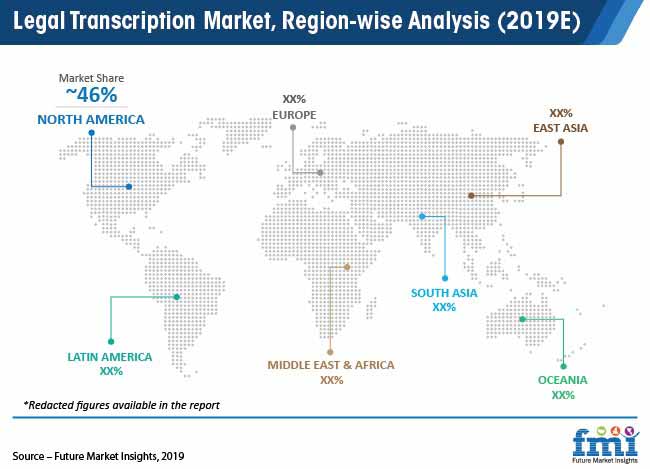 Focus Intact on Product Innovation
For More Detailed Insights on Legal Transcription Market
Legal transcription is a highly fragmented market with presence of a number of small and mid-sized regional players. Leading players in the market are focusing on product innovation, in addition to expansion of their regional footprint. Research expects strategic partnerships and collaborative alliances with local and regional leaders to be the top developmental moves of market participants.
For instance, in April 2019, VIQ Solutions Inc., a global provider of secure, AI-driven, digital voice and video capture technology and services, entered into a significant five-year contract with the Western Australia Police Force to expand its presence in Australia. The study covers some of the leading competitors in legal transcription market, including US Legal Support Inc., Taylor Court Reporters, Aptara Inc., Lexitas Legal, Veritext, and Auscript.
More about Legal Transcription Market Report
FMI, in its new offering, brings to fore an unbiased analysis of the global legal transcription market, presenting historical demand data (2014 - 2018) and forecast statistics for the period, 2019 - 2029. The study provides insights on the legal transcription market on the basis of solution (software and services) and end user (law firms, law enforcement officers, legal attorneys, court reporters, and others) across eight major regions.
More information can be availed on the top trends shaping legal transcription market landscape. Write to the analyst at press@futuremarketinsights.com
About Electronics, Semiconductors, & ICT Division at Future Market Insights
Expert analysis, actionable insights, and strategic recommendations - the Electronics, Semiconductors, and ICT team at Future Market Insights helps clients from all over the globe with their unique business intelligence needs. With a repository of over 500 reports on electronics, semiconductor & ICT, we offer a range of consulting and research services for businesses, with opportunities in the IT & telecommunication sector and wireless technologies. With the analytical capabilities of our in-house industry experts, we help clients in developing successful operation plans and developing triumphant strategies.
About FMI
Future Market Insights (FMI) is the premier provider of market intelligence and consulting services, serving clients in over 150 countries. FMI is headquartered in London, the global financial capital, and has delivery centres in the U.S. and India. FMI's research and consulting services help businesses around the globe navigate the challenges in a rapidly evolving marketplace, with confidence and clarity. Our customized and syndicated market research reports deliver actionable insights that drive sustainable growth. We continuously track emerging trends and events in a broad range of end industries to ensure that our clients prepare for the evolving needs of their consumers.