Ceramic and Plastic Mass Finishing Consumables to Account for 70% of Overall Consumption, Finds FMI
Nov 29,2019 | Chemicals & Materials
Sales of mass finishing consumables are primarily driven by the increasing demand for surface finishing from various end-use industries such as automotive, aerospace, and general and industrial engineering. As indicated in a new Future Market Insights (FMI) study, the global mass finishing consumables market is estimated to be valued at over US$180 Million by the end of 2019, demonstrating moderate growth at a less than 5% CAGR during the forecast period, 2019 - 2029.
Key Takeaways - Global Mass Finishing Consumables Market
Non-metallic abrasives provide more contact area during finishing process than metallic ones, thus enabling the dimensions of parts to stay intact. Furthermore, non-metallic abrasives are best suited for both wet and dry applications. This leads to growing preference for non-metallic abrasives (ceramic, plastic, and porcelain) over metallic abrasives (such as steel).
Ceramic and plastic mass finishing consumables are estimated to account for more than 70% of total mass finishing consumables worldwide.
Plastic mass finishing consumables are generally recommended for use with softer metals, such as aluminum, brass, and zinc.
Use of fixtures is an upcoming trend. This process increases flow of media onto component surface, thereby contributing to an increased finishing action.
New entrants in the global mass finishing consumables market can benefit by penetrating emerging economies in East Asia, where substantial growth is seen in the manufacturing sector.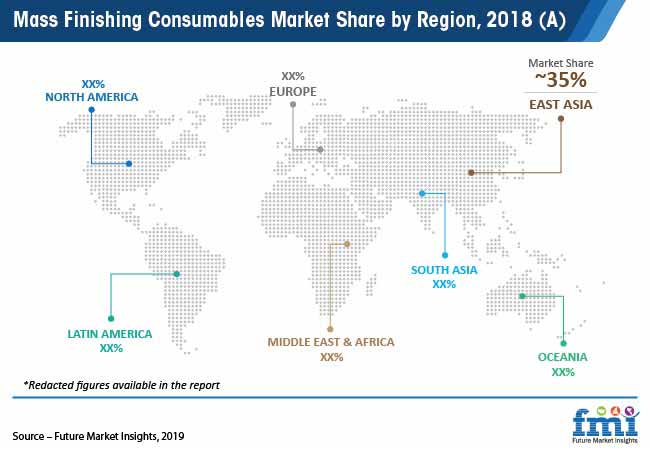 Implementation of digitization and automation technologies over conventional technologies in the production line, product innovation, and footprint expansion remain key strategies followed by mass finishing consumables manufacturers to enhance productivity and to capture new market opportunities.
For More Detailed Insights on Mass Finishing Consumables Market
Reducing Third-party Dependence for Finishing Services to Propel Market Growth
Sustainable growth of investment in the manufacturing sector is expected to play a key role in driving the growth of the mass finishing consumables market across the globe. From the perspective of end-use industries, surface finishing is used in almost in every industry for cleaning and refurbishing metallic and non-metallic parts. End users are dependent on third-party service providers, which increases production cost and negatively impacts profitable margins. The high cost involved influences such end users to opt for in-house surface and finishing technologies and to enhance productivity along with reducing cost and time.
Interested in More Information?
A new market report on mass finishing consumables published by Future Market Insights brings to the fore a pin-point analysis of the market, and offers comprehensive information with historical demand data for 2014 - 2018 and forecast statistics for 2019 - 2029. The study offers insightful information on the global mass finishing consumables market based on various categories - media type (ceramic, plastic, steel, aluminium oxide, and others), application (deburring, pressure deburring, grinding, polishing, and ball furnishing, among others), and end-use industry (automotive, aerospace, machine tooling, general manufacturing, construction, healthcare, and jewellery & accessories), across seven regions.
For additional insights, write to the analyst at [email protected]
About Chemicals & Materials division of FMI
The Chemicals & Materials division at FMI offers distinct and pin-point analysis about the chemicals & materials industry. Coverage of the chemicals market extends from commodity, bulk, specialty and petrochemicals to advanced materials, composites, and nanotechnology. The team also puts special emphasis on 'green alternatives', recycling and renewable technology developments, and supply-demand trade assessment. Our research studies are widely referred by chemical manufacturers, research institutions, channel partners, and government bodies for developing – 'The Way Forward'.
About Future Market Insights (FMI)
Future Market Insights (FMI) is a leading provider of market intelligence and consulting services, serving clients in over 150 countries. FMI is headquartered in London, the global financial capital, and has delivery centres in the U.S. and India. FMI's latest market research reports and industry analysis help businesses navigate challenges and take critical decisions with confidence and clarity amidst breakneck competition. Our customized and syndicated market research reports deliver actionable insights that drive sustainable growth. A team of expert-led analysts at FMI continuously track emerging trends and events in a broad range of industries to ensure that our clients prepare for the evolving needs of their consumers.