Demand for Micro Flute Paper Poised for 4% CAGR During 2019 - 2029; Recycled Material Continues to Gain Traction: FMI
Mar 16,2020 | Packaging
Widely used in the structure of corrugated packaging especially used in the form of clamshells, trays, and boxes, micro flute paper continues to gain steady traction in the packaging industry. The global micro flute paper market is projected for a stable 4% CAGR during 2019 - 2029, as suggested by a new Future Market Insights (FMI) study. Micro flute paper packaging continues to perform well in ready retail packaging applications. The food & beverages industry strives to rack up the shelves with products that weigh less by using micro flute packaging materials.
The combination of the fluted sheet and linerboard reduces the total weight of packaging, which results in cost-effective transportation. Moreover, micro flute paper packaging is a sustainable packaging medium, which is expected to replace metal, wood, and plastic packaging in the next decade.
Key Takeaways of Micro Flute Paper Packaging Market Study
E flute micro paper continues to hold a significant market share on the back of its excellent compression strength and high crush resistance.
As E flute paper ensures maximum safety of packaged products during logistics and transportation, its demand will outpace its other counterparts by the end of 2029.
Demand for recyclable packaging is anticipated to increase rapidly owing to less carbon impact on the environment. Moreover, consumers are likely inclined towards recycling packaging material.
Recycled material would remain lucrative in terms of incremental opportunity and market share during the forecast period.
Demand for F type flute paper is expected to increase considerably over the forecast period in Asia Pacific. End users have more demand for F type flute paper due to its crush resistance and offset printing litho printing, and flexo printing is possible.
Shelf-ready packaging is the key trend for increasing consumption of micro flute paper. The eye-catchy shelf-ready displays or PoP displays easily captures the attention of consumers and hence boosts the sales.
Key players are focusing on manufacturing of moisture-resistant packaging solutions.
Packaging converters are innovating by combining different types of micro flute paper to reduce transportation cost. Combinations such as EE flute offers aesthetic appearance, better printing capability than other flutes.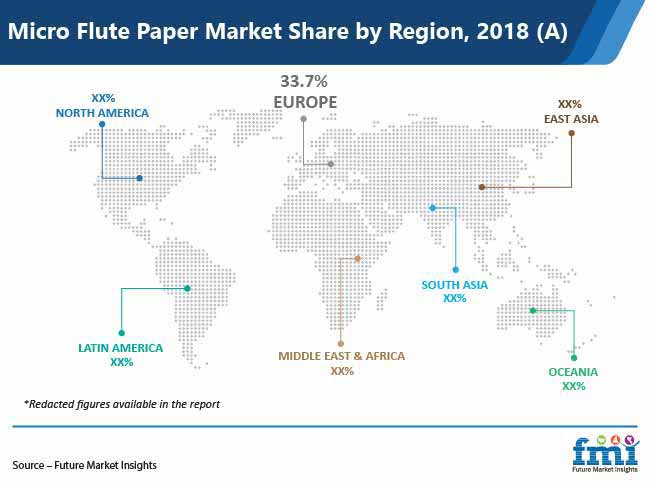 Micro Flute Paper Packaging Market Landscape
The micro flute paper market is highly fragmented where a large number of players are contributing to generate significant revenue. The top five market players include DS Smith Plc, Smurfit Kappa Group, Mayr-Melnhof Packaging, Stora Enso Oyj, and WestRock Company. Some other players include Novolex Holdings, Inc., Acme Corrugated Box Co. Inc., Cascades Sonoco, Inc., Braepac Packaging, Netpak, KRPA Holding CZ, a.s., Al Kifah Paper Products Co., Independent Corrugator Inc. (ICI), GWP Group Ltd., and CartonHub.
For More Detailed Insights on Micro Flute Paper Market
Moreover, manufacturers like Cascade Sonoco Company offers a high-performance micro flute paper packaging solution which tends to replace wax coated packaging products. Furthermore, micro flute paper manufacturers are increasingly spending on research and innovation activities to enhance the properties of their products. Reducing the basis weight of flute paper is the recent noticed trend in the market. Leading market players operating in the global micro flute paper market can gain significant profits by improving their market presence in untapped markets of Asia Pacific as it holds enormous opportunities due to rapid growth in retail-ready packaging in these regions.
More About the Market Report
Future Market Insights, in its new report, offers an unbiased analysis of the global micro flute paper market, analyzing historical demand from 2014-2018 and forecast statistics for 2019-2029. The study offers growth projections on the micro flute paper market based on product type (E-Flute, F-Flute, N-Flute, D-Flute); material type (recycle, virgin); basis weight (up to 100 GSM, 100 to 175 GSM, 175 to 250 GSM, above 250 GSM); end use (food and beverages, medical and pharmaceuticals, personal care and cosmetics, consumer durable electronic goods, others (automobiles, etc.)) across seven key regions.
For more information about how the market growth will unfold over the course of following years, write to [email protected]
About Packaging division of FMI
The Packaging division at FMI provides an in-depth historical analysis and granular projections of the global packaging market. Ranging from packaging materials to designs & formats, FMI has an exhaustive market research database, serving clients with unique offerings and strategic recommendations. With a repository of 750+ reports, the team analyzed the packaging industry comprehensively in 70+ countries. The team evaluates every node of the value chain and provides end-to-end research and consulting services; reach out to explore how we can help.
About Future Market Insights (FMI)
Future Market Insights (FMI) is a leading provider of market intelligence and consulting services, serving clients in over 150 countries. FMI is headquartered in London, the global financial capital, and has delivery centres in the U.S. and India. FMI's latest market research reports and industry analysis help businesses navigate challenges and take critical decisions with confidence and clarity amidst breakneck competition. Our customized and syndicated market research reports deliver actionable insights that drive sustainable growth. A team of expert-led analysts at FMI continuously track emerging trends and events in a broad range of industries to ensure that our clients prepare for the evolving needs of their consumers.