Sales of Mining Lubricants to Soar Steadily Through 2029; Coal Mining Sector Accounts for Nearly 58% of Global Market Revenues: FMI
Feb 05,2020 | Chemicals & Materials
Predominantly driven by extensive application in coal mining and iron ore mining sectors, mining lubricants continue to see sustained demand in global market. Poised for revenues of over US$ 3 Bn towards the end of forecast period (2019 - 2029), global mining lubricants market is projected to witness a steady growth outlook in the near future.
While mining industry has been integrating advanced technologies for augmented output, increasing awareness among industry operators about the appropriate usage of high-performance mining lubricants is pushing the progress of market at a stable pace. Prominent mining lubricant manufacturers are focusing on development of antioxidant, waterproof, rust-preventive, and non-toxic products.
Key Takeaways - Mining Lubricants Market Study
Increasing urbanization and rapid industrialization have created a massive demand for energy and metals, which is expected to contribute to the growth of the mining lubricants market.
Coal mining holds a major share in global mining lubricants market, accounting for about 58% of total sales.
Bio-based lubricants are experiencing high demand from developed countries in Europe and North America, on account of government initiatives to promote use of bio-based products and regulations to protect the environment. The market share held by bio-based lubricants is expected to increase over the forecast period.
East Asia holds a prominent share of the mining lubricants market, on back of the strong presence of coal and iron ore mines in countries like China.
For mining companies, operational and maintenance costs account for a significant share. Increasing awareness among companies about the proper usage of lubricants has decreased the maintenance cost of equipment. Moreover, it has also helped companies to avoid unexpected shutdowns.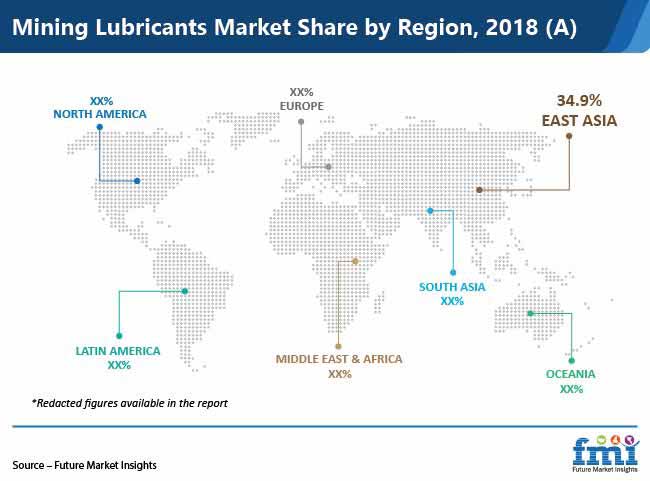 Competition Landscape Remains Moderately Consolidated
The global mining lubricants market is moderately consolidated, top established players account for more than half of the total supply. Manufacturers are focusing on strengthening their partnerships with mining companies and equipment suppliers. Key players such as Royal Dutch Shell plc, ExxonMobil Corporation, Total S.A., BP plc, PetroChina Company Limited, PETRONAS, FUCHS, Chevron Corporation, Lukoil Company, Kluber Lubrication, and others are also involved in marking their direct presence in local markets through mergers and acquisitions with regional players across the globe.
For More Detailed Insights on Mining Lubricants Market
What Does the Future Hold?
The global mining lubricants market is expected to gain traction over the forecast period on account of increasing investments in Least Developed Countries (LDC) and Landlocked Developed Countries (LLDC) from Africa, Latin America, and Asia. Substantial growth in the mining lubricants market is mainly backed by coal mining in countries such as China, India and Indonesia.
Learn More About Report Inclusions
Future Market Insights has published a market research report on the mining lubricants market that contains global industry analysis for 2014-2018 and opportunity assessment for 2019-2029. The report provides insightful analysis of the mining lubricants market through three different segments- product type, end-use industry, and region. The mining lubricants market report also provides demand trends of different types across industry verticals, a comprehensive list of service providers in the market, various projects around the world, along with a detailed overview of the parent market.
For additional information on the myriad factors influencing the growth of global mining lubricants market, write to press@futuremarketinsights.com
About Chemicals & Materials division of FMI
The Chemicals & Materials division at FMI offers distinct and pin-point analysis about the chemicals & materials industry. Coverage of the chemicals market extends from commodity, bulk, specialty and petrochemicals to advanced materials, composites, and nanotechnology. The team also puts special emphasis on 'green alternatives', recycling and renewable technology developments, and supply-demand trade assessment. Our research studies are widely referred by chemical manufacturers, research institutions, channel partners, and government bodies for developing – 'The Way Forward'.
About Future Market Insights (FMI)
Future Market Insights (FMI) is a leading provider of market intelligence and consulting services, serving clients in over 150 countries. FMI is headquartered in London, the global financial capital, and has delivery centres in the U.S. and India. FMI's latest market research reports and industry analysis help businesses navigate challenges and take critical decisions with confidence and clarity amidst breakneck competition. Our customized and syndicated market research reports deliver actionable insights that drive sustainable growth. A team of expert-led analysts at FMI continuously track emerging trends and events in a broad range of industries to ensure that our clients prepare for the evolving needs of their consumers.