Increasing Demand for AGM Batteries to Shape Motorcycle Lead Acid Battery Market Growth, Finds FMI
Jan 16,2020 | Automotive & Transportation
Primarily used in motorcycles, absorbent glass mat (AGM) batteries are gaining significant traction in the global market due to their properties such as swift recharge and high voltage capability.
Motorcycles are experiencing a significant surge in demand in regions such as North America and Europe, while Asia Pacific has always been a region with high demand. As such, the demand for motorcycle lead acid batteries such as AGM is expected to rapidly increase over the forecast period. The global motorcycle lead acid battery market is projected expand at a CAGR of 5.6% during the forecast period of 2019-2027.
Key Takeaways of Motorcycle Lead Acid Battery Study
Increasing electrification and modification in motorcycles has driven the requirement for more powerful batteries. This has led to increasing preference for AGM batteries in Europe and North America.
Increasing production of electric motorcycles and rising number of motorcycles are driving new orders and contracts related to lead acid batteries.
With improvements in the economy, automobile sales are booming, which is boding well for the SLI (starting, lighting, and ignition) lead acid batteries, since these are the preferred choice for powering internal combustion engine-based automobiles.
Since the motorcycle lead acid battery market is demand-driven, growth depends on customer preferences and sentiments across all regions. India, China, and South East Asian countries are expected to hold major market share in the coming years.
Lead acid battery technology is facing stiff competition from alternative technologies that are being inculcated in batteries, such as lithium ion (Li-ion), zinc-air, and nickel metal hydride (Ni-MH).
The APAC motorcycle lead acid battery market is expected to offer the most opportunities, owing to increasing demand for motorcycles in countries such as China and India. Moreover, motorcycles are expected to be extensively utilized as a transport option across Africa, boosting the demand for motorcycle lead acid batteries at a rapid pace in the region.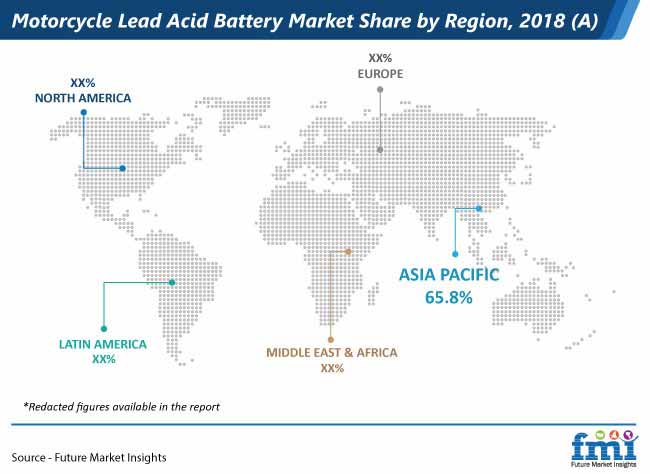 Competitive Landscape
Key players involved in the motorcycle lead acid battery market include Bosch Limited, Banner Battery, Dynavolt Renewable Energy Technology Co., Ltd., Leoch International Technology Limited Inc., Chaowei Power, Deltran Battery Tender, Southern Batteries Pvt. Ltd., and Camel Group Co., Ltd. among others.
For More Detailed Insights on Motorcycle Lead Acid Battery Market
Most players are focusing on building alliances, expanding their global footprints, and making long-term contracts by investing in large-scale projects to remain dominant in the global market.
What Does the Future Hold?
The global motorcycle lead acid battery market is predicted to be an opportunistic market, as manufacturers are increasing investments towards the research & development of new products. The global motorcycle lead acid battery market is mainly propelled by the increasing preference towards E-mobility and introduction of technologically-advanced motorcycles, recycling benefit of lead-acid batteries, and increasing preference for AGM batteries.
Motorcycle Lead Acid Battery Report Analysis
Future Market Insights has published a market research report on the motorcycle lead acid battery market that contains global industry analysis for 2013–2018 and opportunity assessment for 2019–2027. The report provides insightful analysis of the motorcycle lead acid battery market through three different segments - vehicle type, sales channel, and region.
The motorcycle lead acid battery market report also provides market dynamics along with a comprehensive list of service providers in the market, and a detailed overview of the parent market.
For additional information, write to the analyst at [email protected]
About Future Market Insights (FMI)
Future Market Insights (FMI) is a leading provider of market intelligence and consulting services, serving clients in over 150 countries. FMI is headquartered in London, the global financial capital, and has delivery centres in the U.S. and India. FMI's latest market research reports and industry analysis help businesses navigate challenges and take critical decisions with confidence and clarity amidst breakneck competition. Our customized and syndicated market research reports deliver actionable insights that drive sustainable growth. A team of expert-led analysts at FMI continuously track emerging trends and events in a broad range of industries to ensure that our clients prepare for the evolving needs of their consumers.