Propanol Market to Witness Improved Sales of Pharma-and Electronic-grade Isopropanol, Projects FMI Report
Jan 14,2020
|
Chemicals & Materials
Growing utilization of propanol as a direct solvent in paints and coatings, household & industrial cleaners, and others is expected to pave the way for its robust sales during the projected timeline. This is the main factor as to why the global propanol market is estimated at US$ 2.8 billion in 2019, and is projected to experience steady growth during the forecast period of 2019-2029. East Asia will see the most opportunities for manufacturers over the period of forecast, with pharma- and electronic-grade isopropanol experiencing increasing sales.
Propanol Market
A recent market study published by FMI on the propanol market includes global industry ana...
Key Takeaways from Global Propanol Market
In the coming years, as compared to isopropanol, n-propanol is expected to register a slight increase in demand, owing to new laws and regulations regarding the usage of low-VOC-emitting chemicals in pharmaceutical and food processing applications.
Pharmaceutical and electronic-grade isopropanol is likely to be sought after in the future, owing to the growth of pharma and semiconductor industries. Worldwide, propanol used as a direct solvent across various industries is projected to account for a prominent share in the global propanol market.
Growth prospects are high in emerging markets such as India, China, and Mexico. Companies are focusing on different strategies in order to ensure good presence in both, emerging and matured markets. Since there are limited opportunities for propanol manufacturers in developed regions, manufacturers in the propanol market are focusing on emerging markets to capture a larger share in the landscape.
"Volatility in petroleum feedstock prices as well as propylene prices may impact the future price of propanol as well as market growth. Increasing cost of propylene is encouraging manufacturers to adopt acetone-based isopropanol production, especially in Asian countries. Acetone-based propanol production increased from 2% to 25% from 2002 to 2018 in Asian countries," says an FMI analyst.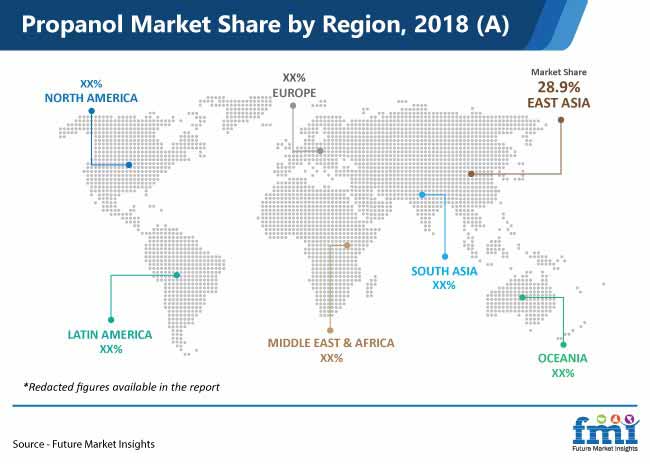 The implementation of new technologies or methods over conventional methods, and production capacity expansion and footprint expansion, remain the key strategies followed by propanol manufacturers to enhance productivity and capture new opportunities in the propanol market.
East Asia Set to Become Self-sufficient in Propanol
In the year 2012, the capacity base of propanol in East Asia surpassed that of North America, primarily following the start of several new facilities in China and South Korea. During the period of 2010-2018, massive addition in capacity has made China a prominent producer in Asia Pacific. In China, future import volumes are expected to decline as the country moves towards self-sufficiency. Globally, oversupply of propanol has constricted its growth and demand. At present, the total global production capacity of propanol stands at around 3,400 KT, with approximately 60% utilization rate.
Looking for More Information?
A new market report on propanol published by Future Market Insights brings to the fore a pin-point analysis of the propanol market, and offers comprehensive information with historical demand data for 2014-2018 and forecast statistics for 2019-2029. The study offers insightful information on the global propanol market based on various categories – type (n-propanol, isopropanol), application (solvents, chemical intermediates, pharmaceuticals, household & personal care products, and others), across seven regions. This study highlights key market players who are well-known vendors and have proven themselves as key shareholders in the global propanol market. Some of the propanol market players included in the report are BASF SE, Royal Dutch Shell Plc, ExxonMobil Corporation, Sasol, LG Chem Ltd., and Eastman Chemical Company, among others.
For additional information, write to the analyst at [email protected]
About Chemicals & Materials division of FMI
The Chemicals & Materials division at FMI offers distinct and pin-point analysis about the chemicals & materials industry. Coverage of the chemicals and materials market extends from commodity, bulk, specialty and petrochemicals to advanced materials, composites, and nanotechnology. The team also puts special emphasis on 'green alternatives', recycling and renewable technology developments, and supply-demand trade assessment. Our research studies are widely referred by chemical manufacturers, research institutions, channel partners, and government bodies for developing – 'The Way Forward'.
About Future Market Insights (FMI)
Future Market Insights (FMI) is a leading provider of market intelligence and consulting services, serving clients in over 150 countries. FMI is headquartered in Dubai, and has delivery centers in the UK, U.S. and India. FMI's latest market research reports and industry analysis help businesses navigate challenges and make critical decisions with confidence and clarity amidst breakneck competition. Our customized and syndicated market research reports deliver actionable insights that drive sustainable growth. A team of expert-led analysts at FMI continuously tracks emerging trends and events in a broad range of industries to ensure that our clients prepare for the evolving needs of their consumers.