Refinery Catalyst Market to Cross US$ 10 Bn Valuation in 2026; Expanding Refinery Capacities to Amplify Demand for Catalysts
Mar 23,2020 | Chemicals & Materials
Continued dependence on petroleum derivatives for energy and rising crude oil refining capacity expansion activities are expected to drive the growth of the refinery catalyst market over the coming years. The market is projected to grow at a CAGR of 4% and reach a value of US$ 10 Bn in 2026. Asia Pacific and the U.S. are estimated to dominate the global refinery catalyst market, accounting for 60% of the total global growth, which grew by 0.8% from 2017 to 2018. Countries contributing to overall growth are:
China recorded a staggering 6.3% increase in its refined products output in 2018 over 2017, while India's output grew by 3% during the same period.
The U.S. recorded increased production for the 6th consecutive year, registering a production record for the country.
"Globally, the demand for refining products has been growing at a constant rate over the past decade, unfazed by the slump in crude oil prices, due to the dependence of a number of end-use industries on them. With crude oil prices stabilizing and investments flowing in for expansion projects, the refinery catalyst market is projected to experience favorable growth through 2027."
Key Takeaways of Refinery Catalyst Market Study
The FCC catalyst segment in the global refinery catalyst market is projected to remain dominant under product type in terms of market value share, owing to the presence of a large number of FCC units across refineries, worldwide.
FCC units play a prominent role in refining crude oil and the production of lighter products such as jet fuel, diesel oil, kerosene, LPG, and gasoline.
Around 500 FCC units are installed worldwide, which produce around 50% of total transportation fuel and 35% of total global gasoline.
FCC expansion projects are expected to be a prevailing trend in the global refinery catalyst market in the coming years. For instance, India has planned FCC capacity addition of 312 Mbpd (million barrels per day), followed by China - 304 Mbpd, and Nigeria - 247 Mbpd.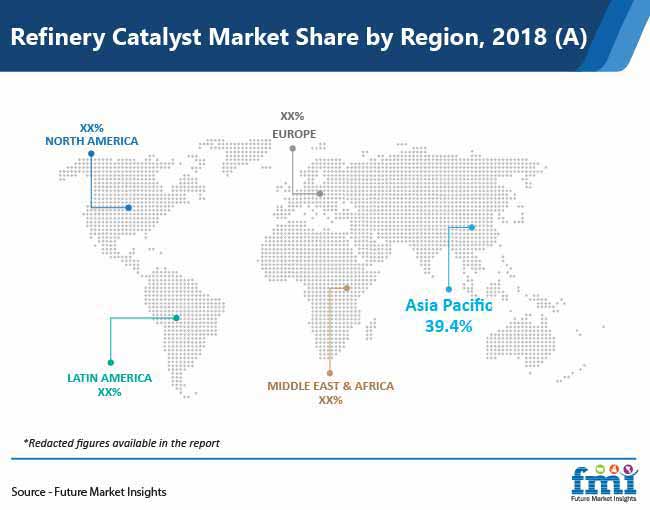 On the regional front, Asia Pacific is projected to hold a dominant share in the global refinery catalyst market, accounting for more than 40% of the total market share. The growth in the regional market is driven by demand from China and India.
For More Detailed Insights on Refinery Catalyst Market
Refinery Catalyst Market Competitive Landscape
The global refinery catalyst market is fairly consolidated, with a few global players dominating the manufacturing and supply of refinery catalysts. High cost of raw materials, high manufacturing costs, and established foothold of existing manufacturers are some of the barriers faced by new players when entering the refinery catalyst market. Some of the key global players in the refinery catalyst market profiled include Albemarle Corporation, Axens S.A., W.R. Grace & Co, Clariant International Ltd., ExxonMobil Corporation, and Haldor Topsoe A/S, who account for more than 60% of total market share.
More Valuable Insights on Refinery Catalyst Market
The recent market report published by Future Market Insights (FMI) on the global refinery catalyst market provides insightful analysis on historical market trends for the period of 2013–2018, and future growth projections and forecasts for the stipulated period of 2019-27, by product, ingredient, and five geographical regions. The refinery catalyst market report details key market trends, drivers, restraints, and macro-economic factors impacting market growth. Incremental $ opportunity, BPS variation, Y-o-Y growth, and market attractiveness index for each segment and region are provided in detail to provide a clear understanding of the growth of the global refinery catalyst market.
For additional information, write to the analyst at [email protected]
About Chemicals & Materials division of FMI
The Chemicals & Materials division at FMI offers distinct and pin-point analysis about the chemicals & materials industry. Coverage of the chemicals market extends from commodity, bulk, specialty and petrochemicals to advanced materials, composites, and nanotechnology. The team also puts special emphasis on 'green alternatives', recycling and renewable technology developments, and supply-demand trade assessment. Our research studies are widely referred by chemical manufacturers, research institutions, channel partners, and government bodies for developing – 'The Way Forward'.
About Future Market Insights (FMI)
Future Market Insights (FMI) is a leading provider of market intelligence and consulting services, serving clients in over 150 countries. FMI is headquartered in London, the global financial capital, and has delivery centres in the U.S. and India. FMI's latest market research reports and industry analysis help businesses navigate challenges and take critical decisions with confidence and clarity amidst breakneck competition. Our customized and syndicated market research reports deliver actionable insights that drive sustainable growth. A team of expert-led analysts at FMI continuously track emerging trends and events in a broad range of industries to ensure that our clients prepare for the evolving needs of their consumers.