Future Market Insights (FMI), in its new report, estimates worldwide sales of walk-in coolers and freezers at US$ 8.6 billion in 2019. Widespread consumer acceptance of frozen and processed food, along with a steep rise in the demand for efficient refrigeration facilities to store and maintain the shelf life of these products, allude a brighter future for the walk-in coolers and freezers market.
Digitalization and smart technologies continue to influence numerous product developments and demand-side dynamics, and walk-in coolers and freezers are no exception. As consumers show marked preference for efficient yet custom-sized units, manufacturers are leveraging technological advancements to develop unique product features that fulfil specific customer requirements.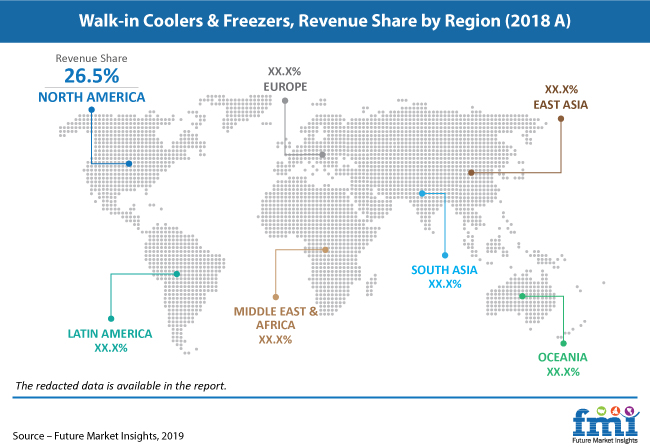 "Walk-in coolers and freezers are witnessing transformations under the influences of smart technologies and digitalization, and consumer preference for customized yet efficient equipment has led manufacturers to emphasize application-specific features in new product development".
According to the study, key players in the walk-in coolers and freezers market also remained focused on improving energy efficiency of their products, considering the continuous changes in energy conservation standards for various commercial and industrial equipment including walk-in coolers and freezers. These players are continuously putting efforts on improving quality of their offerings, while investing in innovative developments that would yield substantial improvements for customers.
For More Detailed Insights on Walk-in Cooler And Freezer Market
Gains Remain High from Commercial Kitchens & Restaurants
Walk-in coolers and freezers continue to gain high traction from commercial kitchens and restaurants, which are widely used to preserve raw foods and grocery items. As international fast food chains and café outlets continue to explore opportunities in various attractive destinations, demand of walk-in coolers and freezers has been on an upward swing across the globe.
North America and Europe have been the early adopters of commercial kitchens and restaurants; however, they are reaching their saturation point. Walk-in cooler and freezer manufacturers are tapping into opportunities in developing countries in East Asia, where multi-cultural environment, changing eating habits, and rising disposable income have opened avenues of growth for commercial kitchens and restaurants. Moreover, walk-in coolers and freezers market in East Asia is likely to take over the Europe market in the future.
According to the study, newer trends and rapid expansion of retail food & beverage sector also represent a significant source of demand for walk-in coolers and freezers. Picture-perfect stores are gaining high preference among today's consumers, especially millennials obsessed with social media platforms. Such factor has forced the manufacturers to innovate and enhance the visual appearance of their products without compromising on the operational functions.
Walk-in coolers and freezers with self-contained refrigeration continue to account for higher share as compared to remote condensing and multiplex condensing. Considering the suitability of self-contained refrigeration in almost any application along with ease of service and maintenance, this category also continues to witness higher innovation and investments.
According to the study, the walk-in coolers and freezers market shows a high level of fragmentation, and therefore, several market players are focusing on forging strategic alliance with other players to improve their market shares. Manufacturers are also focused on offering products that can be custom designed to fit any settings along with several add-on features to increase convenience and ease-of-use.
FMI's research study also offers a long-term perspective and thorough analysis on opportunities present in the walk-in coolers and freezers market for the period between 2019 and 2029. As per the study, the global walk-in coolers and freezers market is projected to register a CAGR of 5.6% during the forecast period.
About Industrial Automation & Equipment division of FMI
The Industrial Automation & Equipment division at FMI adopts a novel approach and innovative perspective in analyzing the global machinery and industrial automation market. A range of FMI's market research reports offer comprehensive coverage of capital, portable, process, construction, industrial, and special purpose machinery used across manufacturing sector. The team also conducts distinctive analysis about installed base, consumables, replacement, and USP-feature application matrix, making us a prominent voice of authority in the industry. We are associates of choice for established as well as budding industry stakeholders and channel partners when it comes to sustain, grow, and identify new revenue prospects.
About Future Market Insights (FMI)
Future Market Insights (FMI) is a leading provider of market intelligence and consulting services, serving clients in over 150 countries. FMI is headquartered in London, the global financial capital, and has delivery centres in the U.S. and India. FMI's latest market research reports and industry analysis help businesses navigate challenges and take critical decisions with confidence and clarity amidst breakneck competition. Our customized and syndicated market research reports deliver actionable insights that drive sustainable growth. A team of expert-led analysts at FMI continuously track emerging trends and events in a broad range of industries to ensure that our clients prepare for the evolving needs of their consumers.