Rising Focus on 3D Carving and Designing of Wood-based Furniture to Push Woodworking Router Bits Market Value to US$ 150 Mn by 2029
Feb 17,2020 | Industrial Automation & Equipment
Router bits are used in several woodworking applications such as milling, drilling, grooving, profiling, engraving, carving, etc. High accuracy and precision of carbide-tipped router bits are giving them a competitive edge in the global market. High demand for design furniture is another plus point favouring market growth. Furthermore, high reselling value of carbide-tipped router bits as compared to high speed steel (HSS) is also expected to push the growth lever of the global market in the coming decade.
According to a new research report published by Future Market Insights (FMI), the global woodworking router bits market is estimated to exhibit a CAGR of close to 5% during the forecast period of 2019-2029.
Key Takeaways of Woodworking Router Bits Market Study
Woodworking router bits have prominent application in engraving and carving all kinds of wood such as chipboard, plywood, hardwood, and softwood, and play a crucial role in the furniture industry.
Targeting the expanding DIY consumer segment, manufacturers are offering customized products, which facilitate effective usage in handheld operations such as drilling, cutting, milling, etc.
The most common types of router bits available in the market are handheld router bits and CNC router bits. Handheld router bits are limited to specific applications, resulting in steady market growth, whereas, CNC router bits are versatile, providing lucrative business avenues for investors.
Out of all woodworking operations, grooving holds a significant share, and is projected to witness maximum growth during the forecast years.
In recent years, the market has witnessed price variations, owing to diversified product lines offered by manufacturers that target a broad clientele based on the type of woodworking operation.
Growing usage of wood in the design of basic utilities in commercial construction is expected to further raise the demand for woodworking router bits.
"In the woodworking router bits market, products with high-end precision and durability are necessary for complex woodworking operations. Manufacturers are capitalizing on this trend by actively providing customized products for application-specific woodworking operations."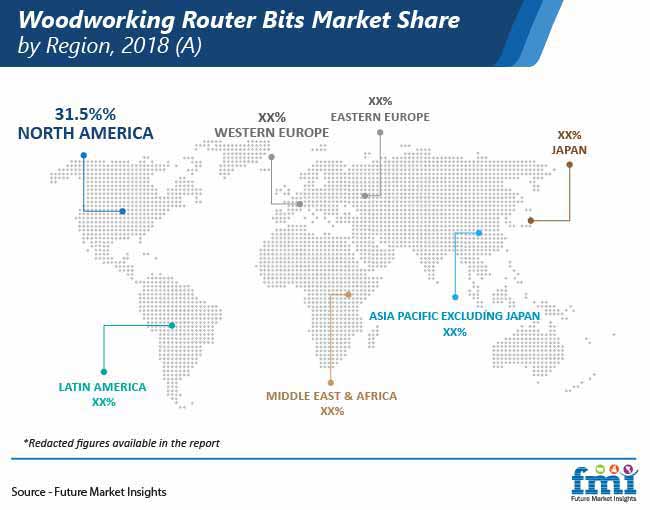 Woodworking Router Bits Market: Competitive Landscape
The woodworking router bits market has become increasingly competitive as manufacturers are launching advanced products that offer various operational benefits and are compatible to the woodworking industry. There are a significant number of organized and unorganized players actively operating in the global market. Key players involved in the woodworking router bits market are Robert Bosch GmbH, Stanley Black and Decker, Kanefusa Corporation, Amana Tool Corporation, and CMT Utensili SpA, among others. The offering of versatile router bits can be a differentiating move for manufacturers in the global market.
For More Detailed Insights on Woodworking Router Bits Market
Asia Pacific Offering Lucrative Opportunities for Market Growth
The woodworking router bits market is expected to gain significant traction in the coming years, owing to flourishing residential and commercial construction activities in developing economies of Asia Pacific. Rising demand from the furniture industry in the commercial and residential sectors is expected to drive the sales of router bits during the forecast period. Intense use of wooden furniture and timber for construction in countries such as India, China, and South Korea is expected to propel woodworking router bits market growth.
More about the Report…
The research report provides thorough assessment and future forecasts of the woodworking router bits market on the basis of three primary segments listed as follows: operation, shank size, and tool type. The report provides comprehensive information about global market size, key market manufacturers, and regional perspective for the market. The report also provides important dynamics of the woodworking router bits market. Scope of the research includes handheld woodworking router bits with carbide.
For additional information, write to the analyst at press@futuremarketinsights.com
About Industrial Automation & Equipment division of FMI
The Industrial Automation & Equipment division at FMI adopts a novel approach and innovative perspective in analyzing the global machinery and industrial automation market. A range of FMI's market research reports offer comprehensive coverage of capital, portable, process, construction, industrial, and special purpose machinery used across manufacturing sector. The team also conducts distinctive analysis about installed base, consumables, replacement, and USP-feature application matrix, making us a prominent voice of authority in the industry. We are associates of choice for established as well as budding industry stakeholders and channel partners when it comes to sustain, grow, and identify new revenue prospects.
About Future Market Insights (FMI)
Future Market Insights (FMI) is a leading provider of market intelligence and consulting services, serving clients in over 150 countries. FMI is headquartered in London, the global financial capital, and has delivery centres in the U.S. and India. FMI's latest market research reports and industry analysis help businesses navigate challenges and take critical decisions with confidence and clarity amidst breakneck competition. Our customized and syndicated market research reports deliver actionable insights that drive sustainable growth. A team of expert-led analysts at FMI continuously track emerging trends and events in a broad range of industries to ensure that our clients prepare for the evolving needs of their consumers.