Biodegradable Tableware Market to Hit US$ 3 Bn in 2021
Packaging is a massive global industry that has been significantly propelled by innovative design solutions. In the recent past, the sustainability trend has exposed the packaging industry to material change. These sustainability-centered initiatives, and the need for change in packaging formats are coupling with other prominent industry trends impacting the packaging industry - evolving consumer preferences, cost constraints, and e-Commerce. Against this backdrop, the global biodegradable tableware market will surpass US$ 3 Bn in 2021. Ecological compatibility and multi-purpose convenience are further poised to be pivotal in shaping market growth over the forecast period of 2019-2029.
Biodegradable Tableware Market Hits US$ 3 Bn Mark in 2019
With growing awareness towards environmental concerns amongst customers, biodegradable tableware is likely to be an apt solution for brand owners using disposable tableware to cater to their customer demand. Biodegradable tableware comes in many types, which can be a convenient alternative format for brand owners to serve a variety of food and beverages. Biodegradable tableware has been witnessing strong demand in the food & beverage industry. Although the biodegradable tableware market is in the introduction stage, it is estimated to reach a valuation of US$ 5.2 Bn in 2029, up from US$ 2.8 Bn in 2019.
Biodegradable Tableware Market - Key Research Findings
The global biodegradable tableware market was valued at US$ 2.8 Bn in 2019.
Driven by demand due to consumer awareness and stringent government regulations, the market is projected to record a CAGR of 6% during the forecast period.
Cups are highly preferred amongst the product types, contributing around half of the global market value in 2019.
Paper and pulp continue to have a high share in the biodegradable tableware market, with this highly-used material type contributing nearly 90% market share. However, the demand for bioplastics is expected to grow strong in the future at a CAGR of 7%. PLA, amongst other bioplastic types, is anticipated to generate high demand, whereas, starch-based bioplastics would witness gradual demand increase as the focus shifts from PLA to starch-based bioplastics.
Regulatory government vans of plastic and shift from plastic to eco-friendly tableware, in the view of environmental hazards created by plastic, play a crucial role in the growth of biodegradable tableware market.
Key Factors Shaping Biodegradable Tableware Market
Expanding Food Service Industry to Play Crucial Role in Biodegradable Tableware Market

As the foodservice industry is growing across the globe, it creates humongous demand for biodegradable tableware products such as plates and cups in the market. Rising demand for fast food service restaurants has propelled the growth of the biodegradable tableware market. Easy disposal of biodegradable tableware creates convenience for its users. Furthermore, innovations in the manufacturing of biodegradable tableware using paper & pulp and starch extracted from various natural raw materials will increase production in the biodegradable tableware market.

That being said, the coronavirus pandemic is having a measurable impact on the foodservice industry, with different segments affected in varying levels. Due to travel restrictions and avoidance of consumers going into larger gatherings, in-restaurant dining is witnessing a notable revenue drop. The foodservice sector runs on fixed operating expenses (OPEX), and, as such, a decline in revenue generation is expected to severely affect businesses, and, in turn, the biodegradable tableware market. FMI finds that, impact of the COVID-19 pandemic would lead to a market standstill and job losses in the biodegradable tableware market.

Online Channel - New Way to Supply with Great Ease

One of the imperatives to expand the consumer base is by supplying the end products with ease. This is widely done using the Internet. The online channel business reduces mediators in the supply chain and directly gives biodegradable tableware to the clients. Because of this, there is cost reduction, which results in efficient supply. Therefore, producers and suppliers of biodegradable tableware are either using their websites or some other e-Commerce website to sell their items, contributing to an increase in the supply-side driver.

Acquisition Strategy to Optimize Brand Value of Biodegradable Tableware Manufacturers

Acquisition leads a business to add-on the scale to enhance its core business. Inorganic growth through acquisition is a faster and less risky method than organic growth. Due to a business' saturation in a geographical region, the acquisition of another company can create a pool of opportunities in an untapped market. Acquisition eliminates entry barriers in potential markets. As such, it enhances the brand value of players in the market, and is likely to boost the growth of the biodegradable tableware market, as it also enables to provide better quality products to customers.
Biodegradable Tableware Market Structure Analysis
The biodegradable tableware market is a fragmented market, where top players account for around 15% of the global market share.
To sustain market share and have a wide presence across regions, key manufacturers such as Huhtamaki have been following the acquisition strategy to grow their business in the biodegradable tableware market.
Report Metrics

Details

Base Year

2019

Historical Period

2014-2019

Forecast Period

2020-2029

Market Value in 2019

US$ 2.8 Bn

Segments Covered

Product, Material, Packaging Application, End Use, and Region

Regions Covered

North America, Latin America, Europe, South Asia, East Asia, Oceania, and the Middle East & Africa

Key Companies

Huhtamaki Group, DUNI AB, Graphic Packaging International, Vegware Ltd., Ecoware Solutions Pvt. Ltd., Genpak LLC, Lollicup USA Inc., Papstar Gmbh, DOpla S.p.A., Goldplast, and DART Container LLC

Growth Drivers

Government regulations on the use of single-use plastics to boost demand
Growing food service industry
Pulp & Paper Continue to Generate Greater Total Return to Shareholders
Sustainability requirements are advancing at every level of the value chain, with rising scrutiny by social activists, and consumer preference for eco-friendly products. As such, market players will continue to capitalize on pulp & paper for developing biodegradable tableware, over the decade ahead. Around 9 out of 10 stakeholders are inventing in this material. Bio-plastics such as polylactic acid (PLA), and starch-based materials are also attracting stakeholders' attention. Nevertheless, they would reap superior returns from pulp & paper.
Asian Markets to Attract Noteworthy Investments
Europe, at present, is at the forefront in the global biodegradable tableware market, procuring around a quarter of total revenue. The region is leading the pack when it comes to sustainability; under its "New EU Directive for Single-Use Plastics", Europe strives to curb the discharge of single-use plastic items frequently found on native beaches. In a similar fashion, countries - China, Thailand, and Indonesia - have announced to completely phase out the usage of single-use plastics in conventional stores. Further, Asia is amongst the leading producers of bio-based materials such as sugarcane and bamboo. FMI finds that, the Asian biodegradable tableware market would hit US$ 2 Bn in 2027.
Leveraging Biodegradable Waste to Enhance Product Portfolio
Biodegradable tableware is an eco-friendly alternative to tableware products derived from of plastic. Manufacturers are banking on biodegradable waste to produce biodegradable tableware. Bagasse - a residue that remains after utilizing the stalks to extract its juice - rice bran, wheat, and maize, is leveraged to develop biodegradable tableware. For instance, Biotrem has manufactured biodegradable tableware derived from wheat bran. Furthermore, manufacturers are exploring recyclable waste such fallen palm leaves and paper waste in order to broaden the horizon of their product lines.
Cups hold prominent market share
Trays to show greater growth rate
High preference for pulp & paper
Bioplastics to pick momentum
Food remains key packaging application area
Application in beverages to soar
Surging adoption in commercial use
Adoption in institutional use to rise rapidly
How Growth will Unfold
The commercial sector would remain the primary end user, wherein, the consumption of biodegradable tableware is expected to nearly double through 2029. Given the benefits of convenience and hygiene, biodegradable tableware is a favorable option in catering and quick-service restaurants (QSRs), under commercial use. This study further outlines that, the commercial sector would grab around 3/5 of overall market revenue. Market players are also targeting the institutional sector, which would represent a multibillion-dollar opportunity in 2020.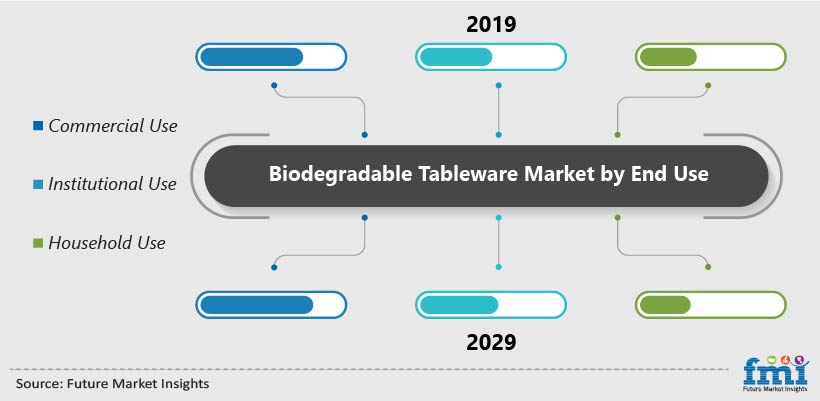 * This data is only a representation. Actual data may vary and will be available in report.
Click Here To Know How The Growth Will Unfold
Custom Market Research Services
FMI offers custom market research services that help clients to get information on their business scenario required where syndicated solutions are not enough.
Overview
A recent market report published by FMI on the biodegradable tableware market provides global industry analysis of 2014-2018 and forecasts for 2019-2029. The report offers a comprehensive assessment of the most important market dynamics. After conducting thorough research on the historical as well as current growth parameters of the biodegradable tableware market, growth prospects of the market are obtained with maximum precision.
Biodegradable Tableware Market Taxonomy
The global biodegradable tableware market is segmented in detail to cover every aspect of the market and present complete market intelligence to the readers.
Product
Plates
Bowls
Cups
Trays
Cutlery
Material
Pulp & Paper
Bioplastics

Starch-based Bioplastic
Polylactic Acid (PLA)
Polybutylene Succinate (PBS)
Polyhydroxybutyrate (PHB)
Others (PHA, etc.)
Packaging Application
Food

Fresh-cut Fruits & Vegetables
Processed Food Products
Ready-to-eat Meals
Soups
Other Food Products

Beverages

Carbonated Beverages
Non-carbonated Beverages
End Use
Commercial Use

Full Service Restaurants
Quick Service Restaurants
Catering
Others (Cafés, Lounges, etc.)

Institutional Use
Household Use
Region
North America
Latin America
Europe
South Asia
East Asia
MEA
Oceania
How the research was conducted?
Primary Research
Primary research interviews with key opinion leaders and other participants were conducted for data collection and validation of the below information:
Key Segments in the Biodegradable tableware market
Market Share Analysis
Average Selling Price (US$) and Market Growth
Key Regulations in Packaging Industry
Market Size
Key Trends & Developments
Competition & Key Vendor Strategies
Secondary Research
Industry Journals
Beverage Packaging Industry Growth
Regional Metal Packaging Consumption
Annual Reports/SEC Filings/Investor Presentations
Primary Interview Splits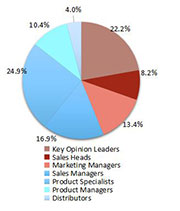 To Learn More About our Comprehensive Perspective on Biodegradable Tableware Market,
Get in touch
COVID -19 : Impact Analysis
Request the coronavirus impact analysis across industries and markets
Request Covid -19 Impact
CASE STUDIES
See how our work makes an impact.
At FMI, we design strategies that are adaptive, impactful, and implementable.