Biodegradable Baby Diapers Market Snapshot
[300 Pages Report] Future Market Insights (FMI), in its newly released report projects the biodegradable baby diapers market to register a year-on-year growth of 6.4% in 2021. With consumers increasingly focusing on eco-friendly buys, sales of biodegradable baby diapers are expected to reach shipment of 9.9 Mn units by the end of 2031.
As per FMI's analysis, the biodegradable baby diaper market size will surpass US$ 2.6 Bn in 2021. Between 2021 and 2031, the market is expected to exhibit a compound annual growth rate (CAGR) of 7.5%.
| | |
| --- | --- |
| Base year (2020) Market Value | US$ 2.4 Bn |
| Projected year (2021) Market Value | US$ 2.6 Bn |
| Projected year (2031) Market Value | US$ 5.3 Bn |
| CAGR% (2021-2031) | 7.5% CAGR |
2021-2031 Biodegradable Baby Diapers Market Outlook in Comparison to Sales Registered in 2016-2020
Demand for biodegradable baby diapers is increasing owing to the growing concerns among parents regarding the side effects of conventional diapers made from petrochemical-based polymer materials.
According to FMI, the global biodegradable baby diaper market is projected to rise at 7.5% CAGR between 2021 and 2031. As parents are seeking eco-friendly biodegradable diaper for their children, demand in the market is surging.
Biodegradable baby diapers are free from toxic chemicals and are devoid of harmful polymers. Such innovation reduces the environmental impact, thus creating sales prospects for the market players. Steered by increasing focus on sustainability, some of the key players are adding biodegradable diapers to their portfolio.
For instance, HANSEN KIDS, LLC provides highly absorbent Andy Pandy Bamboo Diapers. This bamboo diaper helps to prevent nasty blowouts and painful diaper rash.
The company claims that its diapers are 87% biodegradable which contributes to the earth. Also, these bamboo biodegradable diapers are antibacterial & naturally hypoallergenic and are free of toxic chemicals like chlorine, alcohol, latex, PVC, preservatives, phthalates, TBT, and PFAS.
On the back of these factors, pediatricians are encouraging the adoption of biodegradable baby diapers for infant's health. Driven by these factors, the global market is expected to exceed the valuation of US$ 5.3 Bn through 2031.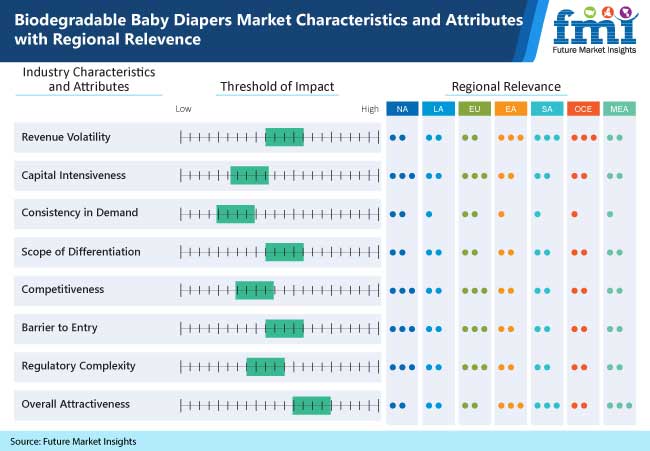 Rising Prevalence of Skin Allergies in Infants to Push the Sales of Biodegradable Baby Diapers
Rising cases of skin allergies and rashes among babies are encouraging parents to switch to biodegradable and chemical-free baby products. Diaper rashes are a common problem that most kids suffer from and are caused by contact dermatitis, yeast infection, seborrhea and bacteria.
Also, babies suffer from an allergic reaction due to synthetic dyes used in diapers. Increasing awareness on these issues and baby hygiene has compelled the parents to switch form regular diapers to biodegradable baby diapers.
Surging demand from parents is encouraging players to invest in research and development activities to introduce some skin-friendly diapers. For instance, in 2018, Procter & Gamble. expanded its portfolio of the baby care sector and launched Pampers Pure Protection the best biodegradable diaper for diaper rash.
These diapers are bleach-free, chlorine-free, and fragrance-free and are made with plant-based fibers and premium cotton so that they are gentle on the baby's skin.
Furthermore, majority of pediatric experts also suggests for the adoption of biodegradable diapers, aiding the growth of biodegradable diapers in the market. To reduce the skin problems and improve good hygiene among babies, dermatologists, pediatricians, and experts are recommending biodegradable diapers.
As a result, the biodegradable baby diapers are gaining popularity across the globe, generating greater demand for biodegradable baby diapers.
What is the Impact of the COVID-19 on the Biodegradable Baby Diapers Market?
Unprecedented outbreak of the novel COID-19 escalated the sales of biodegradable baby diapers through e-commerce platforms. Rapid growth of online platforms due to social distancing and lockdown has pushed the consumers as well as vendors to rely on e-commerce platforms to manage proper supply-demand.
Consequently, market players are focusing on their marketing strategies and turning to digital platforms. Due to the surge in online sales, key players are capitalizing on this opportunity to generate remunerative revenues.
Also, during the FQ-20, hysteria and panic created due to the onset of COVID-19, burgeoned the sales of biodegradable baby diapers as consumers resorted to hoarding of necessary supplies. Sales of biodegradable baby diapers increased as key players relied on online platforms amidst the COVID-19 virus.
The COVID-19 outbreak has encouraged ethical buying among consumers where the consumers are more inclined towards supporting local and regional brands in the economic crisis. Ethical buying helps the local players to get back their business on track because customers have the power to change the world with their wallets.
Country-wise Insights
How is the Biodegradable Baby Diaper Market Faring in China?
East Asia is predicted to be one of the most attractive markets of biodegradable baby diapers during the forecast period, according to Future Market Insights. China is expected to account for over 43.2% of the market share in East Asia through 2021.
According to Economics, Politics and Public Policy in East Asia and the Pacific twelve million kids were born in the country in 2020. Increasing birth rate in China will be a key growth factor for biodegradable bay diapers market during the forecast period.
Along with growing population, China is the most polluted country in the world. As per New Security Beat, in 2017, 90% of oceans are polluted by the single-use of plastic comes from 10 rivers and in these 10 rivers, 6 rivers comes from China.
Apart from this, rising environmental problems in the country is encouraging people to switch towards natural and eco-friendlier products including biodegradable baby diapers. Many players are taking this as an opportunity to renew their product portfolio and add biodegradable baby diapers to their offering.
For instance, Weifang KeepBetter Healthcare Co., Ltd, a Chinese company manufacturer of disposable incontinence and personal healthcare products launched bamboo compostable disposable baby nappies with premium performance in 2019.
These diapers are not only eco-friendly but are also comfortable for the kids. This will help the company to strengthen its presence in the market.
How will Extensive Adoption of Biodegradable Diapers Aid the U.K. Market?
In 2020, the U.K. accounted for 30.2% of total market share in the Europe's biodegradable baby diapers market. According to an EU statistics report around 7 million babies' uses up to 36 million diapers in a single day in Europe.
Increasing use of single-use diapers is negatively affecting the environment as most of the conventional diapers are made up of petrochemical polymers and toxic substances. To curb the pollution, scientists and researchers are introducing new solutions to minimize the pollution due to traditional diapers.
Key players in the market are also investing in the research and development activities to make back sheets and the top layer with the synthetic plastic comes from sugar cane, cornstarch and sugar beet.
Furthermore, in many European countries like France, Germany, Spain, and Italy parents can add their expense on baby care services to get the benefit of tax concessions.
Such favorable policies encouraging parents to invest more in baby care products. This trend is also expected to boost the sales of biodegradable baby diapers in the regional market.
How will Increasing Pre-Mature Birth Rate in the U.S. Aid the Market Growth?
As per Future Market Insights, the U.S. biodegradable diapers market is projected to rise over 2.8% CAGR during the forecast year. According to March of Dimes, in the U.S. around 0.38 million babies are born prematurely every year.
The rate of premature babies in the region is 9.8%, which means one in ten babies is born before 37 weeks. Subsequently, key players are extending their portfolio to include special biodegradable diapers especially for premature babies.
For instance, in 2020, Procter & Gamble introduced Pampers Preemie protection diapers designed under the guidance of NICU nurses especially for the development of preemie infants weighing less than 4 pounds. These diapers protecting the sleep of babies and helps natural positioning to keep and support preemies.
While the U.S. has ample of growth opportunities over the coming years, Canada is expected to project steady growth, registering a CAGR of 5.3% during the forecast period, opines FMI.
Category-wise Insights
Why are Pant Diapers Acquiring Immense Popularity?
In terms of product type, pant diapers are expected to lead the market growth, rising at an impressive rate of over 8.3% CAGR through 2031. As these diapers are suitable for babies weighing more than 6 kilograms, parents prefer show higher inclination for the variety.
Pants type diaper have sturdy waistbands and elastic that does not cause uneasiness or tightness around the child's waist. Due to this, pant style baby diapers are gaining popularity among consumers.
Which Biodegradable Baby Diaper Price Range Dominates the Market?
As per FMI, mass (below US$ 25) held largest share of 71.5% in 2020. Biodegradable baby diapers cost more than traditional diapers. The biodegradable baby diaper price varies on the basis of size. However, with rising expenditure on baby care products premium biodegradable baby diapers are expected to reflect a positive growth outlook.
Why are Large Sized Biodegradable Diapers Most Preferred?
In terms of size, large size (9-14Kgs) diapers segment will witness high growth during the forecast period, registering a CAGR of 9.8%. The category also dominates the market with a significant share of 25.2% in the year 2020.
How will Online Retailers Reshape the Market Growth?
As per the analysis, online retailers are expected to register highest growth, exhibiting a CAGR of 11.4% during the forecast period. Increasing preference of e-commerce distribution among consumers is likely to facilitate market growth during the forecast period.
As key players and manufacturers extensively rely on online supply channels, sales are expected to spur. People are opting to buy hygiene products online following the outbreak of COVID-19, since it is more convenient, less time consuming, safer, and offers doorstep delivery. Also, a wide range of availability of products online is anticipated to contribute to the segment growth.
Competitive Landscape
Due to constant product innovation and to survive in rapidly growing competition level in the market several key players are focused more on product development and innovation
For instance, in May 2021, Pampers brand launched Pampers Pure Protection Hybrid Diapers. As the name suggests, these diapers are a combination of reusable cloth and disposable filling made up of plant-based liner. This brings the advantage of both eco-friendly cloth and disposable diapers.
In February 2020, DYPER Inc., the eco-friendly diaper service introduced eco-friendly baby diapers in partnership with TerraCycle. The introduction of such products is expected to expand the brand portfolio and help the company to capture a wider market share during the forecast period.
Scope of Report
Attribute

Details

Forecast Period

2021-2031

Historical Data Available for

2016-2020

Market Analysis

USD Million for Value

Key Regions Covered

North America, Latin America, Europe, East Asia, South Asia, Oceania, and the Middle East & Africa

Key Countries Covered

US, Canada, Germany, U.K., France, Italy, Spain, Russia, Benelux, China, Japan, South Korea, India, Thailand, Malaysia, Indonesia, Australia, New Zealand, GCC Countries, Northern Africa, and South Africa

Key Segments Covered

Product Type, Price Range, Size, Sales Channel, and Region

Key Companies Profiled

Seventh Generation, Inc.
Abena A/S
KAS Direct, LLC
Broody Chick Company
Hansen Kids, LLC
Drylock Technologies NV
Hengan International Group Company Limited
The Hain Celestial Group, Inc.
Kimberly-Clark Corporation
Kao Corporation
Bumkins Company
The Procter & Gamble Company
Ontex Group
Unicharm Corporation

Report Coverage

Market Forecast, Company Share Analysis, Competition Intelligence, DROT Analysis, Market Dynamics and Challenges, and Strategic Growth Initiatives

Customization & Pricing

Available upon Request
Key Questions Answered in the Report
How much is the biodegradable baby diapers market worth?

In 2021, the biodegradable baby diapers market is expected to reach a valuation of over US$ 2,604.1 Mn.

What was the rate of growth for biodegradable baby diapers sales in the last 5 years?

The biodegradable baby diapers market grew at a CAGR of 5.7% from 2016 to 2020.

What is the share of the top players in the biodegradable baby diapers market?

Naty AB, Abena A/S, The Hain Celestial Group, Kimberly-Clark Corporation, Kao Corporation, Procter and Gamble Company, Ontex Group, Hansens Kids, LLC, The Honest Company, Bumkins Company, Hengan International Group Company Ltd, Drylock technologies NV, KAS Direct, LLC, Unicharm Corporation leading market players. These players are expected to account for over 20%-35% value share.

Which are the top countries driving demand for biodegradable baby diapers?

The U.S., the UK, Germany, China are the top countries reflecting high demand for biodegradable baby diapers.

Which countries are key producers of biodegradable baby diapers?

The U.S., UK, China, etc. are the leading manufacturers of biodegradable baby diapers identified by Future Market Insights.

What are the global growth statistics for the biodegradable baby diapers market between 2020 and 2021?

The biodegradable baby diapers market grew by 7.5% between 2020 and 2021.

What is the North America biodegradable baby diapers market outlook?

The market in North America is set to rise at 4.1% CAGR through the end of 2031.

How fast will the sales of biodegradable baby diapers grow in Europe?

Sales in Europe biodegradable baby diapers market is set to surge at a healthy 5.4% CAGR through the assessment period.

What are the key statistics of South Korea and Japan biodegradable baby diapers market?

Japan and South Korea will account for 33.2% and 23.5% of the market share in the East Asia biodegradable baby diapers market in 2021.
World's Most Profilic Intelligence Engine
Get Access To The World's Largest Market Research Database. Ngage with a revolutionary intelligence engine that scale and pricing that flexes as per your needs
Sign Up Now
Market by Category
By Product Type:
By Price Range:
Mass (Below US$ 25)
Premium (Above US$ 25)
By Size:
Small (3 to 8 Kgs)
Medium (6 to 11 Kgs)
Large (9 to 14 Kgs)
XL (12 to 17 Kgs)
XXL (15 to 35 Kgs)
By Sales Channel:
Hypermarkets/Supermarkets
Wholesalers/Distributors
Convenience Stores
Specialty Stores
Independent Small Stores
Online Retailer
Others
By Region:
North America
Latin America
Europe
East Asia
South Asia
Oceania
Middle East and Africa (MEA)
Need specific information?