An Incisive, In-depth Analysis on the Coated Fabrics Defense Market
This study offers a comprehensive, 360 degree analysis on the Coated Fabrics Defense market, bringing to fore insights that can help stakeholders identify the opportunities as well as challenges. It tracks the global Coated Fabrics Defense market across key regions, and offers in-depth commentary and accurate quantitative insights. The study also includes incisive competitive landscape analysis, and provides key recommendations to market players on winning imperatives and successful strategies.
Recent market projections highlight lucrative incremental opportunities in the aviation industry
The overall coated fabrics for defense market is growing at a significant pace. The growth has been prominently contributed by the increase of coated fabrics in many applications such as personnel oriented objects, object oriented coated fabrics for military sectors such as Automobiles, Railways, Aviation, Marine and more. The application also includes other equipment such as bags, belts, parachutes, water tanks and more. However, this market is projected to be dominated by the personal oriented application category. In the Personnel Oriented Coated Fabrics category, personnel clothing is estimated to capture significant market share owing to increasing number of military people at a global level. Object oriented coated fabrics is the next prominent market, which is expected to grow at a notable CAGR in terms of volume and value. This market is estimated to create higher incremental $ opportunity than other categories. Among the different application areas of coated fabrics for defense, demand from the aviation industry is expected to surge in the coming years.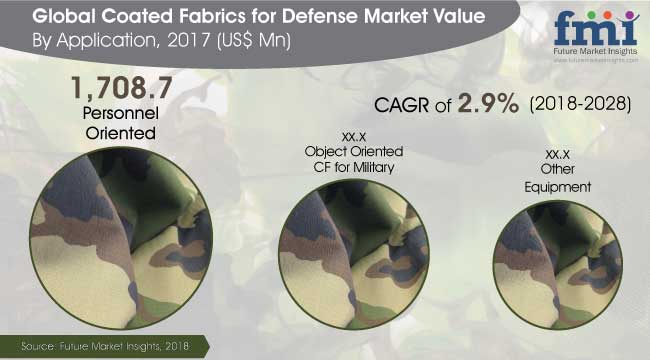 Military aircrafts, ships and parachutes to depict higher demand for coated fabrics in the years to come
Advanced and latest technology driven aircrafts and ships have emerged as a necessity in global military operations as a critical component of the latest warfare strategies. Coated fabrics are an important part of the changing dynamics of the sector, and are extensively used in ejector seat covers, parachute release bags, troop seating, anti G trousers and suits, flight suits, aircraft flotation bags and many other applications. These coated fabrics are also brought into use for marine ships, various types of inflatable boats, rafts, and life preservers, protective clothing, berth covers and fire resistant artificial upholstery leather. Demand for coated fabrics has been a significant driving force boosting the overall growth of the global coated fabrics for defense market.
Rising demand for parachutes has also resulted in a surge in demand for coated fabrics. Several global military organizations are increasingly emphasizing on establishing bilateral training exercises to exchange their combating knowledge and expertise. Also, growing violence across the globe will further force the military to take part in para trooping exercises. This has triggered the proliferating demand for parachutes and coated fabrics.
Issues with recyclability, feasibility and varied testing methods stand as a hurdle in the growth of the coated fabrics market
Although there are a number of benefits associated with the incorporation of coated fabrics in the defense industry, recyclability issues at a global level continue to hamper market growth. The use of coated fabrics can cause grave environmental concerns brought about by the difficulty in recycling these fabrics. The main issue lies in the disposal of waste generated during the production and usage of coated fabrics. This waste cannot be recycled easily. Dissolving the waste in solvents does not work well as these solvents cannot dissolve the coated fabric in its entirety. The only way to dispose waste from coated fabrics is to burn it while adhering to all the environmental laws. Another such issue is the varied testing standards introduced in the global market, which makes the process tougher for manufacturers who want to supply their products globally. This can restrict market revenue growth in the long run.
Global Coated Fabrics for Defense Market
A new research report by Future Market Insights focuses on the current demand for coated fabrics for defense market. It includes an analysis which involves different types of fabric materials available in the global market, the types of materials and also the key regions in which the global market has been divided. FMI utilizes robust methodology and approach to arrive at market size and related projections. The research methodology for this report is based on 3 dimensional model. We conduct about 45-60 min duration detailed interviews with product manufacturers; apart from this we also collect market feedback from industry experts. To validate this data, we interact with senior panel members having more than 10 years of experience in relevant field. The panel members help in validating the findings and fill the gaps if any. In addition, we leverage on our existing pool of information, paid database and other valid information sources available in public domain. Usually industry interactions extend to more than 50+ interviews from market participants across the value chain.
Data Collection
FMI collects data from secondary sources including company annual reports, association publications, industry presentations, white papers, and company press releases apart from these we leverage over paid database subscriptions and industry magazines to collect market information and developments in exhaustive manner. After being done with desk research, detailed questionnaire and discussion guide is formulated to initiate primary research with key industry personnel; the discussion aims at collecting key insights, growth perspectives, prevalent market trends and quantitative insights including market size and competition developments. Both of these research approaches help us in arriving at base year numbers and market hypothesis.
Data Validation
In this phase, FMI validates the data using macro and micro economic factors. For instance, growth in electricity consumption, industry value added, other industry factors, economic performance, growth of top players and sector performance is closely studied to arrive at precise estimates and refine anomalies if any.
Data Analysis and Projection
Data analysis and projections were made based on proprietary research frameworks and statistical analysis, which was further validated from industry participants. These frameworks include Y-o-Y growth projections, macro-economic factor performance, market attractiveness analysis, key financial ratios, and others.
For public companies we capture the data from company website, annual reports, investor presentations, paid databases. While for privately held companies, we try to gather information from the paid databases (like Factiva) and based on the information we gather from databases we estimate revenue for the companies. In addition, the team tries to establish primary contact with the companies in order to validate the assumptions or to gather quality inputs.
Standard Report Structure
Executive Summary

Market Definition

Macro-economic analysis

Parent Market Analysis

Market Overview

Forecast Factors

Segmental Analysis and Forecast

Regional Analysis

Competition Analysis
Target Audience
Production Companies

Suppliers

Channel Partners

Marketing Authorities

Subject Matter Experts

Research Institutions

Financial Institutions

Market Consultants

Government Authorities
Key Questions Answered
How the market has performed over the past few years?

What have been the challenges for market participants and how did they overcome them?

How has the technology landscape evolved over the past years?

How the competitors have performed and what have been their growth strategies?

What is the market potential expected to look like in near future across the globe?

How to sustain and grow market share?

What should be the future course of action?

Where do I currently stand?

Which are the segments, factors, regions offering promising growth potential?

What are the trends in the market and am I ready for them?
Market Taxonomy
By Fabric

By Application

By Material

By Region

Polyamide/Nylon

PVC

Teflon

Aramid

Polyester

Personnel

Oriented Object

Oriented CF for Military

Other Equipment

North America

Latin America

Western Europe

Eastern Europe

China

India

Japan

South East Asia & Pacific
COVID -19 : Impact Analysis
Request the coronavirus impact analysis across industries and markets
Request Covid -19 Impact
CASE STUDIES
See how our work makes an impact.
At FMI, we design strategies that are adaptive, impactful, and implementable.