Coated Fabrics Market Outlook and Key Findings
Transportation industry to generate substantial value-capture opportunities
Polymer coated fabrics to capture leading revenue share, given their application in textile and architecture industries to produce fabrics such as nylon lycra
Manufacturers to develop eco-friendly coated fabrics
Market in Asia Pacific (APAC) to make quantum leaps through 2030
Demand Soars as Workplace Safety Gathers Center Stage
Growth of coated fabrics market is associated with improving safety standards in workplaces across industrial sector. Workplace safety is highly paramount in deciding the overall efficiency of businesses.
The global market for industrial protective clothing is growing at a stellar pace. Food processing, agriculture, chemical processing, and military sectors are key end users of protective clothing wherein professionals are required to be protected from heat, chemicals, biological contaminants, or related environmental risks.
In addition, government initiatives such as European Union (EU) Directive 89/686/EEC Model Work Health, and Safety Act in Australia are encouraging industrials to accelerate their shift towards application of industrial protective clothing.
Standardized safety measures implementation to workers associated with industrial processes as well as safety packages utilized in rescue and swimming applications are further expected to drive the usage of coated fabrics in industrial protective clothing.
Antiviral Coated Fabrics to Gain Grounds amid COVID-19 Crisis
While developing protective garments and accessories within fashion domain sounds reasonable, the same goes for antimicrobial surfaces and textiles for decor industry.
The COVID-19 chapter has intensified the need for antiviral coated fabrics, which further paves way for development of antimicrobial surfaces that are becoming center of gravity in the arsenal of personal protective equipment (PPE).
While such products have been a requirement primarily for healthcare professionals, they are set to penetrate into general apparel industry, and beyond.
Demand is surging, and antimicrobial coated fabrics are poised to become the next big thing. As a result, they are offering print industry swathes of potential opportunities.
Textile technologists and scientists within textile industry are working in sync and through collective collaboration to devise innovative technologies which, when leveraged within the broader textile sectors, will trigger new business agreements that will certainly transform the landscape of general textiles.
HeiQ has developed HeiQ Viroblock NPJ03, which is an antibacterial and antiviral textile chemical compound that is added to fabrics during finishing phase of textile production processes
Wearwell has collaborated with Manchester University to develop antiviral PPE for the National Health Service using proprietary antiviral fabric provided by Pincroft. The fabrics utilize distinct germ-capturing technology that is tested to provide 96% shielding against viruses including, COVID-19
Think tanks at Hong Kong University have created antiviral coating that can offer 90 days of umpteen protection against viruses and bacteria such as COVID-19
Nanomaterial-coated Fabrics to Add Extra Layer of Protection in Defense Purposes
Recent studies have highlighted the efficiency of textiles coated with metal-organic frameworks (MOFs) as anti-nerve agent material. MOFs – derived from zirconium - act as catalysts to eliminate chemical warfare agents (CWA) such as soman (GD) and VX relatively faster compared to conventional technologies that are derived from metal-oxide blends and activated carbon.
The compound material that shows potential to be used in face masks and protective suits for soldiers on battlefields does not accent the need for water to perform.
High surface area of MOFs that comes from their porous framework implies that they are suitable for application in swarms of use cases, from gas separation to sensing and catalysis and storage.
The studies have also underlined that nanopores efficiently pull in CWAs and further eliminate them in catalytic hydrolysis reaction. In addition, MOFs continue to decompose these toxic agents, despite being coated onto textile fibers.
While chemical degradation reaction needs liquid water, nanopores in MOFs deliver the required water by absorbing it from surrounding humidity. This will enable deploying filters and other anti-nerve agent equipment derived from MOFs in fields.
MOF stays securely stuck to cotton and restores its crystallinity even while submerged in water and activated for almost a day. Moreover, catalytic activity of MOFs remains high after getting exposed to surrounding conditions for 100 days.
Furthermore, MOFs are able to retain their catalytic activity after getting exposed to atmospheric carbon dioxide, sweat, and pollutants such as octane – physiological and ecological conditions akin to what soldiers confront on battlegrounds.
APAC to Continue its Supremacy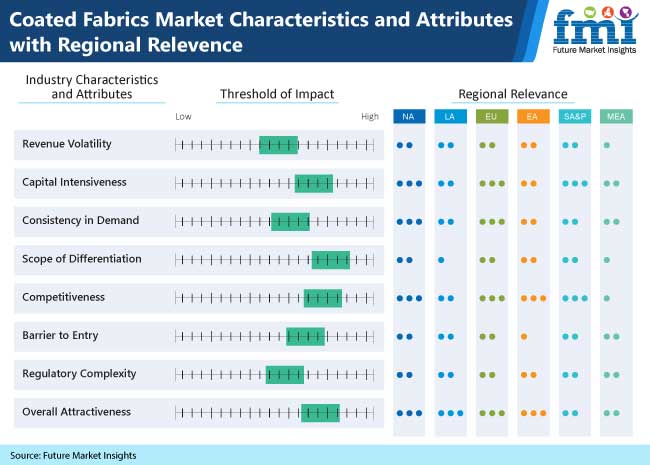 Asia Pacific (APAC) currently leads the global coated fabrics market, and the trend is likely to prevail over the following decade. Flourishing technical textile industry is primarily underpinning the regional market growth of coated fabrics.
FMI finds that technical textiles industry in APAC is poised to exhibit double-digit year-on-year growth rate. Moreover, surging export of textile products in the region is anticipated to boost the adoption of coated fabrics.
Studies reveal that textile and apparel exports in India registered about US$ 39 Bn in 2019 and the figure is expected to rise to about US$ 82 Bn by 2021.
Furthermore, rising stringency in government regulations regarding safety and health of workers at workplaces, and mushrooming automotive industry are propelling the sales of coated fabrics in APAC.
North America - one of the leading manufacturers of polymer-coated fabrics – significantly exports the product to developing regions, wherein transportation sector is making considerable strides, given surging production and sales of automobiles such as marine vehicles, light commercial vehicles (LCV), and heavy commercial vehicles (HCV).
In addition, polymer coated fabrics are seeing demand upsurge from furniture, textile, and seating industries. Increasing LCV production in tandem with stringent norms regarding safety of drivers is further resulting in increased usage of polymer coated fabrics in regional automotive industry.
Coated Fabrics Market Players – Product Innovations and Strategic Convening to Define Stakeholders' Strategies
The global coated fabrics market is characterized by 10 manufacturers competing with each other to capture value at stake. While few players are independently developing innovative products, others are forming mergers & acquisitions (M&A) to manufacture products to serve myriads of applications.
OMNOVA Solutions - prominent manufacturer of polymer coated fabrics – is developing high-quality polyurethane (PU) and polyvinyl automotive upholsteries as well as marine upholstery for interior and exterior marine applications. Moreover, the company serves healthcare, construction and architecture, corporate offices, and sports sectors.
Haydale has collaborated with IRPC Public Company (IRPC) to further develop functionalized graphene-coated fabric – developed by Haydale - for healthcare and relevant applications. The fabric has been proven to exhibit antibacterial properties and will be further examined for antiviral properties under the collaboration.
Concertex has transmuted conventional appearance of coated fabrics with its proprietary new digital print - Warp. The company is highly focused on creating performance-led products that will serve healthcare, hospitality, and contract sectors.
Trelleborg AB – key producer of polymer coated fabrics – has acquired Laminating Coating Technologies Inc. (Lamcotec) in order to firm its grip on the US market. In addition, the company has taken over Dartex Holdings primarily for the healthcare industry.
Furthermore, Solvay and Continental AG are integrated through three phases of value chain as they are involved in manufacturing of coated fabrics, raw material production, and product distribution. The players operate in international markets and are among the leading players in coated fabrics market with distribution networks stretched across continents.
Coated Fabrics Market Future Outlook – Market to Enter Sustainability Ecosystem
With concerns regarding climate change looming over every facet of industrial sectors, sustainability-centered initiatives are no more a niche service by manufacturers striving to extend their consumer base. Customers are increasingly demand for eco-friendly products - regardless of brand and industry.
While the fashion industry has been taking numerous strides towards curbing carbon footprint over past few years, the interior design industry is also gradually joining the club. Several textiles – especially intended for application in home settings - are examined and finished with chemicals and other unwanted substances in a bid to improve their functionality.
That being said, market players reimagining these conventional manufacturing techniques. Case in point, Taiwan-based BenQ Materials has developed proprietary technology – Xpore - for breathable and hydrophobic textiles. The technology provides comfort along with unprecedented 'beyond dry' experience as well as eco-friendly safety.
In similar fashion, researchers are developing sustainable superhydrophobic coating for fabrics made by leveraging cellulose nanofiber with the aim to manufacture self-healing and cleaning coated fabrics. Such sustainability-focused initiatives around innovation are expected to help market player devise winning strategies in coming years.
Key Segment
Type
Polymer Coated Fabrics
Rubber Coated Fabrics
Other Coated Fabrics
Application
Transportation Protective Clothing
Industrial
Furniture
Commercial
Others
Region
North America
Latin America
Western Europe
Eastern Europe
Asia Pacific (APAC)
Middle East & Africa (MEA)
Need specific information?