An Incisive, In-depth Analysis on the Composite Cardboard Tubes Market
This study offers a comprehensive, 360 degree analysis on the Composite Cardboard Tubes market, bringing to fore insights that can help stakeholders identify the opportunities as well as challenges. It tracks the global Composite Cardboard Tubes market across key regions, and offers in-depth commentary and accurate quantitative insights. The study also includes incisive competitive landscape analysis, and provides key recommendations to market players on winning imperatives and successful strategies.
Packaging industry has taken a new turn in the recent years. Apart from protection and product preservation, more emphasis is given on product communication, branding and many such functions that focus on product visibility. Composite cardboard tubes are one such packaging type that play a vital role in enhancing the appeal and image of a particular product for the customer, simultaneously providing protection and augmenting shelf presence. Composite cardboard tubes are usually used for packaging of premium and promotional items. They are a highly adaptable packaging form as they use comparatively less material than cardboard boxes of similar specifications. In addition, composite cardboard tubes are robust, tough to crush and are characterized by their shape retaining property. Owing to these aspects they are highly preferred for logistics.
According to the recent research carried out by Future Market Insights, demand for composite cardboard tubes is expected to rise at a value CAGR of 5.7% throughout the period of forecast, 2017-2026. Increasing focus on product promotion and branding is expected to play a major role in the growth in demand of composite cardboard tubes across regions.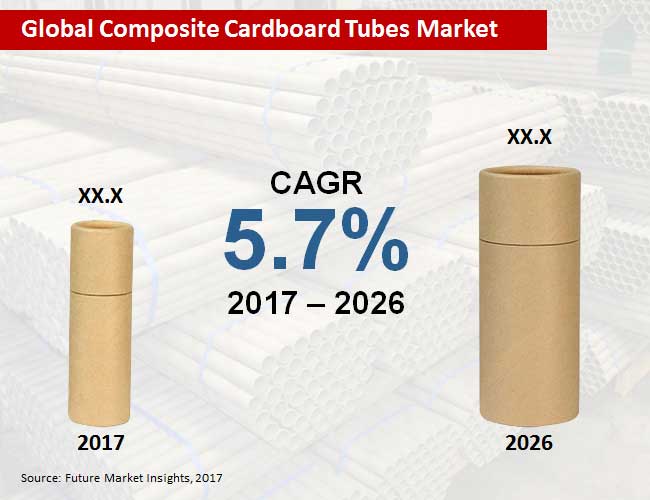 Demand for Composite Cardboard Tubes to Spur in Asia Pacific Excluding Japan
The overall demand for composite cardboard tubes is increasing at a steady pace across the globe. However, this type of packaging is expected to witness high demand for Asia Pacific excluding Japan (APEJ) region in the due course. Emerging economies in this region are marked with increasing number of end user companies that use composite cardboard tubes. Moreover, transit operations are increasing in this region, APEJ being the first preference for several companies. This region is being tapped by many players that deal with pharmaceuticals, cosmetics and food and beverages, thus positively influencing the overall packaging industry in the region. In addition, the growing demand for efficient yet attractive packaging style is expected to push the sales of composite cardboard tubes in countries such as China and India. As per research, the demand and sale of composite cardboard tubes in China is higher than other counties, followed by India. The total sale of composite cardboard tubes in APEJ is anticipated to reach a value a little over US$ 800 Mn by the end of the forecast period (2026).
Corrugated Boards to be the Consumers' First Choice for Packaging Purposes
Corrugated boards are gaining high traction in the packaging world since recent past. They are cost effective packaging solutions and do not require high cost manufacturing tools and equipment. Additionally, they are easy to recycle. The demand for corrugated boards is increasing at a stellar pace and is expected to continue with this trend in the coming years. The main reason for their increasing demand and adoption is the cushioning they provide to the product thus ensuring safety during transportation, handling and shipping. Depending on the product type and specifications, corrugated boards differ in thickness and also are available in varying sizes. Few other aspects that are supporting the increasing demand of corrugated boards include light weight, ease and convenience, sustainability and better printing capabilities.
Use of Composite Cardboard Tubes to Grow in the Cosmetics and Personal Care Industry
Food and beverages have shown potential use of composite cardboard tubes. However, their use in the cosmetic and personal care industry is also rising at a higher pace. Several cosmetic products and personal care products such as creams, ointments, oils etc., require efficient packaging and safety from temperatures. Composite cardboard tubes offer higher resistance to heat and moderate resistance to pressure, which has been driving the adoption of composite cardboard tubes in this industry.
Ring Pull Style Lid Type to Favour the Growth of the Global Market
With respect to different lid types, ring pull style has gained high popularity owing to ease in handling and lid opening. Even though the sales revenue generated by this type of lid assembly is relatively less, its growth rate is expected to steam up in the years to follow. This type of lid assembly is largely used in food and beverages.
The research report provides analysis on key companies involved in composite cardboard tubes manufacturing. To name a few, major companies such as Ace Paper Tube Corp, Smurfit Kappa Group, Valk Industries, CBT Packaging Ltd., and Visican Ltd., are profiled in this research report.
Future Market Insights has worked out on a comprehensive and thorough analytical report and estimated study on composite cardboard tubes with a global outlook. The analysts have considered each resource and taken up this heavy-lifting responsibility for the betterment of key players in global composite cardboard tubes market. The report discovers key features covering the usage and production of composite cardboard tubes and studies their influence in changing the prospect of global composite cardboard tubes market. Objective evidence in the way of qualitative understandings and market size valuations is delivered in the report.
The report delivers a holistic point of view in evaluating the long-term forecast with regards to expansion of global composite cardboard tubes market for the 2017-2026 period. Plausible settings developed in the description reveals the cutting-edge and most significant industry trends. Businesses at forefront of the global composite cardboard tubes manufacturing have also been contacted and reviewed to gauge the competition in global composite cardboard tubes market. This report works as a reliable business document which can offer valuable insights to the market players, facilitating them to figure out insightful stratagems and make cognizant decisions for future market direction. The study is complete and has been compiled by a team of subject matter experts from the Packaging sector, trade analysts and research consultants.
Report Synopsis
The report comprises of numerous chapters that provides an all-inclusive data on how the composite cardboard tubes market will develop globally in the probable future. An exclusive summary condenses the key highpoints from the whole research report and exhibits them thoroughly to reveal foremost segments, untapped marketplaces and lucrative growth opportunities. A synopsis explains the merging of Food & Beverages and Cosmetics & Personal Care sectors, analyzing numerous macroeconomics which can potentially power the production of composite carbon tubes in the future. The report also studies the changing aspects of the global composite cardboard tubes market. In this fragment, aspects that can drive and restrict the sales of composite cardboard tubes have been analyzed.
Precise market size estimates and well-examined market size projecting are the fundamental benefits provided by this report. Revenues from important composite cardboard tubes manufacturers have been mentioned to induce baselines for anticipating the revenue growth of the global market. The report has examined the global composite cardboard tubes supply chain and also discovered the noticeable raw material sourcing plans implemented by market players. An all-inclusive information tracking presence of the market players across the globe are also delivered in the report.
Market Taxonomy
For the objective of all-inclusive study, the global composite cardboard tubes market report has been segmented based on the material type, lid type, region and end-use industry. As per the taxonomy provided in the report, the global market for composite cardboard tubes has been broken down into the following:
| Region | Material Type | End Use Industry | Lid Type |
| --- | --- | --- | --- |
| | | | |
| | | Cosmetics & Personal Care | |
| | | | |
| | | | |
| | | | |
| | | | |
The report also delivers cross-segmental examination and prognosis. The regional study further is inclusive of country-wise market projection across different parameters.
Detailed Competition Landscape
A strong research methodology is worked on to evaluate the global composite cardboard tubes production landscape. Industrial specialty techniques that instrumented persistent exchange of ideas between the key players and analysts have helped in the valuation of varying landscapes in the manufacturing of composite cardboard tubes. Information on dynamics of local paperboard markets and globalization developments have been considered to instrument the contribution of every market player. Information regarding market players has been authenticated to check the entrance of topmost brands and an array of composite cardboard tubes products. First-hand data on cutting-edge planned progresses of the market players is also delivered in the report. This report could also be used to evaluate a comprehensive competitor examination for the global composite cardboard tubes market. Implications mentioned in this study is intended to extend understanding of the market players in assessing the future scenarios of composite cardboard tubes.
COVID -19 : Impact Analysis
Request the coronavirus impact analysis across industries and markets
Request Covid -19 Impact
CASE STUDIES
See how our work makes an impact.
At FMI, we design strategies that are adaptive, impactful, and implementable.