Compressor Oil Market - Key Research Findings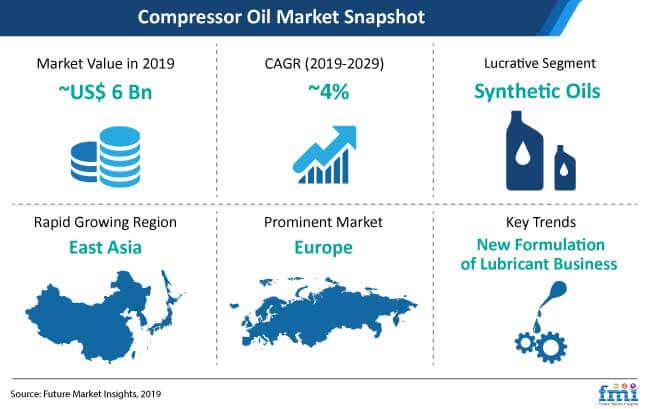 The global compressor oil market size in 2018 was valued at ~US$ 5 Bn.
The compressor oil market is estimated to grow at a CAGR of ~4% in between 2019 and 2029.
To ensure continuous operation with optimum compressor efficiency, the manufacturing industry is mainly emphasizing on the frequent replacement of compressor oil, which in turn, drives the market over the forecast period.
Collectively, East Asia and North America are likely to account for more than 40% of the revenue shares of the compressor oil market by the end of 2019.

The East Asia market is anticipated to be a more lucrative market for compressor oil manufactures, attributing to the strong growth in countries such as China from rising urbanization and industrialization.
North America has a strong presence of oil and gas industries, and thus, is estimated to be a prominent market for compressor oil consumption.

The others manufacturing segment is projected to drive the global compressor oil market by the end of 2029. General manufacturing, food & beverages, mining, infrastructure, etc. sectors are growing at a significant growth rate and as a result, the global compressor oil market is projected to grow with a healthy growth rate.
Key Factors Shaping the Compressor Oil Market
Positive Outlook of End-use Industries Creating Opportunities for Compressor Oil Manufacturers
End-users of compressor oil includes oil & gas, manufacturing, automotive, power industry, food & beverages, etc. As a part of the strategic development, end-users are focusing on the expansion of manufacturing capacities to enhance their footprint in the global market.
The healthy growth of the manufacturing sector in developing countries provide support for this strategic expansion. Owing to this expansion of manufacturing facilities, the demand for compressors is expected to increase, which in turn, provides lucrative opportunities for the growth of the compressor oil market.
Strategic Developments among End-users
Majority of the players across the globe have adopted emerging business models to expand their regional footprint and market share. Collaboration activities enable market players to ensure growth in the ever-competitive market. Over the past few years, there has been a considerable increase in the demand for automobile parts and components. To fulfill the increasing demand, new production units are being established and existing infrastructure is being expanded.
Penetration of Oil Free Compressors Estimated to Hinder Market Growth
Compressors available in the market are using oil-lubed pumps, which require lubricants and changing oils on a regular basis. Oil compressors are a common choice of the industry because they provide long-life to compressors. However, advanced technologies inventing oil-free compressors are providing 2,000 hours of life, which is more than the life of conventional oil compressors.
For instance, Campbell Hausfeld – a compressor manufacturer developed a 6-gallon oil-free quiet air compressor, which runs slower and helps to extend the product life. It also provides maintenance-free operations.
The oil-free compressor design depends on self-lubricating materials that allow the piston to slide in the cylinder and grease the sealed bearings. Nowadays, oil-free compressors are being preferred owing to the dependable performance coupled with the required time and money spent on the maintenance of compressors as well as the initial product price and expected product life.
Attributing to these factors, manufacturers are focusing on the adoption of oil-free compressors. This factor is expected to hinder the growth of the global compressor oil market in the near future.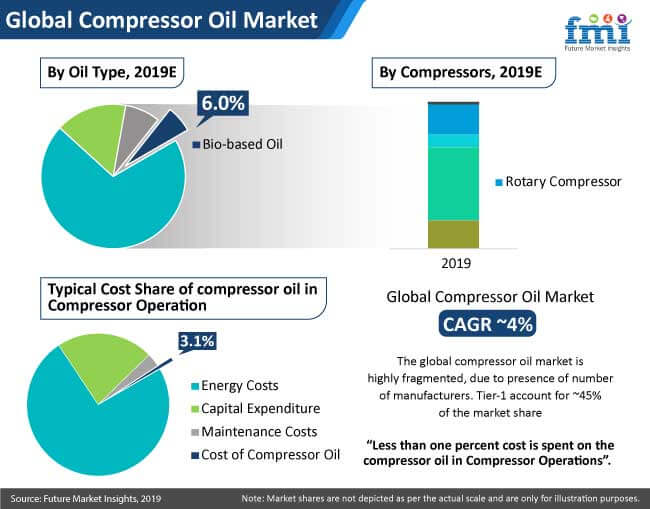 New Formulation – New Development of Lubricant Business
Based on several factors of lubricants, manufacturers are emphasizing on innovative product solutions. Key players in the compressor oil market are focusing on the innovative product development and expanding R&D activities. For instance,
In 2016, Exxon Mobil Corporation introduced a new product – industrial lubricant for compressors under the Mobil Rarus SHC series. The company also spent ~US$ 1Bn on R&D in 2016. As a result of its robust research and development capabilities, the company continues to build on the seismic and reservoir modeling technologies and high-quality products.
On 26th June'19, TOTAL S.A introduced its new product - Planetelf PAG K 40. It is a high-performance lubricant for automotive air compressors.
This kind of organic growth across the competition landscape is anticipated to act as a key trend for the global compressor oil market.
Compressor Oil Market Structure Analysis
The global compressor oil market is a highly fragmented market owing to the presence of a number of market players across the world. Key players are holding more than 40% share in the global compressor oil market.
The global compressor oil market has been relatively large in size, which remains an influencing factor for its dynamic competitive nature.
Key end-users are emphasizing on efficient compressors and safe operations. Thus, the increased awareness among end-users is expected to boost the global compressor oil market.
Shift of end-user facilities to emerging markets i.e. South Asia and East Asia are likely to create opportunities for compressor oil manufactures.
Frequent replacement of compressor oil to maintain the efficiency and optimization of the compressor's performance is driving the demand for the compressor oil.
Compressor Oil: Performance and Efficiency Reinforced
Effective lubrication lies at the heart of operational efficiency of industrial plants. All kinds of industrial ecosystems hinge on high-quality lubricants for maximizing the performance quotient of their equipment bases, while minimizing the impact of wear & tear.
While compressor oil plays a vital role in ensuring high-scale performance and efficiency of a wide range of air compressors through exceptional lubrication, the utility of compressor oil extends far beyond effective lubrication. An excellent oxidation resistance of the compressor oil is further coupled with its abilities to reduce the sludge formation and eliminate the risks of cavitation damage
Greater Gains Ensued from the 'Cost Optimization' Clamor
Cost optimization has been, and continues to be the focal point of businesses across the various industries looking to reach their bottom line. The demand for high-quality lubricants from industrial units has been among the key moves towards achieving cost optimization, and thereby ensuring the enduring service life of their equipment and components. However, the market for compressor oils continues to see-saw, primarily attributing to the fact that 'oil-free' compressors are gaining massive traction for their high sustainability quotient.
Carbon Footprint: The Perennial Challenge Facing Manufacturers
As the energy & power sector is directing all its focus towards 'sustainability', the reduction of carbon footprint has taken over all other concerns in this turbulent landscape. Some of the most widely preferred compressor oils, such as synthetic oils, release undesirably high percentage of CO2 that comes with several repercussions for the surrounding environment.
Study says that this remains a longstanding challenge facing the compressor oil market space, which calls for immediate attention, and thus continues to forestall the growth prospects of the compressor oil market.
The Broader Perspective
Compressor oils completely defy the concept of 'one-size-fits-all'; rather the type of compressor oil required by an end user revolves around a slew of factors as well as considerations.
End user choice of compressor oil not only depends on the type of target machine, such as an industrial air compressor, or a refrigeration compressor but also continues to be governed by a few other factors, such as flow patterns, ambient conditions, and maintenance intervals. Considering all this, the companies are appointing dedicated representatives to offer seamless assistance to their end user bases, with viable selections.
How Growth Will Unfold?
Taking into consideration the evolving needs of end users, the industry landscape of compressor oil will be characterized by the manufacturers' efforts in offering the right blend of additives in their compressor oil formulations. The right mix of additives plays a key role in ensuring that the compressor oil performs at its zenith, with additional benefits, such as optimal viscosity, anti-foaming properties, and high oxidation resistance.
In addition, manufacturers are leading the way in development of custom-made compressors tailored to specific end user needs, which will help them achieve long-term buyer retention.
Key Segments
By Oil Type
Synthetic Oil
Semi-synthetic Oil
Mineral Oil
Bio-based Oil
By Application
Centrifugal Compressors
Reciprocating Compressors
Screw Compressors
Rotary Compressors
Sliding Vane Compressors
By End-use
Oil & Gas
Automotive
Power
Others
By Sales Channel
By Region
North America
Latin America
Europe
South Asia
East Asia
Oceania
Middle East and Africa
Need specific information?