Contact & Convective Dryers Market - Key Research Findings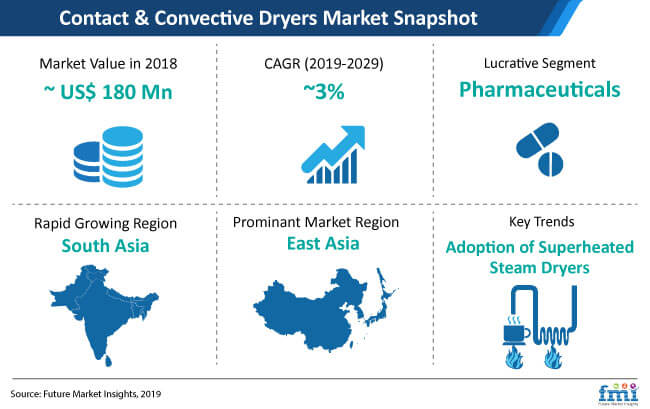 The global contact & convective dryers market was valued ~US$ 180 Mn in 2018.
The contact & convective dryers market is anticipated to register a CAGR of ~3% over the forecast period of 2019–2029.
South Asia and East Asia markets are expected to remain prominent regional markets in the global contact & convective dryers market.

Significant growth in pharmaceutical and chemical industries in India and China is expected to drive the demand for contact & convective dryers over the forecast period.

The pharmaceuticals segment by application type is expected to create prominent demand for contact & convective dryers, and is anticipated to expand at a CAGR of ~3% over the forecast period.

The growth is primarily driven by growing pharmaceutical manufacturing capacity and the need for contact & convective dryers to handle heat-sensitive and powder type products.

By orientation, vertical type contact & convective dryers are expected to hold a prominent market share over the forecast period due to their better product mixing capabilities and high efficiency as compared to horizontal dryers.
Contact and convective dryers are also finding increasing usage in food and beverages industries where other dryers such as fluidized bed dryer and freeze drying equipment are also preferred.
Key Factors Shaping the Contact & Convective Dryers Market
Indispensable Nature of Contact & Convective Dryers in Industrial Processes to Bolster Market Growth

Contact & convective dryers form an indispensable part of industrial drying process as they are used as intermittent drying equipment to reduce most of the moisture content from the product, before it is sent upstream for more expensive and complex drying processes. They are used to remove moisture and water content from a variety of products, especially heat-sensitive products, to improve the quality and durability of the end product. Apart from this, contact & convective dryers are also capable of handling toxic materials and avoid risks of cross contamination.

All these factors make contact & convective dryers the most desired option for industrial drying process, especially for powders. These factors are expected to drive the demand for contact & convective dryers in industries such as pharmaceuticals, fine chemicals, food & beverages, and metallurgy.

Rising Environmental Concerns and Stringent Regulations to Improve Energy Efficiency

Energy consumption of industrial drying accounts for approximately 12 to 25% of a country's total industrial energy consumption. Although contact drying is more energy efficient than convective drying, it still accounts for a large portion of energy consumption in industrial processes. The efficiency of contact & convective dryers also depends on the type of product being used to dry. The high energy consumption of contact & convective dryers can be attributed to the consumption of high volumes of fossil fuels used to achieve the drying process, which is also associated with prominent emissions of greenhouse gases (GHG).

Hence, stringent regulations are being adopted by the governments of various countries, especially in Europe, Asia Pacific, and North America to overlook and control carbon dioxide emissions and energy consumption from industrial and household sectors. For example, in India, through the Energy Conservation Act 2001, the government has passed stringent regulations to regulate and oversee carbon dioxide emissions from industrial activity.

Emerging Adoption of Superheated Steam in Convectional Dryers

In convectional dryers, hot gas or steam is used to dry the product, which in some instances proves inefficient and dangerous due to the presence of volatile components in the product. Steam is one of the more viable drying options but when temperature is not maintained at a certain level, the steam condenses back to water. Hence, manufacturers are developing superheated steam or dry steam as drying medium, which keeps the environment inside the vessel inert, nullifying any volatile components present in the product and eases the exhaust gas treatment. Due to this, superheated steam dryers are gaining traction among end-use industries.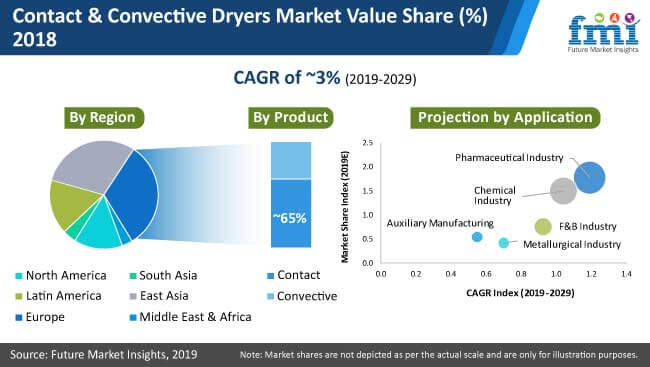 Contact & Convective Dryers Market Structure Analysis
The global contact & convective dryers market is fairly fragmented, wherein, tier-1 companies hold ~30-32% of the total market share. Manufacturers like Andritz-Gouda B.V., GEA Group AG, FLSmidth and ThyssenKrupp AG comprise the Tier-I of the global contact & convective dryers market.
The contact & convective dryers market players are primarily focusing on maintaining and developing strong partnerships and joint ventures with end-use industry consumers and also on improving manufacturing and R&D capabilities to expand their market footprint domestically and internationally.
The contact & convective dryers market is relatively moderate in terms of market size, providing a dynamic landscape for competitors. Prominent players in contact & convective dryers market, especially in North America and Europe, are primarily focusing on developing energy efficient products in accordance with various energy consumption standards in these regions.
Reliability and Versatility - Boosters to Market Build-Up
As 'drying' continues to be the epicenter of industrial processing applications, various types of industrial dryers remain highly sought-after for effective and timely elimination of moisture content. Manufacturers from various industrial spaces are realizing detrimental effects of moisture on the quality of their products and are keen on adopting effective technologies to address the same- a key aspect warranting the outpour of investments in industrial dryers.
Apart from their contribution to the product quality, effectiveness of drying processes holds the key to overall process efficiency. In addition to this, industrial dryers have been the top priority of industrial processing units, as they are indispensable for improvement of handling characteristics and stabilization of moisture-sensitive materials.
Contact and convective dryers, two of the oldest yet reliable intermittent drying equipment, remain on the frontline of industrial drying processes by dint of their energy efficiencies and capabilities to stave off cross contamination. While many of the contact and convective dryer models available in the market come with standardized capabilities, most manufacturers offer customized designs in order to cater to the growing demand for personalized solutions.
Contact and Convective Dryers Market - Mapping the Evolution
Industrial dryers trace their roots back to the natural drying methods, such as dewatering, which were the primary solutions to rely on for effective removal of moisture content. In response to the spurring demand for advanced drying solutions with multiplied capabilities, efforts to develop a new generation of mechanized industrial dryers started gathering momentum, wherein manufacturers brought in considerable improvements in their current offerings in terms of design and functionalities.
A major aspect that drove bespoke innovations in this turbulent landscape was the clamor for energy-efficient models. As drying continues to remain an energy-intensive and a time-consuming process, end users started showing marked preferences for contact and convective dryers to gain energy-efficiency and performance benefits, which, in turn, unlocked new avenues for the market players to expand their business. However, high upfront capital and operational costs will continue to impede the growth of contact and convective dryers market during the assessment period.
Manufacturers Catch Up with End Users' Transition to 'Online'
Strong presence across online channels has become the bedrock of sales performance for the market players, large and emerging alike. Companies active in the contact and convective dryers market are looking out for multiple ways to refine their online sales strategies, for the fact that sales through online channels don't incur high distribution costs and offer a platform for improved customer engagement.
End users, on the other hand, are also relying on online channels to make bulk purchases at reasonable prices, which gives another strong reason for the key players to boost invigorate their online presence. In case of price-sensitive regions, such as South Asia and East Asia, manufacturers are adopting the online buying preferences of end users and, in response to this, are boosting their online sales capabilities to reap substantial profits.
How Growth will Unfold?
Manufacturers, in pursuit of business expansion across lucrative regions, are extending their operations across South Asia and East Asia. In a bid to attain long-term buyer retention, manufacturers are focusing on securing long-term supply and service contracts with well-established end users, such as pharmaceutical and chemical companies. Market players will also center around the process of price benchmarking, wherein they would aim at offering high-quality dryers at best prices to gain competitive benefits.
The contact and convective dryers market reflects a substantial degree of consolidation at the bottom, wherein the mid-level and emerging players account for nearly 68-70% of the global market share. The mid-level and emerging players active in this market are zooming in their focus on offering cost-effective products, which is one aspect underpinning their position amidst the market competition.
World's Most Profilic Intelligence Engine
Get Access To The World's Largest Market Research Database. Ngage with a revolutionary intelligence engine that scale and pricing that flexes as per your needs
Sign Up Now
Key Segment
Product Type
Orientation
Application
Pharmaceuticals
Metallurgy
Food & Beverages
Chemicals
Auxiliary Manufacturing
Region
North America
Europe
Latin America
South Asia
East Asia
Middle East & Africa (MEA)
Need specific information?