Contact Lenses Market to Cross US$ 10 Bn Mark in Five Years
Increasing prevalence of myopia, particularly in the younger population, is creating a significant demand for contact lenses for vision correction. Moreover, breakthrough innovations such as drug-eluting lenses that could potentially address a range of vision and eye defects are creating newer opportunities in the market. On the back of these primary factors, the sales of contact lenses will surpass US$ 10 Bn in next five years. A recent report published by Future Market Insights (FMI) reveals that the overall growth of global contact lenses market will remain moderate during the forecast period (2019 - 2029).
Frequently Asked Questions About contact lenses market
How Smart Lenses Could Totally Change the Future Prospects of the Market?
As scientists are envisioning a new world of contact lenses that can administer medication, record a video after detecting a deliberate blink, or serve as tiny screens for entertainment, manufacturers will need to set their product apart from the competition.
How much will the contact lenses market be worth by the next ten years?
The contact lenses market is expected to be valued at US$ 12.5 Bn by 2029, maintaining an average annual increase of 4.5% during the 10-year forecast period (2019-2029).
Which region is expected to hold the highest share in the contact lenses market?
Growth prospects of the contact lenses market are high in North America, accounting for around 38% of the revenue share. Greater opportunities are also expected in East Asia which is set to exhibit the highest CAGR over the forecast period (2019-2029).
Which segments of the contact lenses market will have the most growth over the next few years?
Soft lenses will continue to stay in demand against gas permeable lenses. In terms of design, toric lenses are witnessing higher demand as compared to multifocal and spherical lenses. By 2024, sales value of disposable lenses will take over that of reusable lens, and account for more than half of the total share.
Which technologies and regional markets will provide the best opportunities?
With Google achieving a patent for solar-powered smart contact lenses, the future of contact lenses is set to provide a range of health and technological benefits. North America and Europe will continue to offer greater opportunities due to easy access to new technologies and strong presence of market players.
Consumers Seek Clarity via Offline Sales
Offline channels including multi-brand stores and exclusive stores account for nearly 75% of the overall sales of contact lenses. Despite E-commerce expansion compelling eyewear companies to sell online, consumers are still inclined towards purchasing contact lenses from brick and mortar stores. They value the expertise and guidance of eye specialists and thus, continue to uphold sales of contact lenses at offline stores. Companies such as Lenskart, Warby Parker, and Mister Spex are experiencing significant sales of contact lenses, both online and offline, the former will however gain pace in the latter half of the forecast period.
Sales of Reusable Lenses to Solidify East Asia's Market Position
North America currently accounts for nearly 35% of global contact lenses sales. The presence of established companies such as Pure Vision and Bioinfinity, coupled with significant developments in terms of contact lens technology innovation would continue to drive the growth of market in North America. However, East Asia has been projected to emerge lucrative over the following years, reflecting a higher CAGR of around 7% over the forecast period. This growth is attributed to the soaring sales of reusable contact lenses in the region, particularly China and South Korea.
Smart Contact Lenses Hold the Future
Brands leading their way in the contact lenses market have revealed that research activities are in full swing to unlock the true potential of contact lens technology that could possibly provide vision beyond human capacity. The race in the wearable tech space is at its tipping point and the contact lenses market is witnessing a similar trend. Several eye care and tech companies including Google, Apple, Novartis, and Sensimed are engaged in the development of smart contact lenses that already represent a multi-billion-dollar market.
High demand for soft lenses
Adoption of gas permeable lenses declining
Spherical highly preferred
Demand for multifocal on rise
Offline channels set to dominate
Online channels gaining popularity
How Growth will Unfold
With sales surpassing 74 million units by 2019 end, reusable lenses will register a major share of over 50% in the total sales of contact lenses. This demand growth would be sustained by the ascending demand for reusable lenses, especially in developing economies. However, by the end of the forecast period, disposable lenses will take the lead, as this category has been witnessing frequent new launches of innovative and reliable multi-focal daily disposable lenses since the recent past. R&D of advanced disposable contact lenses will further complement the rate of adoption of these lenses in the near future.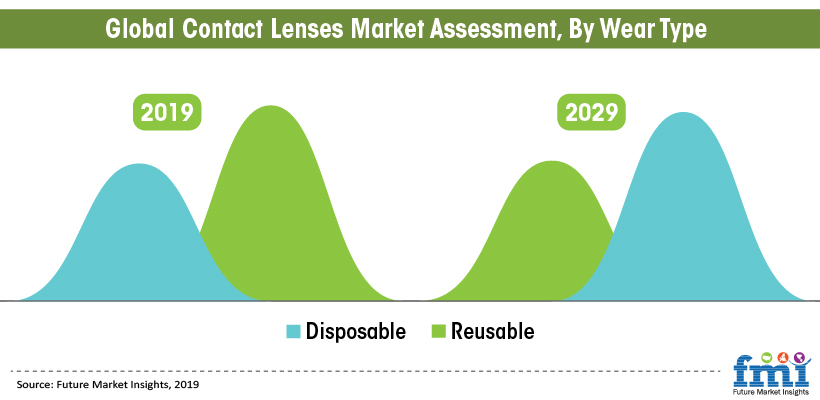 * This data is only a representation. Actual data may vary and will be available in report.
Click Here To Know How The Growth Will Unfold
Custom Market Research Services
FMI offers custom market research services that help clients to get information on their business scenario required where syndicated solutions are not enough.
Overview
Contact Lenses Market Analysis 2019 - 2029
A recent market study published by Future Market Insights on the contact lenses market provides global industry analysis for 2014 - 2018 and forecast for 2019 - 2029. This report offers a comprehensive assessment of the most important market dynamics. After conducting a thorough research on the historical, as well as current growth parameters of the contact lenses market, the growth prospects of the market are obtained with maximum precision.
Contact Lenses Market Taxonomy
The global contact lenses market is segmented in detail to cover every aspect of the market and present complete market intelligence to the reader.
Product
Soft Lenses
Gas Permeable
Design
Spherical
Toric
Multifocal
Others
Sales Channel
Online

e-Commerce Portals
Company Owned Portals

Offline

Exclusive Stores
Multi-brand Stores
Region
North America
Latin America
Europe
East Asia
South Asia
Oceania
Middle-East and Africa
How the research was conducted?
Primary Research
Primary research interviews with key opinion leaders and other participants were conducted for data collection and validation of the below information:
Key Segments in the Contact Lenses Market
Market Share Analysis
Average Selling Price (US$) and Market Growth
Comparative Analysis of Several Contact Lenses Present in the Market
Market Size
Key Trends & Developments
Competition & Key Vendor Strategies
Secondary Research
Industry Journals

American Optometric Association
Contact Lens Manufacturers Association (CLMA)

Import-Export Database
Annual Reports/SEC filings/Investor Presentations
Primary Interview Splits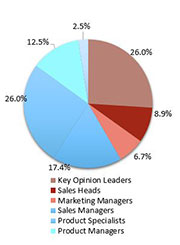 To Learn More About our Comprehensive Perspective on Contact Lenses Market,
Get in touch
COVID -19 : Impact Analysis
Request the coronavirus impact analysis across industries and markets
Request Covid -19 Impact
CASE STUDIES
See how our work makes an impact.
At FMI, we design strategies that are adaptive, impactful, and implementable.