Market Set to Expand 5X by 2030
Over the years, biometrics technology has been maturing and making its way into human lives with rapidity. The recent COVID-19 outbreak that prompted a global shift toward social distancing and strict quarantining is influencing organizations to move from contact-based biometrics technology such as hand geometry biometrics to contactless solutions. Moreover, the pandemic is accelerating a number of key megatrends of the decade, such as digital transformation and automatic identification & data capture, as physical stores and bank branches are being replaced by remote digital services. Additionally, contactless biometric solutions and tools have added the added the benefit of limiting contact over shared surfaces or finger scanners. Future Market Insights, in its new study, predicts the contactless biometrics technology market to grow five fold over the next decade.
Key Factors Shaping Contactless Biometrics Technology Market  
Increasing Adoption of Contactless Biometrics Technology across various Verticals
Contactless biometrics technology has been widely adopted across various verticals for wide range of applications. Traditionally, such biometrics solutions were limited to only few applications such as military access control, civil, or criminal identification. However, with the growing popularity and need for more convenient and secure authentication mechanisms, the market for contactless biometrics technology would gain high traction in the coming years.  
Many sectors such as banking and financial services, retail, government, education, and others, started adopting contactless biometrics technology for digital identity verification, access control, digital payments and transactions. Key contactless biometrics technology include facial recognition, iris recognition, palm-vein recognition, voice biometrics and contactless smartcards.
Automatic Identification and Data Capture (AIDC) Technology to Boost Market Demand
AIDC technology refers to automatic identification of data and objects and capturing the data into computing systems, without any human intervention. As the authentication systems are becoming more autonomous, the adoption of such technology would boost the demand for contactless biometrics market. In addition, growing usage of AIDC technology in retail and e-commerce, border control applications, BFSI sector and increasing support from government legislation to encourage the use of touchless authentication technology would support the market growth. This would eliminate the need for manual data capture and entry, boosting the demand for automatic identification and data capture technologies, which would further fuel the growth of the contactless biometrics technology market.
Adoption of Contactless Biometrics Technology to Support Fight against COVID-19 Pandemic Outbreak
The COVID-19 outbreak has raised some serious questions about security infrastructure across the world, as touch-based biometric solutions are proving to be ineffective due to need for hygiene and convenience for security monitoring. Amid the COVID-19 pandemic, governments and organizations around the world are ramping up their digital security infrastructure to implement contactless biometrics technology for identity verification and access control.
Many biometrics players such as NEC, Gemalto, Fujitsu, TBS, Innovatrics and others have joined hands with the governments worldwide, to provide innovative solutions such as facial recognition, iris recognition, and other contactless biometrics solutions, to unite against the fight with coronavirus.
North America to Contribute the Largest Market Share, whereas South Asia & Pacific to Grow at Significant Rate
In terms of value, the contactless biometrics technology market in North America accounted for the largest market share in 2019, with US market dominating the region. High adoption of contactless biometrics solutions in government and defense applications would fuel the market growth of North America. However, the South Asia & Pacific region is projected to grow at the highest CAGR during the forecast period (2020-2030).
Amid the COVID-19 outbreak, various countries such as India, Thailand, Indonesia and Australia are badly impacted, hence would see rise in adoption of contactless biometrics technology to implement robust security mechanisms for identity verification and access control applications.
Contactless Biometrics Technology Market Structure Analysis
Strategic partnerships & collaboration of biometrics players with government agencies and enterprises, for implementing contactless biometrics solutions is among the key market strategy followed by majority of the vendors.
NEC, Gemalto, Fujitsu, IDEMIA are the prominent and most experienced players in the global contactless biometrics technology market.
The global contactless biometrics technology market is highly concentrated in size, which remains a key factor for its dynamic competitive nature.
Software Captures 45% of Total Demand
Contactless biometrics software, especially integrated biometric software and facial recognition software, continues to witness relatively high demand over hardware components and accounts for 45% of the total market value. As the need to accurately identify and authenticate individuals and to authorize tasks through digital channels accelerates in the time of the pandemic, market stakeholders are focusing on increasing their service offerings. To meet the sudden spike in demand and gain distinct competitive edge, these stakeholders are further improving their professional services and solutions that are application-appropriate and work seamlessly across end-points.
North America in the Vanguard, South Asia & Pacific to Offer New Opportunities
Developed markets continue to hold lucrative prospects for the contactless biometrics technology market, given the high adoption for government and defense applications in North America and Europe. Amidst the outbreak of COVID-19 with the U.S. and Italy as the worst-hit countries, the use of contact-based sensors integrated into shared devices such as door-locks, point-of-sale (POS) devices, and ATMs has been restricted. The result is expected to work in favor of the market growth. Lucrative opportunities are also expected in South Asia & Pacific, as remote work and digital delivery service become the new status-quo in countries such as India.
Contactless to Gain Momentum as 'Healthier Alternative'
As the COVID-19 crisis unfolds across multiple countries at a significant pace, organizations are increasingly looking for ways to deploy biometric sensors that avoid touch in shared and public spaces. In recent times, the pandemic has induced a forced behavioral change, including adaptation in the virtual work environment, use of digital signatures for legal documents, and contactless payments over bank notes. Enterprises and consumers are highly likely to keep adapting to convenient and hygiene-centered ways which will play an instrumental role in the growth of the contactless biometrics technology market. Strong focus on reducing touchpoints with external machines or shared public spaces to contain the virus and prevent new infection is further expected to increase the reliance on remote technology.
Facial recognition remains highly preferred
Iris recognition to gain significant momentum
Software contributes 45% revenue share
Demand for services picks pace
Identity verification remains key application area
Use in access control to remain bullish
How Growth will Unfold
While contactless biometrics technology is receiving significant traction from various industry verticals, the real leader in adoption of biometric authentication for access to an individual's identity is the government and law enforcement sector. While contactless fingerprint recognition is becoming a commonplace, other technologies such as voice, facial, and vein pattern recognition are rapidly entering the BFSI industry. Moreover, growing popularity of online shopping has been prompting banking services to leverage biometrics for contactless payments and money transfer authorizations. In the wake for COVID-19, stakeholders are targeted towards capitalizing on the healthcare industry to help align with the concept of physical distancing while securing the medical identity information.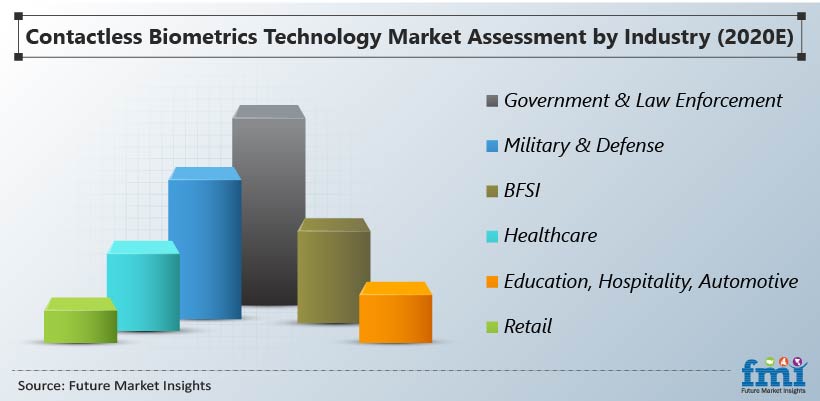 * This data is only a representation. Actual data may vary and will be available in report.
Click Here To Know How The Growth Will Unfold
Custom Market Research Services
FMI offers custom market research services that help clients to get information on their business scenario required where syndicated solutions are not enough.
Overview
A recent market study published by FMI on the contactless biometrics technology market includes a global industry analysis for 2015-2019 and an opportunity assessment for 2020-2030, and delivers a comprehensive assessment of the most important market dynamics. After conducting thorough research on the historical as well as current growth parameters, growth prospects of this market are obtained with maximum precision.
Contactless Biometrics Technology Market Taxonomy
The global contactless biometrics technology market is segmented in detail to cover every aspect of the market and present complete market intelligence to the reader.
Technology
Contactless Fingerprint Technology
Facial Recognition
Iris Recognition
Palm Vein Recognition
Voice Recognition
Contactless Cards
Component
Hardware

Contactless Fingerprint Scanners
Facial Recognition Scanners
Iris Recognition Scanners
Palm Vein Scanners
Others

Software

Integrated Biometrics Software
Standalone Software/Middleware
Facial Recognition Software
Vein Recognition Software
Iris Recognition Software

Others
Services

Professional Services

System Integration & Deployment
Security Consulting
Support & Maintenance

Managed Services
Application
Identity Verification
Payments & Transactions
Access Control
Industry
BFSI
Government & Law Enforcement
Healthcare
Military & Defense
Retail
Others (Education, Hospitality, Automotive etc.)
Region
North America
Latin America
Europe
East Asia
South Asia and Pacific
Middle East & Africa
How the research was conducted?
Primary Research
C - Level Executives
Marketing Directors
Sales Heads
Sales Executives
Technical Advisor
Contactless Biometrics Technology Providers
Distributors
Industry Experts
Enterprise Sizes
Current Market Dynamics and Challenges
Market Characteristics
Market Performance and Growth Quadrants
Competition Structure and Market Structure
Strategic Growth Initiatives
Near term and long term market growth prospects
Market Segment Splits and Authenticity
Opinions on market projections and validity of assumptions
Secondary Research
Company's white papers
Annual Reports and Investor Presentations
Research Papers
Company Press Release
Government Websites and Publications
Primary Interview Splits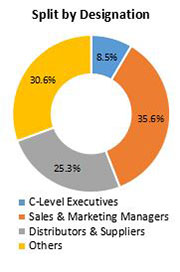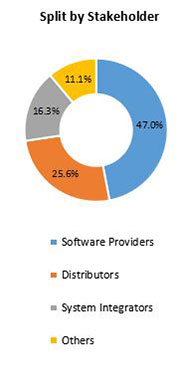 To Learn More About our Comprehensive Perspective on Contactless Biometrics Technology Market,
Get in touch
COVID -19 : Impact Analysis
Request the coronavirus impact analysis across industries and markets
Request Covid -19 Impact
CASE STUDIES
See how our work makes an impact.
At FMI, we design strategies that are adaptive, impactful, and implementable.