Contactless Biometrics Technology Market By Technology (Contactless Fingerprint Technology, Facial Recognition, Iris Recognition, Palm Vein Recognition, Contactless Cards), Component (Hardware, Software), Application (Identity Verification, Payments & Transactions) & Region - Forecast to 2020 - 2030
Contactless Biometrics Technology Market - Analysis, Outlook, Growth, Trends, Forecasts
April 2020

REP-GB-11283

350 pages
Contactless Biometrics Technology Market - Software Captures 45% of Total Demand
Contactless biometrics software, especially integrated biometric software and facial recognition software, continues to witness relatively high demand over hardware components and accounts for 45% of the total market value. As the need to accurately identify and authenticate individuals and to authorize tasks through digital channels accelerates in the time of the pandemic, market stakeholders are focusing on increasing their service offerings.
To meet the sudden spike in demand and gain distinct competitive edge, these stakeholders are further improving their professional services and solutions that are application-appropriate and work seamlessly across end-points.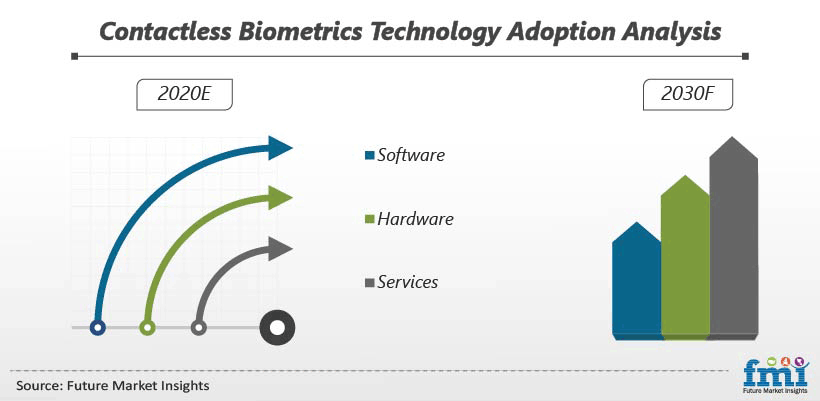 Contactless Biometrics Technology Market - North America in the Vanguard, South Asia & Pacific to Offer New Opportunities
Developed markets continue to hold lucrative prospects for the contactless biometrics technology market, given the high adoption for government and defense applications in North America and Europe. Amidst the outbreak of COVID-19 with the U.S. and Italy as the worst-hit countries, the use of contact-based sensors integrated into shared devices such as door-locks, point-of-sale (POS) devices, and ATMs has been restricted.
The result is expected to work in favor of the contactless biometrics technology market growth. Lucrative opportunities are also expected in South Asia & Pacific, as remote work and digital delivery service become the new status-quo in countries such as India.
Contactless to Gain Momentum as 'Healthier Alternative'
As the COVID-19 crisis unfolds across multiple countries at a significant pace, organizations are increasingly looking for ways to deploy biometric sensors that avoid touch in shared and public spaces. In recent times, the pandemic has induced a forced behavioral change, including adaptation in the virtual work environment, use of digital signatures for legal documents, and contactless payments over bank notes.
Enterprises and consumers are highly likely to keep adapting to convenient and hygiene-centered ways which will play an instrumental role in the growth of the contactless biometrics technology market. Strong focus on reducing touchpoints with external machines or shared public spaces to contain the virus and prevent new infection is further expected to increase the reliance on remote technology.
Contactless Biometrics Technology Market - How Growth will Unfold
While contactless biometrics technology is receiving significant traction from various industry verticals, the real leader in adoption of biometric authentication for access to an individual's identity is the government and law enforcement sector. While contactless fingerprint recognition is becoming a commonplace, other technologies such as voice, facial, and vein pattern recognition are rapidly entering the BFSI industry.
Moreover, growing popularity of online shopping has been prompting banking services to leverage biometrics for contactless payments and money transfer authorizations. In the wake for COVID-19, stakeholders are targeted towards capitalizing on the healthcare industry to help align with the concept of physical distancing while securing the medical identity information.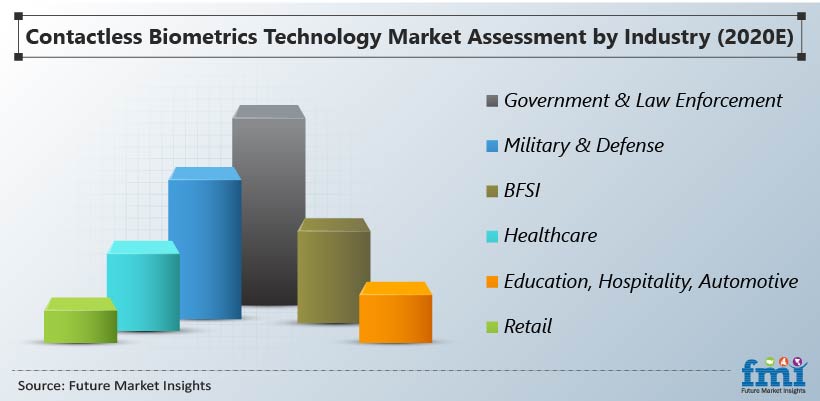 World's Most Profilic Intelligence Engine
Get Access To The World's Largest Market Research Database.
Sign Up Now
CONTACTLESS BIOMETRICS TECHNOLOGY MARKET TAXONOMY
The global contactless biometrics technology market is segmented in detail to cover every aspect of the market and present complete market intelligence to the reader.
Technology
Contactless Fingerprint Technology
Facial Recognition
Iris Recognition
Palm Vein Recognition
Voice Recognition
Contactless Cards
Component
Hardware

Contactless Fingerprint Scanners
Facial Recognition Scanners
Iris Recognition Scanners
Palm Vein Scanners
Others

Software

Integrated Biometrics Software
Standalone Software/Middleware
Facial Recognition Software
Vein Recognition Software
Iris Recognition Software

Others
Services

Professional Services

System Integration & Deployment
Security Consulting
Support & Maintenance

Managed Services
Application
Identity Verification
Payments & Transactions
Access Control
Industry
BFSI
Government & Law Enforcement
Healthcare
Military & Defense
Retail
Others (Education, Hospitality, Automotive etc.)
Region
North America
Latin America
Europe
East Asia
South Asia and Pacific
Middle East & Africa
Need specific information?
Our Clients