Cotinine Screening Devices Market - Key Research Findings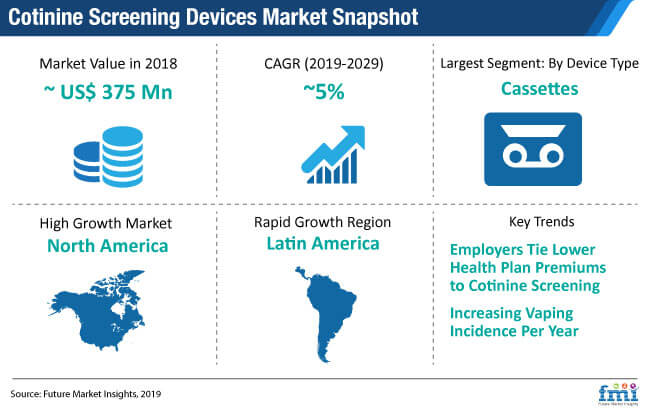 The global cotinine screening devices market size in 2018 was ~US$ 375 Mn.
The global cotinine screening devices market is expected to grow at a CAGR of ~5% in the forecast period 2019-2029.
Adoption of screening techniques during the employee hiring process and to calculate insurance plans is increasing the demand for compact portable diagnostic kits, and subsequently driving the sales of cotinine screening devices.
North America and Europe, together, are expected to account for three fourth of the revenue shares in the cotinine screening devices market by the end of 2029.

North America, owing to the level of awareness generated and adoption of screening techniques, will continue to be a prominent region for cotinine screening devices.

Cassettes are expected to remain the most preferred devices to screen the presence of nicotine, thus, inspiring more cotinine screening device manufacturers to enter the market.

The lower cost of cotinine screening devices and ease of testing have propelled significant growth of the market in the recent past. Also, the portability of such devices has been particularly noteworthy, which is further increasing their demand.
Noteworthy potential of cotinine screening devices has been identified in the saliva sample, which is less painful as compared to testing with blood sample.
Key Factors Shaping the Cotinine Screening Devices Market
Advances in Screening to Ensure Convenience
Manufacturers of cotinine screening devices are shifting to technologies that tend to consume lesser efforts and offer non-invasive diagnosis, reliability of the screening devices, as well as testing at desired location. With hiring trends of employers to screen for illicit drugs, manufacturers ought to focus on multi-panel drug tests, which include cotinine screening too. With mandatory screening in case of armed forces personnel, athletes, and sportspersons, cotinine screening devices are set to witness an upsurge in demand over the course of coming years.
Edge over Traditional Laboratory-based Practices
Functional attributes of cotinine screening devices continue to position them above other laboratory-based diagnosis devices available in the market, in terms of ease and convenience, hence, it is expected that the former will continue to gain preference over latter. Cotinine screening devices are used in the insurance sector, for smoking cessation programs, and at rehabilitation centres.
Portability of these devices reduces the cost of logistics, which could be incurred in sample handling, travelling to laboratories, and generating reports. These highly innovative screening devices not only reduce logistics cost but also ensure speedy detection within minutes.
Laboratories mostly stick barcodes to each and every sample, which leads to additional cost, more space utilization, machine set-up costs, and frequently the samples being misplaced due to wrong barcodes. In case of cotinine screening devices, the sample is directly poured on the device and results are recorded instantly at the same location.
Innovative Product Launches with Increasing Frequency
Increasing emphasis of manufacturers on introducing innovative cotinine screening devices solutions is projected to assist the market growth in the near future. The introduction of highly reliable qualitative as well as quantitative test kits at economical prices has generated demand for non-traditional devices for better specificity and sensitivity. This has been directing the focus of manufacturers on R&D of devices with advanced technical characteristics such as online data creation, pertaining to the test results.
Heightening Consumption by the Insurance Sector
In addition to employee screening, universal insurance coverage in developed countries has been a prominent factor in rising sales of cotinine screening devices. Health plan premiums are lower for non-smokers as compared to smokers, leading to steady consumption of screening devices in the sector. Mandatory health check-ups decide the health insurance premium paid, which is expected to drive demand. The increasing life insurance coverage is also a factor driving the growth of the market in developed regions.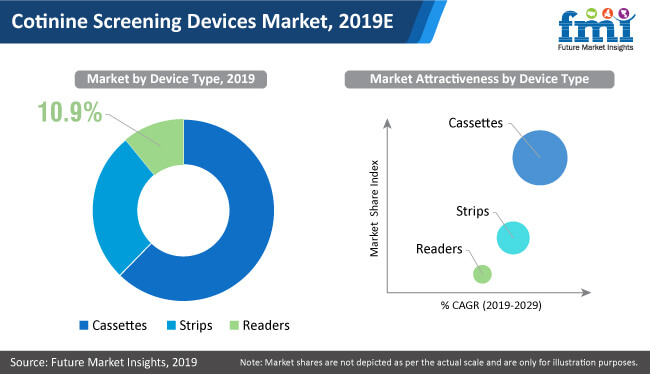 Cotinine Screening Devices Market Structure Analysis
The global cotinine screening devices market showcases a fragmented scenario, where few key players keep up their market share through strong distribution channels and reasonable price per kit.
The cotinine screening devices market has been an emerging market and relatively smaller in size, which inspires many new entrants.
The consumption patterns have made manufacturers focus on new product development along with collaborative strategies across the cotinine screening devices market.
Key players are strategizing on receiving approvals from regulatory bodies in order to increase the reach of cotinine screening devices.
Manufacturers of cotinine screening devices are looking for more and more tie-ups with hospital chains and corporate sector.
Mergers and acquisitions are increasing in the cotinine screening devices market with an emphasis to create newer business models and distribution channels.
Being a fragmented market, easy access to the cotinine screening devices market entry can be a threat for key players.
Disruptive technologies exist in every industry and same can be true about the cotinine screening devices market, where technical advancements can be a risk for key players.
Cotinine Screening Devices: Simplifying Quantitative & Point-of-Care Tobacco Detection
Healthcare models are at the cusp of some major shifts, as the new-age population remains highly susceptible to an array of health disorders and wellness issues. Nicotine dependence - also known as tobacco dependence – is one of such perilous addictions that comes with a hefty price tag. Nicotine produces physical as well as mood-altering effects in your brain, which might offer temporary pleasure but poses devastating effects in the long run.
Sensing the aforementioned, the preference for nicotine addiction diagnosis has scaled new heights, putting the onus on healthcare professionals to adopt effective diagnostic tools offering optimal outcomes. Cotinine has been around for a long time as a biomarker for exposure and use of tobacco, both in the cases of active and passive smoking. The demand for cotinine screening devices is estimated to continue unabated, on account of increasing focus on treatment of nicotine dependence.
The Take Off of 'ENDS': A Prominent Catalyst for Growth
The rise of electronic nicotine delivery systems (ENDS) has marked a significant increase in adoption, with millennials getting increasingly drawn towards e-cigars, e-hookah, e-pipes and shisha tobacco.
According to recent surveys on comparative usage of e - cigarettes in the US, in 2011, around 1.5% high school students were using e - cigarettes whereas it increased to 20.8% in 2018, indicating a leap much higher than expected. Some of the distinguishable properties of ENDS such as availability in various flavors and odorless are further underpinning their adoption by a wide margin.
While much remains to be determined about the long-lasting health consequences of ENDS, multiple research studies are already pointing to the risks of these products on lungs - including chronic lung diseases and irreparable lung damage. With statistics showing signs of increased usage of ENDS, the deployment of cotinine screening devices would continue on an upward spiral in 2019 and beyond.
North America - Growing Burden of Tobacco Addiction Underpins Adoption
Tobacco use is one among the leading causes of fatal diseases, making it essentially critical for various prevention and cessation programs to be in place. Prominent organizations, including the American Lung Association, have been supporting this drive with funding and incentives for federal, local and state level programs, which is further strengthening the lucrativeness quotient of this region for the market players.
The American lung associated also supports policies that offer smokers enhanced access to all effective treatments along with comprehensive health insurance plans, thereby underpinning growth of North America cotinine devices market through 2029.
Pre-Employment Drug & Alcohol Testing: A Chief Use Case Generating Opportunities
Pre-employment drug testing has been long practiced across workplaces and has proved to be a useful tool in ensuring safe work environments. These tests are done through drug testing systems. While urine testing remains the most commonly carried out procedure, other procedures such as hair, blood, sweat, breath alcohol, and saliva tests are also being relied upon during the pre-employment drug and alcohol tests.
These screening tests are carried out with a common objective i.e. to debar the candidates who may pose safety risks for themselves as well as others in case of safety-sensitive workplaces. This is where cotinine screening devices come into play, bringing an array of new opportunities for the market players to reap revenues from.
How Growth Will Unfold?
Manufacturers focus on development of 'one-step' cotinine screening devices offering simple and fast results. Realizing the sensitivities around various end use cases, manufacturers are offering devices whose features that are complaint with the relevant regulatory requirements. Key companies active in the cotinine screening devices market are vying to boost production of cassettes and strips, for the fact that these two continue being two of the most 'in-demand' types.
Strategic mergers and acquisitions will remain the most crucial part of organizations' growth strategies. As the market competition continues to stiffen, market players are vying to pursue revenue growth through mergers and acquisitions, which are among the most challenging endeavors undertaken. For instance, in 2017, Abbott a Laboratories announced the acquisition of Alere, Inc. - a leading diagnostic service and device provider, to expand its sphere of influence in the diagnostic and device landscape.
Key Segment
By Type
By Sample Type
Blood Sample
Urine Sample
Saliva Sample
By Region
North America
Latin America
Europe
South Asia
East Asia
Oceania
Middle East and Africa
Need specific information?
Talk Show:
The Rise of Intelligent Packaging
Personalized, Connected and Sustainable
November 18, 2021
11:00-11:45 AM PST (USA & Canada)
This is a LIVE session