Direct Reduced Iron (DRI) Market Outlook & Key Findings
As direct reduced iron significantly lowers the need for batch charges that eventually raises the overall cost-efficiency and productivity of the process, DRI remains among the favored feed for electric arc furnaces (EAF)
DRI market is set for 7% growth in 2021, as rise in EAF steel production is set to drive the consumption of DRI
Increasing concerns regarding reduced CO2 emissions and improved steel quality would further steer DRI demand
High steel scrap prices to drive the adoption of DRI in steel making process
Low natural gas prices and growing steel production capacities in the Middle East to uplift opportunistic potential of the region
High reactivity of DRI and add-on costs associated with shipping remain as key challenges for manufacturers, as they cut down the profit margins by 5-10%
DRI Market Analysis: Positive Prospects in Steel Making Landscape
Steel manufacturers are shifting the mode of steel manufacturing, from blast oxygen furnace (BOF)/blast furnace (BF) to EAF, to improve the quality of steel, enhance profit margins and reduce CO? emissions. EAF uses DRI as a supplement in the production of steel, unlike BOF producers who use only iron ore and steel scrap.
DRI enables steel manufacturers to produce low-cost carbon steel for manufacturing of high-quality flat products that meet the most exacting specifications. In addition, surging steel scrap prices and restrictions on scrap imports have been elevating prospects of DRI in global steel making landscape.
Weakening Scrap Supplies Augur Well for DRI
Temporary shutdowns of DRI production plants and suspension of operations amid COVID-19 pandemic are leading to prevention of DRI shipments to the US and other key markets. Lags in supply chains have been resulting in tight supply of prime scrap, which will most likely continue over the next quarter.
With supply chains experiencing severe alterations that influence industrial scrap generation, manufacturing activities, and demand for finished steel, it has become imperative for steelmakers to reduce reliance on prime scrap and be open to other available alternatives. DRI, being one of those substitutes in addition to pig iron and hot briquetted iron (HBI), is thus set for accelerating demand in near term.
As more number of steel making companies prioritize countervailing thinning prime scrap supplies at domestic levels, FMI's analysis projects an optimistic growth outlook for the direct reduced iron market.
Rising scrap steel prices and scarcity of steel scrap from domestic sources have been the major factors driving steel producers to opt for DRI. In addition, regulations against scrap steel imports and anti-dumping duties in developing countries like India are compelling steel manufacturers to turn to domestic sources of scrap, preferably DRI, in steel making process.
On the other hand, steel industry has been growing at a rapid pace, especially in India, China, and Middle Eastern countries, with production capacities set to grow twofold by the end of this decade. The growth in steel production, especially through EAF process, is anticipated to present lucrative market opportunities for DRI players over the course of forecast period.
DRI Remains a Demanding Space for New Market Entrants
The DRI market is largely dominated by steel industry juggernauts such as ArcelorMittal, QATAR STEEL, AM/NS India, and NUCOR. High capital expenditure, industry know-hows and a vast supply chain network spanning continents collectively make it a demanding market space for new entrants.
High MES (minimum efficient scale) is however presenting significant barriers to the entry of new companies in DRI landscape, eventually leading to a closed market for new entrants. FMI's analysis suggests that the existing steel industry players that would opt for vertical integration strategies in the immediate future may discover greater profits in the market over the foreseeable future.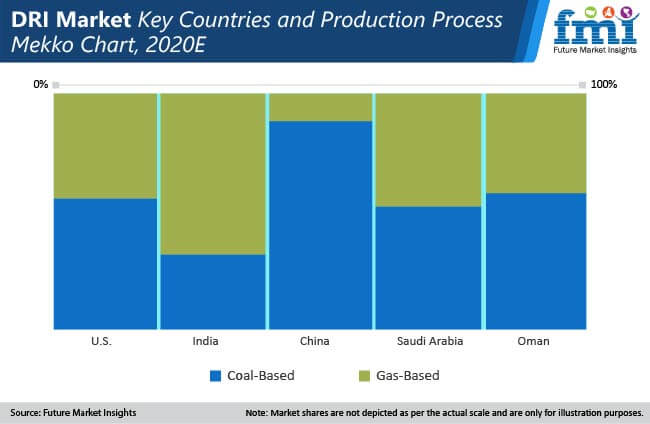 The share of DRI in terms of the production process varies in key markets. The above Mekko chart represents an elucidated view of the production process-wise share of DRI in 5 key countries, including the US, India, China, Saudi Arabia, and Oman. The share of gas-based DRI production process is higher compared to its coal-based counterpart, particularly in India and Saudi Arabia. Producers in China however continue to adhere to coal-based process for DRI production.
Region-wise Analysis - End of Dormancy for China Soon?
India and Middle Eastern countries have been leading the pack in terms of DRI production, accounting for more than 50% of the global production. A similar trend will continue in terms of consumption as well, given the hefty steel production capacities of Middle Eastern and South Asian regions. On the other hand, the US and some of European countries also represent highly lucrative markets for DRI manufacturers, owing to increasing stringency of environmental regulations and falling natural gas prices.
China still remains a significantly cramped market owing to continued adoption of BOF/BF processes, but the tightening regulations set by Chinese government and bans on steel scrap imports are most likely to offer the much-needed push to DRI market in China, probably during the latter half of the following decade.
Leading Suppliers in DRI Market
While the DRI market landscape is currently controlled by a number of existing players, the near future is more likely to witness emergence of new steel manufacturers that are currently investing in vertical integration of their businesses. Banking on the ability to satisfy own demand, and backed by consistently falling raw material procurement costs, DRI manufacturers are witnessing promising growth avenues, especially in the Middle East. Some of the key players in global DRI market include,
Americas
ArcelorMittal
Ferrominera Orinoco (FMO)
Venezolana de Prerreducidos Caroní C.A. (Venprecar)
NUCOR
Europe & Middle East
Mobarakeh Steel Company
Khouzestan Steel Company
Tosyal? Holding
METALLOINVEST MC LLC
Asia Pacific
JSW
AM/NS India
Tuwairqi Steel Mills
*The list is not exhaustive, and only for representational purposes. Full competitive intelligence with SWOT analysis available in the report
DRI: The Way Forward
The long-term projections of DRI market remain buoyant, with revenues estimated to grow at over 8% through 2030. Industry's shift towards adoption of EAF steel making is expected to gain momentum in the first half of the decade, thereby paving the way for new market opportunities for DRI manufacturing companies. Although countries with rich coal reserves and high natural gas prices would remain majorly dependent on BOF/BF processes, the US and some Middle Eastern countries are well positioned to lead the way in EAF steel making and DRI consumption.
DRI is expected to be face stern competition from HBI in the near future, particularly in case of imports, due to HBI's relatively low reactivity and high transportation costs. However, going by the historic trends, DRI will remain the preferred choice of raw material among a majority of steel manufacturers across the world.
The industry has been putting greater emphasis on lowering emissions from steel and iron production plants, which is making a room for emergence of innovative low-emission production processes. Electricity, natural gas, and hydrogen are being considered as the potential substitutes for coke and coal used in blast furnaces. Studies are underway to trial DRI production on green hydrogen. The goal is challenging, but the global sustainability drive demands energy efficiency and a circular economy in the industry.
Direct Reduced Iron (DRI) Market: Segmentation
Production Process
Application
Steel Production
Construction
Form
Region
North America
Latin America
Europe
South Asia & Pacific
East Asia
Middle East and Africa
Need specific information?