Flavored Syrups Market By Flavor (Fruit, Chocolate, Vanilla, Coffee, Herbs & Seasonings), Application (Beverages, Diary & Frozen Desserts, Confectionery, Bakery), Flavor Type (Sweet, Salty, Sour, Savory, Mint), Product type (Natural, Synthetic) & Region - Forecast to 2019 - 2029
Flavored Syrups Market - Analysis, Outlook, Growth, Trends, Forecasts
April 2020

REP-GB-11302

250 pages
KEY RESEARCH FINDINGS
Over the next few years, the market for syrups is expected to rise as an organic commodity that is widely available in a variety of low-calorie formulations.
Increasing variety of flavours in food products are expected to trigger growth in the market for flavoured syrups over the forecast period.
Growing consumer preferences for convenience foods and ready-to-eat products are projected to fuel growth in the demand for flavoured syrups over the forecast period.
The popularity of syrups in the production of drinks and as additives in yoghurts and frozen desserts is also likely to foster market growth.
The largest share of the flavoured syrups market has been in North America.
Asia Pacific is expected to grow at the highest CAGR.
The bakery sector is expected to see substantial growth due to the abundant availability of high-quality products such as chocolates, toppings, fillings and flavours.
KEY FACTOR(S) INFLUENCING THE FLAVOURED SYRUPS MARKET
Rising Preference for Flavour-Based Beverages: In recent years, consumer preference for flavoured drinks has burgeoned market prospects for flavoured syrups market. Syrups based on chocolate, caramel, vanilla, fruit, malt and coffee flavours have found increased popularity as taste enhancers. This is prompting key market players to invest in this domain.
High Levels of Sugar in Synthetic Sweeteners: Most of the flavoured syrups contain high sugar, which can lead to problems among consumers battling hyperglycaemia, or high-blood sugar. Moreover, consumers are also becoming more health conscious, thus shifting towards zero-sugar diets. This factor is anticipated to limit market opportunities for the flavoured syrups market.
COVID-19 IMPACT ANALYSIS ON MARKET
The outbreak of COVID-19 has brought our world to a standstill, with unimaginable and unforeseen effects on our lives, economies, communities, and livelihoods. The risks of a global recession and massive job losses are increasing. In such a situation, where it is possible to predict continued uncertainty, it is prudent to employ strategies that maximize returns, irrespective of market fluctuations. The economic implications of rules that enforce social-distancing to contain the virus will have a profound market impact. Supply chain disruptions are likely, which could hamper the overall growth prospects of the flavoured syrups market.
FLAVOURED SYRUPS MARKET STRUCTURE ANALYSIS
The global flavoured syrups market share is highly concentrated, with prominent players such as Monin Inc., Sensient Technologies, The Hershey Company, Tate & Lyle, Kerry Group, Fuerst Day Lawson, Toschi Vignola, R. Torre & Company, Concord Foods, Sensory Effects, NutriFood, and Mitr Phol Group.
Companies are engaged in the production of sugar-free syrups for health-conscious customers to minimize extra consumption of sugar.
Key players are more likely to manufacture organically flavoured syrups in order to meet consumers' rising desire for natural food additives. That has also contributed to increased product sales.
REPORT SCOPE
Base year considered - 2019
Actual estimates/Historical data - 2014 - 2018
Forecast period - 2019 - 2029
Forecast units - Value (USD) Bn
Segments covered - Product Type, Application and Region
Regions covered - North America, Latin America, Europe, East Asia, South Asia, Oceania and MEA
Key Players - Monin Inc., Sensient Technologies, The Hershey Company, Tate & Lyle, Kerry Group, Fuerst Day Lawson, Toschi Vignola, R. Torre & Company, Concord Foods, Sensory Effects, NutriFood, and Mitr Phol Group
Report coverage - Revenue forecast, company share, competitive landscape, growth factors, and trends
Demand for Fruit flavored syrups will Boost Growth
Owing to their extensive use in alcoholic products such as cocktails, soda and cold beverages, and soft drinks, fruit flavored syrups have dominated the global market. Increasing customer demand for high fruit content syrups has been a major factor pushing manufacturers to launch a large variety of naturally ingredient-infused syrup.
For example, raspberry and orange are among the two most preferred fruit flavours. In addition, the willingness of consumers to try different and unique fruit flavors encourages manufacturers to develop duo-fruit syrups such as lime-ginger, lime mint, and raspberry mint which offer a mixture of sour, sweet, and bitter taste. Such syrups are primarily used in biscuits, cookies, waffles, assorted breakfast foods, ice cream and other ready-to-eat items as a topping component.
In the coming years the market is expected to pick pace as the demand from South Asia and Europe increases. Furthermore, increasing application in dairy products and frozen desserts will remain chief drivers of the market.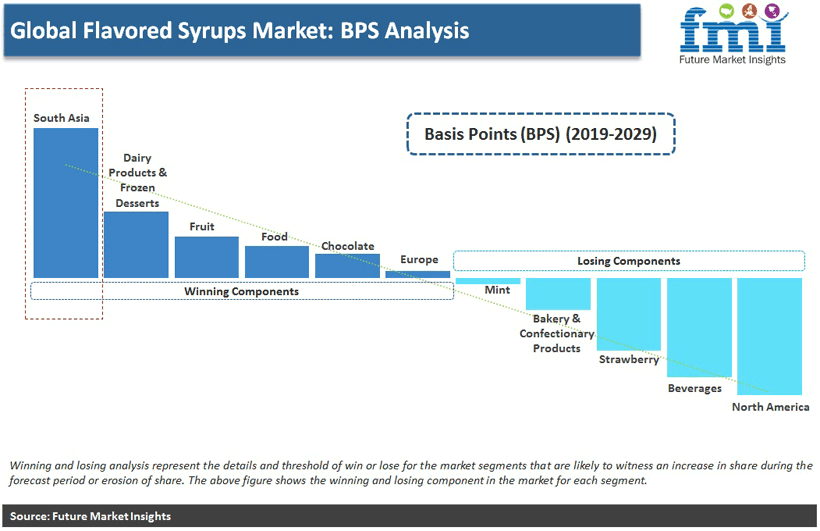 Economic Expansion to Offer Major Growth Opportunities in Developing Nations
The highest share in North America was 31.3 percent. Growth in the market for flavored syrups is primarily due to customer demand for flavored syrup in regular meals such as cereals, snacks, sweets, and beverages. Because of the wide availability of high quality ingredients such as chocolates, toppings, fillings and flavours, the bakery industry is expected to see significant growth in this area. It, in addition, encourages the use of flavored syrups in the food and beverage market.
Thanks to their low prices, bakery products are considered a product of mass consumerism. In addition, the ability of customers to eat sweet foods has led manufacturers to launch novel products filled with flavored syrups. Several foreign firms have entered the Asian market and have succeeded in making fast inroads in this sector.
Increasing Consumer Preference towards Convenience Foods & Ready-to-Eat Products Aiding Growth
Rising in processed food demand and convenience due to easy availability through efficient distribution channels accompanied by growing working demographics that favor growth in the industry. The availability of powdered syrups in RTE food products for versatile and easy preparation would likely contribute to the market size of the flavored syrup.
Growing consumption of dairy products including milkshakes, flavored milk, whipped cream, yogurts, smoothies, and frappes due to consumer preference for leading a healthy lifestyle can influence the growth of the flavored syrup market. They are used for topping which gives food products discrete tastes.
The major restriction faced by the global market for flavored syrup, however, is the presence of high sugar content used as an artificial sweetener, which is a major cause of health hazards such as high blood sugar, diabetes and stomach upsets. Maize syrup produced domestically proves to be a major restraint to growing the flavored syrup market.
How Growth will Unfold
Rising demand from the food and beverage industry for flavored syrups is expected to boost the global market for flavored syrup. Flavored sugar along with a flavor enhancer agent acts as an artificial sweetener. Apart from sweet flavored syrup, the savory flavored syrup extends beverage applications beyond. Savory flavored syrups are used in salad dressing, meat recipes, confectionery preparation, and bakery products.
Nevertheless, demand for chocolate-flavored syrup plays a major role in the growth of the global market for flavored syrup due to the taste preferences of the consumers for chocolate flavor in their food. In addition to being one of the drivers for the flavored syrup industry, customer preferences for different flavored syrup in convenience foods are also expected to fuel global demand growth for flavored syrups. The pharmaceutical industry is also contributing to increased competition on the market for flavored syrup due to the need for flavored syrup in medicines to make them taste better.
In addition to aforementioned factors, growth strategies adopted by tier one, two and three companies will prove crucial for the market's future. Successful implementation and execution of their growth startegies will aid the overall expansion of the market.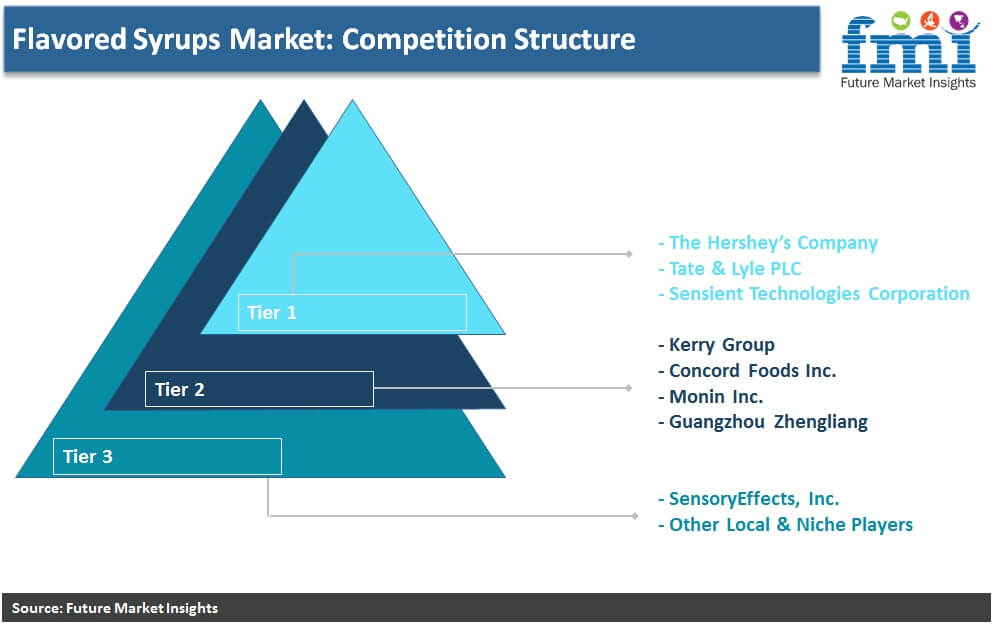 World's Most Profilic Intelligence Engine
Get Access To The World's Largest Market Research Database.
Sign Up Now
FLAVORED SYRUPS MARKET TAXONOMY
The global Flavored Syrups market is segmented in detail to cover every aspect of the market and present complete market intelligence to readers.
Flavor
Fruit
Chocolate
Vanilla
Coffee
Herbs & Seasonings
Application
Beverages
Diary & Frozen Desserts
Confectionery
Bakery
Flavor Type
Sweet
Salty
Sour
Savory
Mint
Product type
Region
North America
Latin America
Europe
Asia
Oceania
MEA
Need specific information?
Our Clients