Date Syrup Market Snapshot
[330 Pages Report] Demand for date syrup is expected to reach US$ 339.0 Mn in 2021, according to the latest Future Market Insights (FMI) study. The market value is expected to surpass US$ 630.0 Mn by 2031, exhibiting growth at healthy CAGR of 6.4% for 2021-31.
The market will particularly gain from the surging application of date syrup in nutraceutical and food service industries in the Middle East and Africa. Besides this, demand in South Asia is expected to increase at an accelerated pace over the forecast period.
| | |
| --- | --- |
| Base year (2020) Market Value | US$ 318 Mn |
| Projected year (2021) Market Value | US$ 339 Mn |
| Projected year (2031) Market Value | US$ 630 Mn |
| CAGR% (2021-2031) | 6.4% CAGR |
2016-2020 Date Syrup Market Outlook in Comparison to 2021-2031 Growth Forecast
As per Future Market Insights (FMI), the global date syrup market grew at a steady CAGR of 4.7% between 2016 and 2020.
Date syrup over the years has found various uses in different industries including food & beverages industry, nutraceutical, skin care & cosmetics, food service industry, retail/ household sector and others.
For instance, in food & beverages industry, it is widely used as a natural sweetener and a flavor additive. Due to the health benefits it offer, date syrup also has found uses in nutraceutical industry as tablet binder.
Date syrup is also considered as a good alternative to honey in skincare and cosmetics industry for skin lightening due to its appealing constancy. Various industries are utilizing this product owing to the health benefits and natural occurrence along with the popularity of dates from which it is produced.
In food and beverage industry, the date syrup can be effectively used in bakery, confectionary applications such as in making cakes, chocolates, cookies etc., in dairy & desserts for producing flavored milk, ice creams, sweets & desserts such as dates halwa and others..In snacks & cereals it is used as a spread. As per FMI, the market is predicted to grow at a CAGR of 6.4% between 2021 and 2031.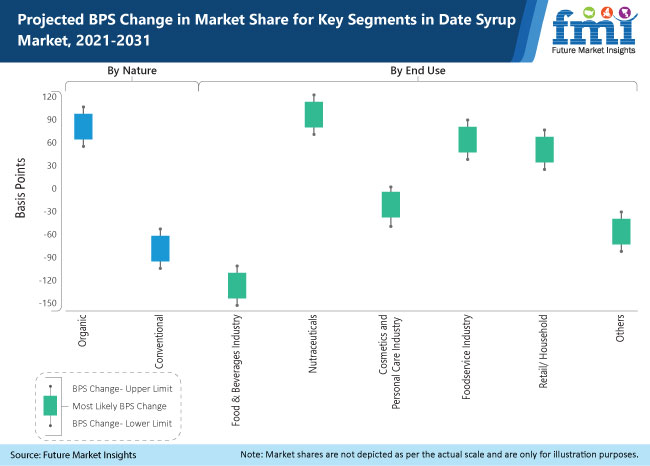 How Is Increasing Demand for Natural Sweeteners Bolstering Date Syrup Sales?
Date syrup as a natural sweetener offers tough competition to the conventional sugarcane-derived sugar. Consumers' interest in consuming natural sweeteners has grown significantly in recent times due to the dismissal of artificial food additives and the increasing awareness about health issues that are a result of high sugar intake.
Date syrup is the most qualified sweetener, as it has considerable amounts of antioxidants, vitamins and minerals. Furthermore, the glycemic index for date syrup is the second least when compared to maple syrup, honey, agave and sugar. All these properties associated with date syrup make it a worthy and effective natural substitute for sugar. Health benefits of date syrup such as control on heart disease, diabetes, fatty liver and body hydration make it a product worthy of global acceptance.
According to the World Health Organization (WHO), around 422 million people worldwide have diabetes, and diabetes is directly responsible for 1.6 million fatalities per year.
Does High Nutritious Value Offered by Date Syrup Play a Pivotal Role in Fuelling its Demand?
Date syrup is a direct product of the hydrated deseeded form of dates and it contains all the nutritious elements found in the fruit. Carbohydrates (glucose, fructose, and sucrose) are the principal chemical constituents of the syrup, with modest amount of cellulose and starch.
Then there's the protein, which can range from 1% to 7%, as well as amino acids. The fat content is low, hovering at 0.1% to 0.5%, with plenty of antioxidants, minerals, and vitamins. The amount of date syrup that can be extracted from the fruit is determined by the crude fiber in the fruit, which is minimized during extraction to achieve maximum syrup.
Date syrup is popular among athletes and fitness professionals because of its great nutritional value. Athletes have been gradually consuming dates and their derivatives in the form of nutritional drinks, milk sweeteners, protein bars, and other goods.
How are Government Policies Supporting Growth for Dates Syrup Market?
Dates and date-based items have been named one of 50 thrust products with the greatest potential for revenue recognition in international commerce by Ithraa, also known as The Public Authority for Investment Promotion and Export Development, Oman. Growers, processors, the country, exporters, and other stakeholders profited from government programmes.
Despite the fact that its dates are extremely competitive in the Indian market, Oman is the only country that does not have a specific quality label or Geographical Indications (GI) or Protected Geographical Indicators (PGI) established in the palm date sector, according to a report by the United Nations Conference on Trade and Development (UNCTAD).
What is the Impact of COVID-19 on the Date Syrup Market?
The date syrup market as a repercussion of the ongoing COVID-19 is expected to see a massive influence on the demand and supply gap. In the retail sector the sales of dates and dates syrup plummeted even during the peak demand time of Ramzan.
The market which usually blooms during the festive time of the year became too weak and caused distributors and suppliers to incur losses. The brunt was felt as well on the retailers' side. This was solely due to the ongoing restrictions and shut downs. Besides this reliance of people on online delivery for dates also caused considerably hindrances.
As per merchants, there has been a huge decline in the number of date buyers which has caused a decline in the varieties of dates that used to reach the market during Ramzan and only limited options were made available to the consumers, which further let to the decline in demand.
The largest market is in Middle East & Africa as the producer, supplier and consumer, and due to the ongoing covid restrictions and market shutdowns, did cast an impact on not only the local markets but the global markets as well.
Country-wise Insights
How is Increasing Demand for Non-GMO Food Products Creating Opportunities for Date Syrup Sales in the U.S.?
The U.S. date syrup market is projected to register growth at a CAGR of 6.7%, during the forecast period. In the US, there has been a decrease in demand and consumption of genetically modified organisms (GMOs) over the last few years.
These factors points to the idea that these factors contribute to diseases such allergic reactions, increased toxicity, cancer, antibiotic resistance, and nutritional deficiency. People are more aware and dependent on supplying their bodies with the appropriate kind of nourishment, which is devoid of any concentration of adulteration, as a result of work-centric lifestyles.
Non-GMO products are also promoted by the World Health Organization (WHO) and the Food and Agriculture Organization (FAO). The demand for non-GMO foods has risen as a result. Many date syrup producers also make it a point to use only non-GMO dates in the processing and production of date syrup.
Ario Co, D'VASH Organics and Ratinkhosh Co., are some manufacturers, who only source non-GMO dates for producing dates syrup.
How Seasonal Demand for Date Products to Benefit Manufacturers in UAE?
According to FMI's analysis, GCC Countries is forecast to grow at a CAGR of 6.5%. Every year in the holy month of Ramadan, dates and date-based products consumption grows higher as compared to any other time of the year. This is solely due to the fact that the fruit and its derived products which are considered sacred in Islamic culture, are the first to be consumed every day after fast.
The amount of natural sugar in date syrup provides an instant energy and also ensures to provide a feeling of full gut for a longer period of time. This has resulted in a significant increase in demand for the fruit during this season of the year, as more processed dates products are becoming common on shop shelves when compared to contemporary syrups and jams.
For instance, Al Barakah Dates Factory LLC, which is among the largest dates processor in UAE, has mentioned it in a report that it has observed a tremendous increase in demand for dates and its derived products during Ramadan, even after the imposition of lockdown with restrictions in UAE, and the demand is not anticipated to decline much throughout the year.
What is the Primary Functionality of Date Syrup in North Africa and Rest of Middle East and Africe?
According to the latest report, the date syrup market of rest of MEA is estimated to be valued over US$ 160 Mn in the year 2021.
Although date syrup is more expensive than brown sugar, it is promoted as a healthier and more natural alternative. Date syrup, often known as date honey or date molasses, is a thick, dark, and sweet fruit syrup prepared from dates.
It is frequently used for cooking in North Africa and the Middle East. It's a versatile natural sweetener that can be used in place of molasses, sugar, or syrup. Date syrup is made in such a way that all of the nutrients and flavour of the dates are preserved. Bread, cakes, muffins, biscuits, fruit bars, and desserts can all benefit from date syrup. Dates are high in vitamins, potassium, and fiber.
In the food sector, date syrup can be used to make distinctive liquid products such as juice blends, yoghurt drinks, and other beverages. It is also utilised in the fermentation of sweet syrup liquid/pulp in wines, spirits, and vinegar.
Category-wise Insights
Why is Demand for Organic Date Syrup Rising?
Organic date syrup expected to register healthy growth at 7.6% CAGR over the assessment period. Food grown organically without the use of chemical substances and using primitive farming techniques delivers not only a better taste, but also a higher nutrition concentration with minimum adulteration.
According to the U.S. Department of Agriculture's Economic Research Service, consumer demand for organically produced goods continues to grow by double digits, resulting in the availability of these products in 20,000 natural food stores and three out of four conventional grocery stores across the country.
Large number of manufacturers offering date syrups including Al Barakah Dates Factory LLC, Rapunzel Naturkost, and others are focused on providing organic date syrup.
How Does Growing Demand for Innovative Beverages Affect Sales of Date Syrup?
Beverages will account for more than 28.1% of market share of food & beverage industry, registering growth at 6.2% CAGR over the forecast period.
With rising consumer demand for new and varied beverages, including both alcoholic and non-alcoholic beverages, the global beverage business has seen enormous expansion. With a growing population and diverse client tastes, the sector is increasing at a rapid pace, which presents date syrup with promising market growth prospects, given its versatility in both types of beverages.
Many beverage makers are experimenting with date syrup in milk and alcoholic beverages to create novel drinks, and depending on the results, new beverage items are introduced on the market.
For instance, Parsunday Symbol Co. claims its date syrup is used to produce high quality alcoholic beverages and vinegar.
Why is Online Retail the Fastest Growing Distribution Channel of Date Syrup?
According to the latest report, the online retail is forecast to be grow at a CAGR of 8.6% in the year 2021. Due to the rise of convenience-based apps and the gig economy, online grocery shopping is more popular than ever.
Consumers' desire to avoid public places, government directives to stay at home, and the ongoing need for groceries and basic commodities have made online grocery delivery services from Walmart, Amazon, and Target indispensable. As a result, online grocers have done a great job of meeting demand during the pandemic, and this will play a big part in determining how much date syrup is sold online after the outbreak is over.
Competitive Landscape
The key manufacturers of date syrup are positioning to offer their syrup in various end use industries. Manufacturers are offering products in the industries including food & beverages, nutraceutical, cosmetics & personal care industry, etc.
A strong focus is on supply chain to ensure the availability of raw materials. Manufacturers strategically place their facilities in higher date production areas to ensure constant supply and cost-cutting in logistics. The manufacturer also focuses on increasing production capacity to fulfill the demands.
Also, companies operating in the date syrup market are offering the products in different quality grades. This has enabled the manufacturers to fetch new customers from the foodservice and food & beverages industry. Depending upon the customer's need the product can be provided.
Scope of Report
Attribute

Details

Forecast Period

2021-2031

Historical Data Available for

2016-2020

Market Analysis

USD Million for Value

Key Countries Covered

US, Canada, Germany, U.K., France, Italy, Spain, Russia, China, Japan, South Korea, India, Thailand, Malaysia, Indonesia, Australia, New Zealand, GCC Countries, Turkey, Northern Africa, and South Africa

Key Segments Covered

Nature, End Use, Distribution Channel, and Region

Key Companies Profiled

Malabar Food Products
Just Dates Syrup
Ario Co
Sun Seas Business Group
BIONA
Parsunday Symbol Co.
BOMBUS
Rapunzel Naturkost
D'VASH Organics
Ratinkhosh Co
EZEEBEE OVERSEAS PVT LTD
Ambrosia Delicatessen
ARAT COMPANY PJS
Minoo Industrial Group
Emirates Dates
Date Lady
Others

Report Coverage

Market Forecast, Company Share Analysis, Competition Intelligence, DROT Analysis, Market Dynamics and Challenges, and Strategic Growth Initiatives

Customization & Pricing

Available upon Request
Key Questions Answered in the Report
What is the current date syrup market size?

The date syrup market is expected to total US$ 339 Mn in 2021.

What is the demand outlook for the date syrup market?

The date syrup market is expected to top US$ 630 Mn by 2031, exhibiting growth at 6.4% CAGR between 2021 and 2031.

At what rate did the demand for date syrup grow in the last five years?

The date syrup market registered 4.7% CAGR in terms of value between 2016 and 2020.

What is the North America date syrup market outlook?

The sales of date syrup will grow by 5.8% in North America.

At what rate will the demand for date syrup increase in Europe?

The demand for date syrup is expected to increase by 6.5% CAGR in Europe.

Name some of the leading companies operating in the date syrup market.

A. Al Foah, Malabar Food Products, Just Dates Syrup, Ario Co, Sun Seas Business Group, BIONA, Parsunday Symbol Co., BOMBUS, Rapunzel Naturkost, D'VASH Organics, Ratinkhosh Co, EZEEBEE OVERSEAS PVT LTD, Lion Dates Impex Pvt. Ltd., Ambrosia Delicatessen, ARAT COMPANY PJS, Minoo Industrial Group, Emirates Dates, and Date Lady among others are the leading market players.

What is the Japan and South Korea date syrup market outlook?

The Japan and South Korea date syrup markets are expected to register growth at 9.6% CAGR and 9.2% CAGR, respectively.
World's Most Profilic Intelligence Engine
Get Access To The World's Largest Market Research Database. Ngage with a revolutionary intelligence engine that scale and pricing that flexes as per your needs
Sign Up Now
Date Syrup Market by Category
By Nature:
By End Use:
Food & Beverage Industry

Bakery & Confectionery
Dairy & Desserts
Snacks & Cereals
Beverages
Others

Nutraceuticals
Cosmetics and Personal Care Industry
Foodservice Industry
Retail/ Household
Others
By Distribution Channel:
Business to Business
Business to Consumers

Hypermarkets/ Supermarkets
Specialty Stores
Convenience Stores
Online Retail
By Region:
North America
Latin America
Europe
South Asia
East Asia
Oceania
MEA
Need specific information?