Folding Gluing Machines Market Analysis: Straight Line Bottom Boxes to Create Highest Incremental Opportunity in the Folding Gluing Machines Market
The global market for folding gluing machines was valued at US$ 491.1 Mn in 2017. The folding gluing machines market is projected to expand at a CAGR of 4.5% during the forecast period, 2018-2028.
Folding gluing machines are used to transform flat sheets into a variety of boxes such as straight-line, crash-lock bottom, pocket fold or multi-corner boxes. Folding gluing machines can process a wide array of materials ranging from solid board, plastics, metalized varnished boards, litho-laminates, micro-flutes, and corrugated box.
The global folding gluing machines market has been segmented on the basis of machine type, fold type, machine output, sheet size and end use. Various fold types are available to cater to the needs of different end use industries. Straight line boxes segment holds the highest market share in the global folding gluing machines market and represents highest incremental opportunity which is followed by crash lock bottom segment. Folding gluing machines for different end use industries use different sheet sizes.
Pharmaceuticals industry mostly uses smaller sheet sizes of about 500 mm while food industry uses 1100 mm sheets to produce boxes for packaging. Although these sheet sizes can be customized to suit the needs of the end use manufacturer.
Lucrative Demand for Corrugated Boxes to Drive the Folding Gluing Machines Market
Corrugated boxes are used for shipping and transit by a variety of end use industries. This can be attributed to the optimal cost-to-strength ratio that they offer. The high demand for corrugated boxes has created need for an efficient, and inexpensive way to convert corrugated boards into boxes. The in-line process of the folding gluing machines reduces the cost of producing corrugated boxes and also produces better quality corrugated containers. All these factors are anticipated to propel the folding gluing machines market during the forecast period.
Food Packaging to Generate Highest Incremental Opportunity in the Folding Gluing Machines Market
Food packaging segment is anticipated to remain as the most rewarding segment in the global folding gluing machines market. Owing to the thriving food industry, the demand for corrugated packaging is at its peak. This has created high demand for folding gluing machines as they prove to be an economical and efficient way to prepare boxes out of flat sheets.
FMI Key Findings
The demand for flame sealers has spiked in the past few years. Flame sealers are folding gluing machines that produce Polyethylene (PE) coated cartons for aseptic packaging. They are mostly used for packaging of food & beverages. The PE coating takes away the need for primary packaging with certain food products, which are presented to the market with carton packaging only. This helps in reducing the overall cost of packaging.

The structural design of the carton also plays a vital role, new carton designs allow a better presentation of the product inside and have the same results with less material requirement and shorter processes.
Recent Developments
American International Machinery (AIM) manufactured a unique range of folding gluing machines that can simplify the make-ready process. These folding gluing machines use a solid-beam photo sensor to detect a box, and can begin back folding process from the rear edge of the carton rather than the front edge of the box. This means that the operator doesn't have to measure dimensions every time, which results in less time spent in make-ready process and hence increases the throughput.
Roberts PolyPro, Inc., a U.S. based manufacturer of product packaging solutions, produced a straight-line gluer, known as SuperGluer folding gluing machines. It has 80% fewer moving parts than traditional folding gluing machines, this reduces the time required for maintenance. These folding gluing machines are equipped with Zero Defect System that automatically clears off cartons and ensures that all of the cartons are properly compressed during programmed stops.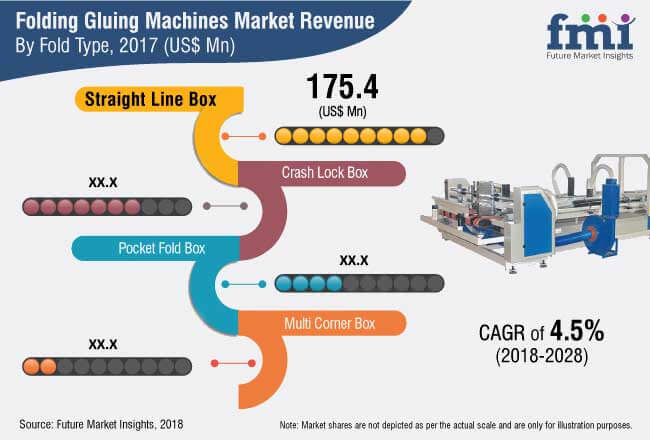 Automatic segment of folding gluing machines market was valued at US$ 441.0 Mn in 2017 and is expected to expand at a CAGR of 4.7% over the forecast period 2018-2028. Folding gluing machines market is expected to create incremental $ opportunity of US$ 302.67 Mn, during the forecast period.
Food segment is valued at US$ 159.1 Mn in 2017 and is expected to reach US$ 229.0 Mn, by the end of the forecast period. Sheet size, 1100 mm segment is anticipated to be the most lucrative segment in folding gluing machines market and is projected to register a CAGR of 4.4%, during the forecast period.
Competitive Landscape
Detailed profiles of companies are also included in the report to evaluate their strategies, key product offerings, and recent developments. The key players in the global folding gluing machines market are Bobst Group SA, Heidelberger Druckmaschinen Aktiengesellschaft, Barry-Wehmiller Group, Inc., Ishikawa Seisakusho Co., Ltd. EMBA Machinery AB, WILHELM BAHMUELLER Maschinenbau Praezisionswerkzeuge GmbH, Vijaya Grafiks Inc., Fidia Macchine Grafiche S.r.l., and Sipack S.r.l., Lamina System AB.
Market Segmentation
By Machine Type
By Fold Type
Straight Line Box
Pocket Fold Box
Crash Lock Box
Multi Corner Box
By Machine Output
Up to 100 m/min
100 to 200 m/min
200 to 300 m/min
Above 300 m/min
By Sheet Size
500 mm
800 mm
1100 mm
1200 mm
By End Use
Food

Dairy Products
Dry Foods & Snacks
Fresh Produce
Frozen & Chilled

Beverages
Personal Care & Cosmetics
Electrical & Electronics
Automotive
Healthcare & Pharmaceuticals
Other Consumer Goods
By Region
North America
Latin America

Brazil
Mexico
Rest of Latin America

Western Europe

Germany
France
U.K.
Spain
Italy
Benelux
Nordic
Rest of Western Europe

Eastern Europe

Russia
Poland
Rest of Eastern Europe

APEJ

China
India
Australia & New Zealand
ASEAN
Rest of APAC

Japan
MEA

GCC Countries
Turkey
South Africa
North Africa
Rest of MEA
Need specific information?