Introduction
The report covers comprehensive information about market trends, volume (Units) and value (US$ Mn) projections, market dynamics, competition landscape, and recent developments regarding the global automotive turbochargers market for the study period 2018 to 2028.
The global automotive turbochargers market is expected to reach over US$ 22,777.0 Mn by the end of forecast period, registering a CAGR of 9.0%. According to the analysis, the demand for automotive turbochargers is expected to keep increasing and gain significant traction in the coming years.
Increasing automotive turbochargers installations in gasoline engines, regulatory scenario, and healthy demand from the automotive industry are expected to reinforce the outlook of the global automotive turbochargers market.
By Product Type, the Variable-geometry Technology segment dominates the Global Automotive Turbochargers Market
The three major types of automotive turbochargers covered in the research study are wastegate, variable-geometry technology and twin turbo type. Variable-geometry turbochargers are majorly installed in diesel commercial vehicles and passenger cars.
Furthermore, variable-geometry technology automotive turbochargers offer different aspect ratios (A/R ratio) for different engines. The aspect ratios for low-speed engines and high-speed engines are very different. A fixed geometry turbocharger aspect ratio is fixed so it can't be used for all type of engines and therefore, variable-geometry turbochargers are used for maximum output.
The variable-geometry technology segment is estimated to gain 140 BPS between 2018 and 2028, owing to the strong demand from South East Asian Countries, Middle East & Africa and North America. The segment is estimated to be the most attractive among all its counterparts. It is expected to expand at a CAGR of 9.3% to reach US$ 15,817.7 Mn by the end of 2028.
Growing Demand for Engine Downsizing to optimize Vehicle Performance is slated to drive the growth of the Global Automotive Turbochargers Market
Efficient utilization of resources or raw materials, decreasing waste production and increasing efficiency are the key focus areas for manufacturers in the automotive turbochargers market.
Automotive turbochargers help in increasing the power output of engines by allowing more air per intake to the combustion chamber of powertrains. As compared to the naturally-charged atmospheric pressure engines, automotive turbochargers are a more efficient and eco-friendly technology as they offer increased engine power without increasing piston displacement.
The above stated technology is termed as engine downsizing and helps in improving vehicle performance by reducing fuel consumption in IC engines.
Furthermore, automotive turbocharger manufacturing companies are closely working with customers through partnership programs focused on fuel economy, engine downsizing and emission control. This may further lead to significant benefits, such as enhanced safety, lower prices, greener solutions and more fun drives.
North America and China are expected to steer the Global Automotive Turbochargers Market Growth in the Near Future
The North America automotive turbochargers market is expected to witness a trend of engine downsizing with the rising demand for gasoline engines from light trucks and passenger cars leading to increased demand for gasoline turbochargers.
The region is expected to shift towards smaller turbocharged engines from larger naturally-aspirated engines, with the current average size of 3.0 L six-cylinder. With the strong demand for light vehicles in North America, the manufacturers of automotive turbochargers are providing more twin-scroll turbo technology support.
On the other hand, China is estimated to impose tough carbon emission and fuel economy regulations on car manufacturers with wider adoption of electrification and development of gasoline turbocharged engines.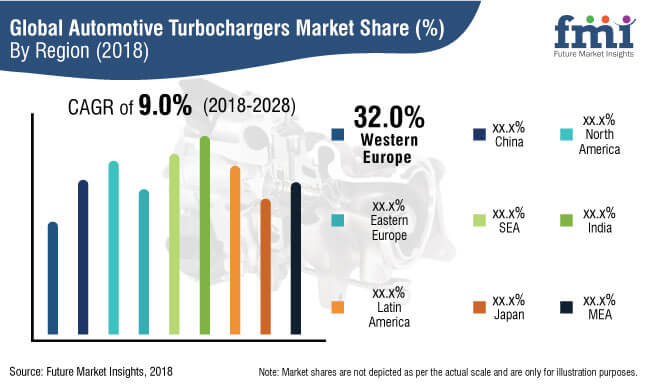 Outlook of the Automotive Turbochargers Market
Western Europe is expected to dominate the global automotive turbochargers market in terms of installations over total vehicle sales. In addition, shaping trend of automotive performance tuning and engine remapping in the region is indirectly driving demand for turbocharger installation.
China and North America are expected to gain traction over the forecast period, owing to the anticipated increase in adoption and installation in these regions. All other regions are expected to exhibit moderate growth in the same period.
Automotive Turbochargers Market – Competitive Landscape
The global automotive turbochargers market is mostly consolidated where the top three players, i.e. Honeywell International Inc., BorgWarner Inc. and IHI Corporation, accounted for nearly an 83% market share by 2017 end.
In the recent past, the automotive turbochargers market has witnessed significant developments from a competition perspective. Product innovations, mergers, and acquisitions are some of the key preferred strategies opted by key players to sustain and enter in the global automotive turbochargers market.
In 2017, Honeywell introduced Garrett G Series turbochargers, which are developed with latest technologies in design, aerodynamics and materials to meet the aftermarket demand
In April 2018, BorgWarner Inc. introduced 17 new replacement turbochargers for automakers, positioning itself as a major supplier in the aftermarket channel
Prominent players covered in the automotive turbochargers market include Honeywell International Inc. (Garret Advancing Motion), BorgWarner Inc., IHI Corporation, Cummins Inc., Bosch Mahle Turbo Systems GmbH & Co, Eaton Corporation plc, Weifang FuYuan Turbochargers Co., Ltd. and Mitsubishi Heavy Industries, among others.
Key Questions answered in the Automotive Turbochargers Market Report
How has the automotive turbochargers market evolved over the past five years?
How is the automotive turbochargers market expected to take shape in terms of volume and value during the study period?
What are the prevailing market dynamics in the automotive turbochargers market?
What are the competition developments and trends in the automotive turbochargers market?
What are the underlying macro-economic and industry factors impacting the growth of the automotive turbochargers market?
Which are the key challenges, opportunities and improvement factors for automotive turbochargers market players?
What are the market positioning and key strategies of key manufacturers as per the automotive turbochargers market taxonomy?
How is the competition structured in the automotive turbochargers market and how has it evolved over the past few years?
Automotive Turbochargers Market: Segmentation
Product Type
Wastegate
Variable-geometry Technology
Twin Turbo
Vehicle Type
Passenger Car
LCV
HCV
Agricultural Machinery
Construction Machinery
Fuel Type
Sales Channel
Actuators
Hydraulic
Pneumatic
Electric
Region
North America
Latin America
Western Europe
Eastern Europe
China
India
Japan
SEA & Pacific
Middle East & Africa
Need specific information?