Cat Litter Market Product Type (Clumping, Non-Clumping), Material Type (Clay, Silica, Plant Fibres), Life Stage (Adult, Kitten), Nature (Natural, Conventional), Type (Scented/ Fragrance, Unscented/ Without Fragrance) & Region for 2021 – 2031– Forecast 2021 – 2031.
Cat Litter Market - Analysis, Outlook, Growth, Trends, Forecasts
August 2021

REP-GB-13747

300 pages
Cat Litter Market Snapshot
[300 Pages Report] As per Future Market Insights (FMI) analysis, the cat litter market will generate revenue, surpassing US$ 4.3 Bn in 2021. Between 2021 and 2031, the market is forecast to exhibit compound annual growth rate (CAGR) of 5.3%. Direct sales channels are set to reflect a positive growth outlook with an above average CAGR of 6.4% through the assessment period.
Pet owners around the world are increasingly considering their animals as a part of their family and are seeking high quality care solutions. The demand for safety standards and superior efficacy in applications is on the rise. Future Market Insights (FMI) estimates that the cat litter market will experience a year-on-year growth rate of 2.2% in 2021.
Cat Litter Market Key Points Covered
Market estimates and forecast 2016-2031
Key drivers and restraints impacting market growth
Segment-wise, Country-wise, and Region-wise Analysis
Competition Mapping and Benchmarking
Brand share and Market Share Analysis
Key Product Innovations and Regulatory Climate
COVID-19 Impact on Global Cat Litter Market and How to Navigate
Recommendation on Key Winning Strategies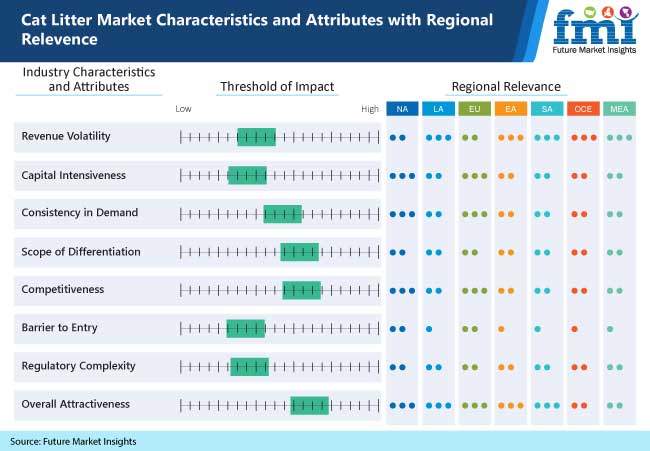 2016-2020 Global Cat Litter Market Outlook Compared to 2021-2031 Forecast
Increasing expenditure by cat owners towards care and luxury products for their pets is resulting in the global cat litter market growth at 5.3% CAGR between 2021 and 2031.
In the era of digitalization, many brands seek to gain customers by marking their presence through digital channels. Companies like Laviosa, Tolsa Company, Boxiecat, Dr. Elsey's Cat Products and more are looking forward to gain traction across through social media networks.
As the direct-to consumer trend has reached the cat litter market in a big way, some brands such as Boxiecat have launched their own websites to promote products such as cat litter deodorizers, cat litter jugs, and cat litter mats directly to consumer. This also will help them gain consumer trust and create long term brand loyalty.
The millennial generation and older adults are two consumer demographics that have had a significant impact on the rate of global cat adoption. A high number of cat owners, especially among millennials maintain accounts on Instagram and Facebook which can be leveraged to promote sales of cat litter products.
Cat owners today are increasingly shifting towards cat litter alternatives including natural materials in the market. Awareness regarding environmental impact is driving consumers towards natural alternatives such as corn, wheat, walnut shells, pine and diatomaceous earth. This is a major factor that has led to the rise in consumer spending from conventional to natural and sustainable litters.
According to the American Veterinary Medical Association (AVMA), more than 45% of U.S. households today own a pet, wherein dogs are highly popular, followed by cats. The increase in the cat adoption rate indicates high potential for growth of the market in the coming years. In the near future, the demand for clumping litter made from silica is likely to grow, creating opportunities for the expansion of the overall market.
How Will the Emergence of Recycled and Reusable Cat Litter Impact Market Growth?
In order to reduce negative impact on the environment, manufacturers are aggressively including recycled and reusable litter products into their portfolios. For instance, Yesterday's News, a brand of Purina, manufactures their litter from post-consumer waste derived from newspapers.
Petnovations Inc. provides granules that are washable in nature and made up of a non-toxic combination of natural and synthetic bio-degradable materials that breakdown easily in septic tanks.
One Earth Home's reusable cat litter that is made of High Density Poly Ethylene (HDPE), a thermoplastic polymer made from petroleum. The granules sink to the bottom and makes it easier to clean. They are also compostable, septic safe, and dissolve completely. Such reusable and recyclable innovations are catching the attention of customers and might play a crucial role in growth of the cat litter market.
What is the Impact of the COVID-19 Crisis on the Global Cat Litter Market?
The outbreak of the novel coronavirus has resulted in an economic downswing by causing disruptions in the business operations in various sectors. The retail industry is one of the hardest hit sectors.
There has been a notable reduction in overall discretionary spending, which is posing a temporary challenge for the players operating in the market. Besides, consumers have shifted from retail stores to online buying, which has opened new opportunities for online retailers.
The pandemic has further resulted in a change in consumer buying behavior as many have turned to mindful consumption. In light of this situation, the players are now focused on improving online penetration along with their physical presence, as this provides an opportunity to the players to access a wider consumer base with minimum costs.
Cat Litter Market Country-wise Insights
How is the Market for Cat Litter Faring in the U.S.?
According to Future Market Insights, North America will continue to be one of the most lucrative markets throughout the forecast period. According to the study, the U.S. is expected to account for over 76.5% of the region's value share through 2031.
Consumers are displaying willingness to spend more on their cats, which is driving growth at the premium end of the market. A growing proportion of Americans regard their pet cats to be family members.
Amid the covid-19 outbreak social distancing became a norm that pushed many Americans to consider adopting pets. Millennials in America in particular have actively engaged in pet adoption.
How are Brands Leveraging Promotion Strategies for Cat Litter Sales in the U.K.?
Demand in the U.K. is projected to rise at nearly 2.8% CAGR over the forecast period. Brands have a strong capability to reshape consumer perception. This includes context setting, reasons to believe, visuals, and information on benefits. The brands are engaged either in using emotional propositions or functional incentives.
Competition in the U.K. is very strong, and participants focus heavily on bolstering their own product lines through line extensions, reformulations, and new product releases, all supported by chain retailer relationships and heavy consumer marketing and advertising.
What is the Current Scenario of Players in China?
China is a leading manufacturer of cat litter in East Asia. By 2031, it is expected to account for over 38% of the overall sales within the region. Driven by increasing downstream demand, the popularity of cat litter in the Chinese market is increasing rapidly.
Besides canine pets, felines are increasingly gaining popularity amidst the Chinese population. The penetration of players in the Chinese market is strong, thus making it challenging for newcomers to enter as established brands seek to gain or maintain their current market position.
What Growth Opportunities are Available for Cat Litter Businesses in India?
In 2031, India will account for over 21.7% sales in South Asia. The growth in the region is driven by pet humanization coupled with growing disposable income. Cat ownership in India has increased rapidly over the past few years owing to rising number of nuclear families and change in urban lifestyles.
Numerous players including MARS, Royal Canin, Petcrux, and many more have entered the country in recent years. Cat litter manufacturers are offering more natural and high-quality products in response to the augmented demand for premium offerings. In 2020, MARS Petcare launched the CATSAN cat litter brand in India.
Cat Litter Market Category-wise Insights
Why is the Demand for Clumping Litter Continuously Rising?
Based on product type, clumping litter is the leading category, accounting for nearly 79.3% of the market in 2031. The use of clumping litter has augmented due to a range of benefits it offers such as it is easy to separate lumps from litter stray without lifting it.
Clumping type of litter is manufactured from bentonite, a highly absorbent clay that helps form solid clumps when felines urinate, leaving the litter box odor-free and clean. Also, it has been observed that most cats prefer clumping litter as it is easier for them to push aside
In Terms of Material, Why are Plant Fiber Litters More Preferred by Consumers?
Eco-friendly cat litters are slowly gaining significance in the market. These natural cat litters are attracting environment conscious consumers. Besides this, the rapidly growing awareness regarding harmful impact of conventional cat litters on health is further encouraging consumers to switch towards natural cat litters in the market.
In addition to being health hazardous the conventional cat litters are also environmentally destructive. Which is why eco-friendly litter is on the verge of becoming the most preferred cat litter globally due to the ease of disposable methods and other health benefits. Plant fiber litters are estimated to account for over 39.2% of the market by 2031.
Thus, as the preferences for natural cat litters is rapidly increasing these litters are being extensively promoted as 100% natural, eco-friendly, earth-friendly, recycled, chemical-free, non-toxic and sustainable alternatives with an aim to further attract consumer attention.
Why is the Conventional Cat litter Majorly Preferred by the Customers?
The conventional cat litter segment is projected to grab a significant market share of 60.3% by the end of 2031. The ease-of-usability and handling are the primary factors that are contributing towards the preference of customers for conventional litter.
Conventional litter automatically forms clumps and are easy to scoop out. Small clumps form when urine or cat excrement come into contact with conventional litter, trapping humidity inside. Designed for cat owners who clean their litter box on a regular basis.
Moreover, manufacturer's effort to recycle and reuse the waste material has increased since the past few years. Increasing number of businesses are showing interest in producing conventional cat litter from recycled materials.
How are Private Label Brands Gaining Prominence in the Cat Litter Market?
The emergence of high number of private label brands in the cat litter market is anticipated to grow at a CAGR of 6.3% over the forecast period. Private label brands' widespread type of merchandising enable business owners and managers to enjoy a positive return on investment, correspondingly which is a sign of market growth.
Successful private label brands have been able to provide merchants with more sales prospects. Customizing store brand labels, such as logos and taglines, can personalize a consumer's shopping experience, are resulting in increased customer loyalty.
COSYCAT, for example, is an environmentally friendly clumping cat litter made from unprocessed wood fibers. It is fragrance-free and contains no additives. Retailers can differentiate themselves from the competition by providing COSYCAT as a private label product. Customers can receive an all-natural, eco-friendly cat litter that has numerous benefits for cats, humans, and the environment.
What are the Categories of Cat Litter Preferred by Customers Based on Life Stage, Price, and Type?
In terms of life stage, adult cats are anticipated to hold a significant revenue share of 78% by 2031. According to the survey by The Humane Society of the United States, 70% of the cat population is adult cats. Another factor such as cat behavior in using cat litter and box is greater in adult cats than in kittens and plays a major factor adoption of cat litter for adult cats.
On the basis of price range, medium price range of US$10-US$20 is projected to hold major market share of 35.2% by 2031 year end. The large population of middle class with a minor contribution from low-income population is anticipated to fuel the market growth in this category.
The unscented type of cat litter is expected to grow at a CAGR of 5.8% over the forecast period. Cats tend to prefer unscented litters to scented litters because their nose and sense of smell are superior. Moreover, several studies have found that cats have a better sense of smell than some canine breeds. Alternatively, baking soda or activated charcoal is added in the scented litter to keep the odor check and boosted the market for unscented cat litter.
Why have Online Retailers Emerged as Most Preferred Sales Channel?
The online retailer's sales channel is expected to contribute revenue share of more than 10% by 2031, in the global cat litter market as pet parents are increasingly getting digitally connected. In light of this, many brands are introducing hashtag campaigns and actively collaborating with social media influencers to promote their brands.
Cat Litter Market Competitive Landscape
Companies operating in the global cat litter industry are aiming at strategic approaches such as promotional campaigns to expand their product manufacturing and to cater to the demand of an expanding customer base.
In 2018, the brand Fresh Step launched Fresh Step Clean Paws, the first low tracking litter made with a blend of large particles, designed with an aim to stay in the litter box and stick less to the cat's feet and fur. For marketing the new innovation in a unique way, the brand introduced the 'Cats on Glass' campaign, embracing visual storytelling to build greater awareness. In the light of this, the brand, in 2018, created an Instagram-worthy exhibit in New York City called the 'Cats on Glass Gallery', exhibiting the playfulness of cats.
Scope of Report
Attribute

Details

Forecast Period

2021-2031

Historical Data Available for

2016-2020

Market Analysis

USD Million for Value

Key Regions Covered

North America, Latin America, Europe, East Asia, South Asia, Oceania, and the Middle East & Africa

Key Countries Covered

US, Canada, Germany, U.K., Germany, Nordics, Netherlands, Czech Republic, France, Italy, Spain, Russia, Brazil, Mexico, Argentina, China, Japan, South Korea, India, Thailand, Malaysia, Indonesia, Australia, New Zealand, GCC Countries, and South Africa

Key Segments Covered

Product type, Material Type, Form Type, Type, Life Stage, Brand Type, Price Range, Nature, Sales Channel, and Region

Key Companies Profiled

Purina (Nestle SA)
Dr. Elsey's Cat Products
Church & Dwight Co.
Dirk Rossmann GmbH
Fressnapf Tiernahrungs GmbH
dm-drogerie markt GmbH + Co. KG
Arm & Hammer (Church & Dwight)
The Clorox Company
Mars Incorporated
J. RETTENMAIER & SÖHNE Gmbh + Co KG
H. von Gimborn GmbH.
Gruppo Laviosa Minerals Srl.

Report Coverage

Market Forecast, Company Share Analysis, Competition Intelligence, DROT Analysis, Market Dynamics and Challenges, and Strategic Growth Initiatives

Customization & Pricing

Available upon Request
World's Most Profilic Intelligence Engine
Get Access To The World's Largest Market Research Database.
Sign Up Now
Cat Litter Market by Category
By Product Type:
By Material Type:
Clay
Silica
Plant Fibers

Pine
Paper/Wood
Walnut
Corn
Others (wheat, Grass, Pea fibers, etc.)
By Life Stage:
By Nature:
By Type:
Scented/ Fragrance
Unscented/ Without Fragrance
By Brand Type:
Prestige Brands
Mass Brands
Private Label
By Form Type:
Clay

Fine Litter
Coarse Litter

Silica

Fine Litter
Coarse Litter

Plant Fibers

Fine Litter
Coarse Litter
By Price Range:
US$5-US$10
US$10-US$20
Above US$20
By Sales Channel:
Direct Sales Channel
Indirect Sales Channel

Hypermarkets/Supermarkets
Multi-Brand Stores
Pet Care Centres
Pet Specialty Stores
Online Retailers
Discount Stores
Drug Stores
By Region:
North America
Latin America
Europe
East Asia
South Asia
Oceania
Middle East and Africa (MEA)
Key Questions Answered in the Report
What is the current valuation of the cat litter market?
The cat litter market is expected to surpass a valuation of US$ 4.4 Bn by 2021.
At what rate did the cat litter market expand between 2020 and 2021?
The cat litter market exhibited a rise of 4.3% from 2020 to 2021.
What is the cat litter market demand outlook?
The cat litter market will register a healthy growth in demand through 2021 and beyond. As per FMI, the market will register a CAGR of 5.3% between 2021 and 2031.
What are the key trends prevailing in the cat litter market?
In order to reduce negative impacts of growing amounts of waste on the environment, manufacturers are aggressively considering the benefits of recycled and reusable litters. With growing environmental concerns the trend of recycling and reusing the products will become highly prevalent, shaping growth opportunities for cat litter market in future.
What are the key factors driving the sales of cat litter?
Increasing investments in research to lower production costs and the growing awareness about the importance research and development in material and design innovations will drive growth in the market.
What is the North America cat litter market outlook?
North America is a lucrative market for cat litter, reflecting a 3.0% CAGR through the end of 2031.
What is the cumulative share of the top five companies in the cat litter market?
The top five companies operating in the cat litter market are Nestle Purina, The Clorox Company, Dr. Elsey's, Kent Pet Group, and Tolsa Company cumulatively holding a market share of 34.3% of global cat litter market.
At what rate will the cat litter market grow in Europe?
Future Market Insights has forecast the Europe cat litter market to exhibit a CAGR of 3.8% between 2021 and 2031.
Which are the top 5 countries exhibiting high demand for cat litters?
The US, Canada, UK, Germany, and China are among the leading markets for cat litter, reflecting high demand.
What is the share of the Japan and South Korea cat litter market?
As per Future Market Insights, the Japan and South Korea cat litter market cumulatively accounts for 4.9% of the global market.
Need specific information?
Our Clients