Introduction
There has been a significant rise in demand for guar gum in recent years, partly attributable to the increased use of the product in the oil & gas industry. Much of the current commercial status enjoyed by guar gum is due to the development of cationic and anionic guar gum derivatives and their application in oil and gas well stimulation. It was also used in explosives as an additive to dynamite or a gelling agent in slurry explosive.
Guar gum has emerged as a key ingredient for fracking fluids that are used in the oil & gas hydraulic fracturing process. The thickening and gelling properties of guar gum essentially improves the viscosity of hydraulic fluids. In the food & beverage sector, the product is primarily used as a stabilizer and thickener.
Apart from this, the product also finds its application in textile, and paper industries. As per the latest report published by Future Market Insights (FMI), the global guar gum market is set to reach a valuation of over US$ 1,300 Mn in 2026, expanding at a humble growth rate between 2017 and 2026.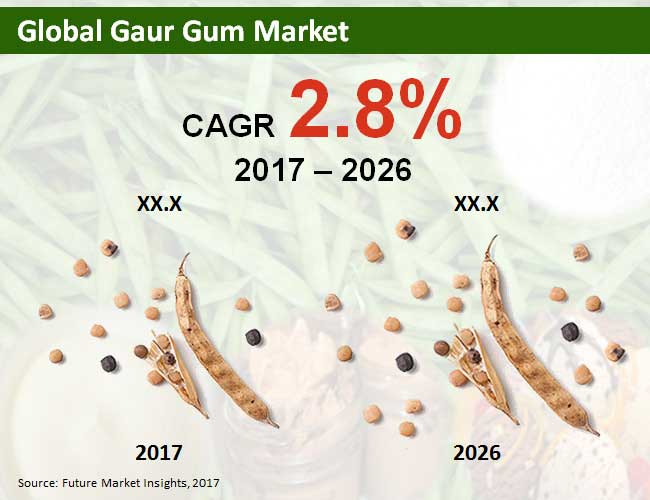 Guar gum is considered a novel agrochemical, hence is eligible for various food processing application. Moreover, a positive outlook towards its role in managing health disorders such as bowel movements, diabetes colon cancer and cardiac ailments, characterising the increasing application of guar gum in drug manufacturing. Factors as such as expected to support the growth of the market over the next couple of years.
APEJ to Spearhead the Global Guar Gum Market Over 2026
In terms of revenue, Asia Pacific excluding Japan (APEJ) is expected to dominate the global in 2017 and beyond. The region's market is projected to the witness a CAGR of 2.3% during the forecast period.
Production of guar gum is concentrated in South Asian countries particularly India and Pakistan as they have the best climatic conditions for guar cultivation. India is the largest producer of guar in the world and thereby possess a significant control over the global guar gum market.
Hydrated Gum Oil Drilling Grade a Leading Product Type Segment
On the basis of product type, the fast hydrated gum oil drilling grade segment will remain highly attractive through in the assessment period. Currently, the segment is represents for close to 68% share of the global market. Towards the end of 2026, the segment is estimated to surpass a valuation of US$ 800 Mn, expanding at a modest CAGR. In addition the segment is likely to grow by US$ 39.5 Mn annually, over the course of the forecast period.
Fracking Will remain the Largest End Use Industry
Based on end-use industry, the fracking segment is likely to retain its leading position over 2026. This segment currently commands for close to two-third market share and the trend is expected to continue beyond 2017. During the assessment period, the segment is projected to exhibit a CAGR of 2.4% to a valuation in excess of US$ 800 Mn.
High Preference for Guar Gum as a Binding Agent
Based on primary function, the binding agent segment will continue to exhibit high growth in 2017 and beyond. The segment presently represents a considerable percentage of the overall market share and is expected to surpass a valuation of US$ 880.6 Mn by 2026.
Competitive Landscape
Leading players operating in the global guar gum marker include Jai Bharat Gum, Vikas WSP, Hindustan Gums, Shree Ram Gum, Cargill Inc, Lucid Group, Ashland Inc., Supreme Gums Pvt. Ltd, India Glycols Ltd, Rama industries and Lamberti.
Market Taxonomy
A section of the report offers analysis of key market segments. The fact and figures related to each segments offered in the report will allow the readers to compare these segments in terms of year-on-year growth and revenue. Further, the report also includes a dedicated section that provides insightful analysis on the key regions and highlights prominent countries. On the basis of region, the global guar gum market is segmented into North America, Japan, Asia Pacific excluding Japan (APEJ), the Middle East & Africa (MEA), Europe and Latin America.
Region
North America
Latin America
Europe
Japan
APEJ
MEA
Product Type
Food Grade
Fast Hydrated Gum Oil Drilling Grade
Industrial Grade
End Use Industry
Food and Beverages
Fracking
Textiles
Pharmaceuticals
Other End Use Industries
Primary Function
Thickener and Stabilizer
Binding Agent
Other Functional Properties
Need specific information?