CBD Gummies Market Outlook & Key Findings
Cannabidiol or CBD gummies market forecast to reach US$ 679.9 Mn by 2030, as COVID-19 outbreak pushes consumption in Europe and the U.S.
FMI forecasts the CBD gummies market to exhibit a remarkable 25.8% CAGR between 2020 and 2030
North America likely to remain the dominant market for CBD gummies. It held more than 55% of the global market in 2019
CBD isolate gummies account for 52.4% of the market in terms of product type due to increasing demand for gummies with no THC or cannabinoids
Rising demand for CBD-infused edibles creates opportunities for entry of new players
Novel Food Approvals Getting Softer
There is a rapid rise in demand for CBD based products in Europe. The prevalence of a high degree of awareness regarding the various benefits of Cannabidiol, ranging from improving cognitive function to treating skin problems is aiding expansion in the region. Along with its health benefits, approvals for retail CBD products such as CBD oil, CBD gummies, CBD beverages, and others are contributing to its growth.
Authorities in EU Member States now regard CBD as a "novel product" for food, beverages and food supplements. CBD gummies is one of the CBD foods in scope of novel food regulation. CBD gummies consumption is proliferating rapidly across markets in Europe as manufacturers are focusing more on products with clean label and THC content less than 0.2%.
For instance, in April 2020, Medterra CBD launched functional CBD gummies, which combines 25mg of Medterra's pure CBD with premium ingredients and is THC free. The new lineup includes Keep Calm CBD gummy, Stay Alert CBD gummy and Sleep Tight CBD gummy with variety of flavour blends.
Manufacturers are promoting both newly launched and innovative products through online platforms as well as retailers. There has been a surge in the number of online platforms selling CBD products in Europe further boosting the sales of CBD gummies.
Favorable Regulations Driving CBD Gummies Demand
As a result of the rising demand, consumption of CBD gummies is completely legal in the most liberal state Colorado. This is eventually creating opportunities for the market players to market their products with different flavours.
The 2018 Agriculture Improvement Act, commonly called as the 2018 farm bill act, permitted companies to grow and sell hemp and hemp-based products, which is sourced from any parts of the plant called cannabis sativa L, including all derivatives and seeds.
The market is benefitting from some favorable changes in regulations. This includes the removal of hemp from the Controlled Substances Act (CSA), which means that under federal law cannabis plants and derivatives that constitute less than or equal to 0.3 % dry weight THC are no longer controlled substances.
These developments had a positive effect on the market, enabling manufacturers expand their product portfolio, subsequently fuelling the demand for CBD gummies and encouraging product launches in North America.
In 2018 CV Sciences, Inc., announced the launch of Plus CBD Gummies at Natural Product Expo East 2018. Plus CBD Gummies are available in two flavours- Citrus Punch and Cherry Mango. These products are Non-GMO, gluten-free and vegan-friendly and comply with all regulatory standards put forth by the regulatory bodies.
CBD products are gradually gaining popularity in the U.S. market. This inevitably creates incremental prospects for sales uptick of CBD gummies. In 2018, the Food and Drug Administration (FDA) completed evaluating three genetically recognized as safe (GRAS) notices on hemp extract.
It was concluded that such products can be legally marketed in human food, provided they comply with necessary requirements. Following this, the use of hemp extracts in food items such as CBD gummies has surged. A New Dietary Ingredient law has also been passed for its acceptance in dietary supplements (without drugs) without FDA objection.
Commercial Scale CBD Cultivation on the Way in Latin America
Some countries in Latin America have legalized cannabis for medical use. These include Colombia, Chile, Mexico, Brazil, Peru and Argentina. In Colombia, CBD products including CBD gummies can be legally sold through retail channels provided that they contain <1% THC and are licensed by the Colombia's food and drug regulatory agency.
Although the demand for CBD gummies is less in these countries due to low awareness among consumer, growth in domestic cultivation alongside retail sales of CBD products is expected to boost growth prospects in the next five years. Countries that have received investments and regulatory approval to grow and cultivate cannabis on a commercial scale are expected to grow more rapidly rather than rest of Latin America.
Latin America is home to some of the most prominent CBD gummies brands. These include:
Bluebird Botanicals (Brazil)
Green Roads (Chile), and
Mary's Nutritionals (Brazil)
Southeast Asia Gaining Traction for CBD Gummies
Inclination towards western ways of living has fuelled the demand for health-boosting products. Although the adoption of CBD and its products is much slower than expected due lack of awareness, regulatory reforms are expected to change the dynamics for better in the forthcoming years.
Asia Pacific is relatively unexplored as a potential CBD market and represents next big business opportunities. CBD gummies sales will increase as more people realize the cognitive health benefits they offer.
A number of hemp and CBD producers have showed interest in doing business in Thailand, following the announcement of the new regulatory reforms. This has created prospects for the launch of CBD gummies and innovation in this market.
Australia Approves Cultivation and Consumption of Recreational CBD
Canberra is the first Australian city to legalize cannabis for personal use, possession and cultivation of small quantities. The bill passed by lawmakers in the Australian Capital Territory (ACT) allowed people aged 18 or over to possess up to 50 grams of dry cannabis or 150 grams of wet cannabis.
The Therapeutic Goods Administration (TGA) is actively pursuing a safety review of CBD at lower concentrations based on which the Australian health authorities could relax the scheduling status of CBD and possibly make it available in low doses over the counter soon. This might contribute to demand uptick in the market in the coming years. Softening stance of government on CBD consumption will amplify the demand for CBD gummies.
Softening Regulatory Stance to Boost Cannabis Sales in Japan
Until 2016 Japan had stringent regulations in place and illegal possession of cannabis was considered punishable offence. However, the nation has softened its stance on cannabis in the past few years. The change in regulation was unknown to many since bans on advertisements continued. It was only in 2018 that there was again an amendment which resulted in the approval of ad for Elixinol's CBD products.
Since then the nation recorded multifold rise in the demand for CBD products, attracting investments from many international players in the CBD gummies market. Change in regulations therefore resulted in exponential growth of the CBD products market, resulting in sales uptick of CBD gummies in Japan.
The positioning of Japan in the product life cycle (PLC) depicts it as a high potential market, as is Oceania, Latin America, and Asia Pacific excluding Japan. With regulations on CBD consumptions gradually being alleviated, Japan might emerge as a highly lucrative market. This would create scope for players to diversify their strategies especially since both North America and Europe markets are gradually reaching saturation.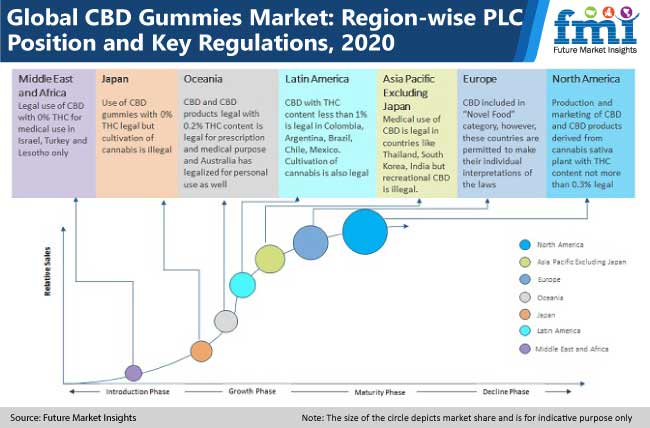 Leading Brand and Companies in CBD Gummies Market
The market for CBD gummies is primarily dominated by the well-established players. Most companies in the market are focusing on getting certifications from international organizations such as Possession of Certificate of Analysis (COA) to gain a competitive edge.
Key companies and brand assessed and profiled in the report for global CBD Gummies market are:
Americas
CV Sciences
Charlotte's Web
Verma Farms
PureKana
Dixie Brands Inc.
Premium Jane
Kushie Bites
Sunday Scaries
Hemp Bombs
Reliva CBD Wellness
Europe
CBD Oil Europe
Medterra
Balance CBD
CBDfx
CBD Pure
*The list is not exhaustive, and only for representational purposes. Full competitive intelligence with SWOT analysis and individual company strategies available in the report
CBD Gummies: Riding High on Opportunity
Future Market Insights predicts the global CBD gummies market to provide incremental opportunity of over US$ 679.9 Mn over the course of the report's forecast period. Approvals by some of the most reputed international organizations and widening applications across diverse sectors are enabling growth in the market.
CBD gummies are likely to become increasingly popular as snacks, compelling market players to emphasize on producing them in a wide range of flavors. With several leading companies trying to make CBD gummies more accessible and focusing on getting certified by international organizations, FMI expects the market to grow exponentially in the coming years.
Despite several evidences supporting health claims of CBD gummies, it may take some time before their sales pick up. Restrictions imposed on CBD sales and consumption will continue to impede growth of the market across various high potential countries. These regulations also forbid manufacturers from making any health claims around their products. Those in the medical industry and consumers may seem to be in favor of CBD gummies, but stringent regulations will continue obstructing sales unless governments allow cannabis product marketing.
Report Scope
Base year considered - 2019
Actual estimates/Historical data - 2015 - 2019
Forecast period - 2020 - 2030
Forecast value in 2030 - USD 679.9 Mn
Segments covered - Product Type, Sales Channel, Packaging, Region
Regions covered - North America, Latin America, Europe, APEJ, Japan, Oceania, Middle East & Africa
Growth Driving -

Novel food approvals in Europe
Amendment in CBD regulations in the US
Increasing CBD cultivation in Latin America

Key Players -

Americas

CV Sciences
Charlotte's Web
Verma Farms
PureKana
Dixie Brands Inc.
Premium Jane
Kushie Bites
Sunday Scaries
Hemp Bombs
Reliva CBD Wellness

Europe

CBD Oil Europe
Medterra
Balance CBD
CBDfx
CBD Pure

Report coverage - Revenue forecast, company share, competitive landscape, growth factors, and trends
FAQ ABOUT THE REPORT
What factors are driving the demand for CBD gummies?
Research related to the benefits of CBD gummies are coming to the fore, and companies are brandishing such claims. This inturn has attracted a niche within global specialty food & beverage market resulting in to the growth of CBD Gummies. In addition, favorable and softening government policies aiding to this growth.
Which are the countries tapped by companies for new growth opportunities?
US and Western European countries have really offered sample addressable market to invest. In the east, Japan reflects positive sentiments, till other key markets do not receive government approval.
Which is the major restraint hampering the growth of the market?
Lack of awareness and legacy consumer mindset pertaining to the use of CBD offers are prime bottleneck for global CBD gummies market
How is competition evolving in CBD Gummies Market?
The global CBD gummies market is largely characterized with the sizable presence of start-ups, though as the market will evolve in the companies years, we can expect mid to large size established F&B companies in this business
Market Segmentation
The Global CBD gummies market is segmented in detail to cover every aspect of the market and present complete market intelligence to readers.
Type
CBD isolate Gummies
Broad-spectrum CBD Gummies
Full-spectrum CBD Gummies
Sale Channel
Store Based Retailing

Supermarket/ Hypermarket
Head shops/
Smoke shops
Local health stores
Others

Online Retailing
By Packaging
Pouches
Bottles
Jars
Tins
Region
North America
Latin America
Europe
APEJ
Japan
Oceania
Middle East and Africa
Need specific information?
Talk Show:
The Rise of Intelligent Packaging
Personalized, Connected and Sustainable
November 18, 2021
11:00-11:45 AM PST (USA & Canada)
This is a LIVE session