Vitamin Gummies Sales Get a Boost with Product and Material Innovations
Vitamin gummies are chewable vitamin products that are designed to taste and feel similar to a gummy candy. These products can either include a large range of vitamins, or only select nutrients. Vitamin gummies are available in a range of shapes, flavors, and colors, making them a very popular option of vitamin supplements.
The global vitamin gummies market is projected to grow at a healthy CAGR of more than 5% in the forecast period between 2019 and 2029. The growth can be attributed to product innovations such as the development of vitamin gummies based in hemp, vitamin gummies for pets and sugar free vitamin gummies, which have positively influenced the product lifecycle also has opened up new streams of revenue. Further, alternative sweeteners such as honey are accounting for a large portion of the vitamin gummies market.
Probiotic Vitamin Gummies to Gain Traction in Fragmented Market
The vitamin gummies market is largely fragmented. Major players in the industry include nutraceutical names such as BAYER AG, Pharmavite, Smarty Pants Vitamins, Wellnext Health, Church & Dwight Co. Inc., and Life Science Nutritionals among others.
Major manufacturers are pushing to enter into strategic collaborations with prominent health and fitness entities with the aim of bolstering market presence and product portfolios. A major trend among manufacturers in recent times is the higher production of probiotic vitamin gummies, which is expected to grow at a healthy CAGR of more than 6 %.
The rising popularity of probiotic ingredients can be accounted for by the rise of lifestyle based ailments such as obesity and diabetes, and higher consumer awareness about options available in preventive medicine.
Product Innovations are Key to Driving Consumer Interest in Vitamin Gummies
A wide range of end use applications for vitamin gummies will account for numerous opportunities in bolstering revenues in the market. Some of the key changes in the industry include the transition from sugar and gelatin based vitamin gummies, towards sugar free and vegan options are generating profits in the industry.
Manufacturers have also come up with unique starch free molds, in a bid for higher efficiency in production processes, by minimizing the time required for to clean the molds after each production cycle. Vitamin gummies are also now available for specialized end uses including hair care, and pet consumption. Furthermore, manufacturers have made them available in bottle jars, stand-up pouches, and other easy-to-use packages to offer better convenience to consumers.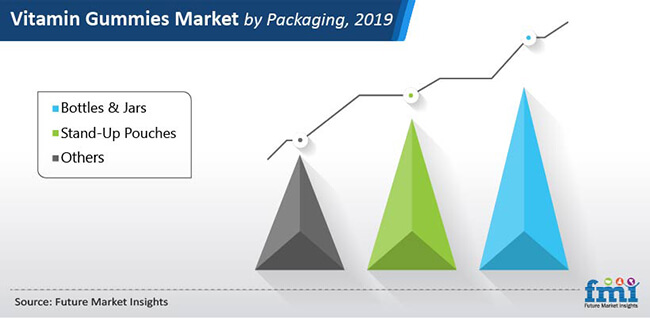 North America to Dominate Vitamin Gummies Market
Vitamin gummies are primarily popular in developed nations in North America and Europe. However, these products are still in a nascent stage when it comes to developing regions. North America is expected to keep hold of the largest market share accounting for nearly 29 % of the overall vitamin gummies market value.
The Asia Pacific excluding Japan region, and Middle East and Africa regions on the other hand are displaying the most potential for growth with impressive CAGRs of 7.5 and 6.9% respectively. This growth can be largely attributed to an increased rate of consumption in fast food, vitamin deficiencies, and government support towards meeting nutritional deficits, which are driving up multivitamin consumption.
FREQUENTLY ASKED QUESTIONS ABOUT VITAMIN GUMMIES MARKET
What drives the Vitamin Gummies market?
Development of hemp based and sugar free vitamin gummies drives the vitamin gummies market. Versatility of vitamins, shapes, flavors, and colors garner increasing consumer traction. Innovation of vitamin gummies for pets is opening new avenues for future growth potential in global vitamin gummies landscape.
Who are the major players in Vitamin Gummies Market?
Major players in the industry include nutraceutical names such as:
BAYER AG
Pharmavite
Smarty Pants Vitamins
Wellnext Health
Church & Dwight Co. Inc.
Life Science Nutritionals
Taura Natural Ingredients Ltd.
Viva 5 Corporation
Olly Public Benefit Corporation
Strategic collaborations with leading health and fitness companies is a trending strategy in this fragmented vitamin gummies market. Manufacturers aim to bolster global presence and enhance product portfolio by innovating new products and existing production processes.
Which regions will lead global sales of Vitamin Gummies?
North America is leading global sales of vitamin gummies. A direct result of consumer awareness and presence of vitamin gummy pioneers locally. Asia Pacific excluding Japan and MEA are emerging markets that offer enticing growth opportunities for vitamin gummy manufacturers worldwide.
Which product type offers most lucrative growth opportunities?
Probiotic gummies offer the most lucrative growth opportunities owing to their ability to encapsulate larger consumer segments. The cohesive nature of probiotic vitamin gummies with the human body help this product type gain increasing consumer traction throughout the forecast period.
What are latest innovations in the vitamin gummies market?
Manufacturers of vitamin gummies are continuously releasing innovative products to attract niche segments of the market. Here are a few of the latest developments in vitamin gummies market:
April 2019, Taura Natural Ingredients Ltd. And Viva 5 Corporation launched fruit based vitamin gummies to supplement the nutrition needs of picky eaters.
May 2019. Olly Public Benefit Corporation was acquired by the F&B giant Unilever to enhance the latter's portfolio of vitamin gummies and other health supplements.
GSK Consumer Healthcare was formed in 2019 by Pfizer Inc. and GlaxoSmithKline plc. to serve multivitamin supplement consumers worldwide.
Market Segmentation
The global vitamin gummies market is segmented in detail to cover every aspect of the market and present complete market intelligence to readers.
Product Type
Single Vitamin Gummy

Biotin
Omega & DHA
Vitamin C
CoQ10
Vitamin D
Melatonin
High Fibre Formulas

Multivitamin Gummy
Probiotic Vitamin Gummy

Bacillus Coagulans
Lactobacillus
Bacillus Subtilis
Others (Yeast etc.)
Customer Orientation
Source
Packaging Type
Bottles & Jars
Stand-Up Pouches
Other Packaging Type
Sales Channel
Direct Sales
Modern Trade
Convenience Stores
Departmental Store
Specialty Store
Drug Store/Pharmacies
Online Retailers
Other Sales Channels
Region
North America
Latin America
Europe
CIS & Russia
Japan
APEJ
MEA
Need specific information?