Vitamin Gummies Market By Product Type (Single Vitamin Gummy, Multivitamin Gummy, Probiotic Vitamin Gummy), Customer Orientation (Children, Adult, Men, Women), Source (Animal Based, Plant Based), Sales Channel (Direct Sales, Modern Trade, Online Retailers) & Region - Forecast to 2019 - 2029
Vitamin Gummies Market - Analysis, Outlook, Growth, Trends, Forecasts
December 2021

REP-GB-11022

250 pages
Vitamin Gummies Market Snapshot
[250 Pages Report] As per Future Market Insights (FMI), the vitamin gummies market totaled US$ 3.7 Bn in 2021 and is expected to exhibit a CAGR of 6.2% to reach the value of US$ 6.8 Bn in 2031.
Sales of vitamin gummies will represent 78.1% of the overall demand in the global gummy market. The demand for vitamin gummies will rise as consumers are increasingly concerned about nutrition, yet variables such as flavor, convenience, and ease of use.
| | |
| --- | --- |
| Attribute | Details |
| Vitamin Gummies Market Size in (2020) | US$ 3.49 Bn |
| Vitamin Gummies Market Estimated Size (2031) | US$ 6.8 Bn |
| Global Vitamin Gummies Market Growth Rate | 6.2% CAGR |
Historical Outlook vs Future Projections for Global Vitamin Gummies Market
As per FMI, over the past half-decade, the global vitamin gummies market value grew at a CAGR of around 5.5% in response to the growing demand for the nutritional supplement. Meanwhile, sales of vitamin gummies are projected to grow at a CAGR of around 6.2% over the forecast period, from 2021 to 2031.
Additionally, people are compromising their nutrition by swapping soft and convenient food options for fiber and healthy diets due to increasing stress levels and changes in living patterns.
As a result of the decreased nutrient content in food preparations, lifestyle disorders such as diabetes, obesity, and high blood pressure are on the rise. However, as individuals have begun to gravitate toward healthier items like alternative sweeteners, there has been a surge in the use of health supplements.
Furthermore, gummy vitamins have a diverse product array that caters to a variety of body needs. Diverse health benefits of gummy vitamins will help the vitamin gummies businesses to grow stronger in the coming years.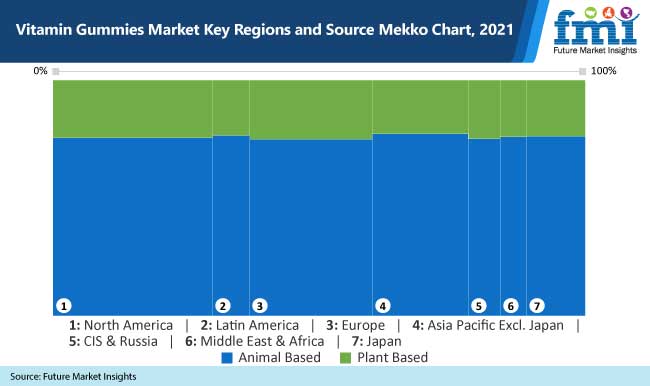 How Will Demand for Vitamin Supplement Affect Vitamin Gummies Market Growth?
The market for vitamin supplements in the gummy candy space has grown considerably on account of the increased demand from discerning consumers for products like chewable vitamin products.
Gummy supplements can now be personalized to fit unique consumer preferences, thanks to developments in ingredient technologies and products like multivitamin gummies.
Reduced sugar, more fiber, natural colors and aromas, and a unique texture, for example, are all options trending options like gluten-free gummy and sugar-free vitamin gummies are helping the market gain traction
While vitamins are still a popular gummy element, the number of other nutritional substances available in gummies has increased. A great-tasting gummy is likely to contain everything from a standard multivitamin to omega-3s and melatonin, probiotics and collagen peptides.
Chewable vitamins Gummies and power gummies containing a range of important micronutrients and developed for specific demographics such as prenatal, men's, youngsters, etc. are also becoming increasingly popular and impacting the gummies production positively.
Will Clean Label Claims in Vitamin Gummies Affect their Demand?
Consumers of all age demographics are identifying naturally sourced products as premium when it comes to supplements, food, personal care, household products, and more. With this sentiment in mind, demand for clean label gummy supplements is gaining steam.
Products are being developed with naturally sourced colors and flavour, often derived from fruits and vegetable juices with additional claims like gummy vitamins with iron or gummy vitamins for hair. Traceability of the raw material and ingredients have increased and the variant options for a gelling agent as well. Gelatin mostly works well for clean-label gummy formulations, as these are inherited from non-GMO, and available in a variety of certified formats such as Kosher, and Halal.
Consumers are avoiding genetically modified foods and buying gummy vitamins which are closely evaluated, non-GMO certifications labels are checked to ensure they are purchasing a non-GMO gummy product.
Vitamin Gummies Market Country-wise Analysis
What are the Factors Driving the Sales in EU-4 Vitamin Gummies Market?
Europe is projected to register a CAGR of 8.6% over the forecast period, owing to increasing demand for probiotic-based vitamin products. The EU-4 vitamin gummies market is dominating the European market with a market share of more than 34.6% in 2021,
Vitamin Gummies is gaining popularity in the EU-4 and across Europe, with the trend of healthy treats.
Will Greater China Continue Dominating Asia Pacific Vitamin Gummies Market?
The Greater China vitamin gummies market size is estimated to account for 40.5% share in Asia Pacific excluding Japan in 2021, while the consumption of vitamin gummies in India is expected to grow by 9.3% during the forecasted period. Increasing focus on health and wellness will continue driving sales in Greater China. Also availability of various leading brands of vitamin gummies will enable growth in the country in the coming years.
What is Driving Sales of Vitamin Gummies in South Korea?
In 2021, South Korea held a share of 21.2% in the Asia Pacific excluding Japan market, while the demand for vitamin gummies in ASEAN countries is expected to increase at a CAGR of 13.8% over the forecast period as packaged vitamin gummies products are sold by well-established corporations in the region.
What is Driving Demand for Vitamin Gummies in GCC Countries?
According to FMI, the sales of vitamin gummies in GCC Countries is estimated to account for 33.4% of the overall Middle East and Africa market in 2021, While the demand for vitamin gummies in South Africa is anticipated to drive the market growth in MEA.
This increase in multivitamin consumption can be ascribed to an increase in fast food consumption, vitamin inadequacies, and government support for addressing nutritional shortfalls, all of which are driving up multivitamin usage in the region.
What are the Factors Driving Brazil Vitamin Gummies Market?
According to the most recent estimate by FMI, the Brazil vitamin gummies market is estimated to account for 31.5% during the forecast period as the demand for vitamin gummies in the pharmaceuticals industry grows in the country.
Vitamin Gummies Market Category-wise Insights
Multivitamin Gummy Gaining Traction
According to FMI, multivitamin gummies segment is anticipated to register growth at a CAGR of 7.8% over the forecast period, owing to increasing demand for healthy alternatives to pills.
Vitamin Gummies for adults dominating the Global Consumption
In 2021, vitamin gummies for adults accounted for approximately 64.8% of the global market, as vitamins are the most important types of nutrition that the body requires to stay alive and well, adults are more susceptive to lacking essential vitamins owing to the growing demand.
Plant-Based Vitamin Gummies in High Demand
Based on the source, plant-based vitamin gummies is estimated to account for a market share of 24.5% and is expected to grow with exceptional CAGR in the forecasted period. Consumers are choosing more plant-based products for a variety of reasons, including animal welfare, personal health, and environmental concerns, which is driving plant-based growth.
Modern Trade Dominates the Sales Channel
Modern trade is expected to have a market share of 26.3% in 2021, based on the sales channel. The ability to check and select their products is the primary reason why vitamin gummies buyers prefer modern trade sales channels.
Competition Landscape: Top Vitamin Gummies Companies
The market for vitamin gummies is highly fragmented. Nutraceutical companies such as BAYER AG, Pharmavite, SmartyPants Vitamins, Wellnext Health, Church & Dwight Co. Inc., and Life Science Nutritionals are among the industry's major players.
Major manufacturers are attempting to form strategic partnerships with well-known health and fitness companies to expand their market presence and product ranges. The increased manufacturing of probiotic vitamin gummies has been a prominent trend among producers in recent years.
Vitamin Gummies Industry Report Scope
Attribute

Details

Market Size Value in 2020

US$ 3,498.1 Million

Market Forecast Value in 2031

US$ 6,801.8 Million

Global Growth Rate

6.2%

Forecast Period

2021-2031

Historical Data Available for

2016-2020

Market Analysis

MT for Volume and US$ Million for Value

Key Regions Covered

North America, Latin America, Europe, APEJ, CIS & Russia, MEA and Japan

Key Countries Covered

United States, Canada, Brazil, Mexico, Argentina, Chile, Peru, Rest of LATAM, EU-4, UK, Nordic, BENELUX, Eastern Europe, Rest of Europe, Greater China, India, South Korea, ASEAN Countries, Rest of APEJ, GCC, South Africa, Turkey, Iran, Israel and Rest of MEA

Key Market Segments Covered

Product Type, Customer Orientation, Source, Packaging, Sales Channel, and Region

Key Companies Profiled

BAYER AG
SmartyPants Vitamins
Wellnext Health
Life Science Nutritionals
Taura Natural Ingredients Ltd.
Viva 5 Corporation
Olly Public Benefit Corporation
Others

Pricing

Available upon Request
World's Most Profilic Intelligence Engine
Get Access To The World's Largest Market Research Database.
Sign Up Now
Vitamin Gummies Market Segmentation
By Product Type
Single Vitamin Gummy

Biotin
Omega & DHA
Vitamin C
CoQ10
Vitamin D
Melatonin
High Fibre Formulas

Multivitamin Gummy
Probiotic Vitamin Gummy

"Bacillus Coagulans"
Lactobacillus
Bacillus Subtilis
Others (Yeast Etc.)
By Customer Orientation
By Source
By Packaging type
Bottles & Jars
Stand-Up Pouches
Other Packaging Type
Sales Channel
Direct Sales
Modern Trade
convenience Store
departmental Store
Specialty Store
Drug Store/Pharmacies
Online Retailers
Other Sales Channels
By Region
North America
Latin America
Europe
APEJ
CIS & Russia
MEA
Japan
Key Questions Answered in the Report
How big is vitamin gummies market?
Currently vitamin gummies market is worth more than US$ 3.71 Bn.
At what CAGR will the vitamin gummies market grow?
Vitamin gummies consumption is expected to grow at a CAGR of around 6.2% during the period 2021-2031.
At what rate did the demand for vitamin gummies grow in the last five years?
In terms of revenue, vitamin gummies market grew at a CAGR of around 5.5% during 2016-2020
What drives the vitamin gummies market?
The development of hemp-based and sugar-free vitamin gummies will drive the vitamin gummies market in the near future. Besides this, the market will continue gaining tractions as consumers exhibit high demand for vitamin supplements.
Which region will lead global sales of vitamin gummies?
North America is leading global sales of vitamin gummies. Asia Pacific excluding Japan and MEA are emerging markets that will offer enticing growth opportunities for vitamin gummy manufacturers worldwide.
How much do top 10 companies hold in vitamin gummies market?
The top 10 producers of vitamin gummies hold around 40-50% of the market share.
Which are the major countries driving demand for vitamin gummies?
The U.S., EU-4, Brazil, ASEAN Countries and China are the major countries driving demand for vitamin gummies.
Need specific information?
Our Clients