Vitamin C Ingredients Market By Product Type (Ascorbic Acid, Sodium Ascorbate, Calcium Ascorbate), Form (Powder, Granules), Source (Natural, Synthetic), End Use (Food, Beverages, Cosmetics and Personal Care Products, Pharmaceuticals, Animal Feed), Process (Reichstein Process, Two-Stage Fermentation Process), & Region - Forecast to 2019 - 2028
Vitamin C Ingredients Market - Analysis, Outlook, Growth, Trends, Forecasts
February 2020

REP-GB-7085

250 pages
Health Benefits Offered by Vitamin C Ingredients will boost their Sales
As a result of their changing attitude towards health and fitness, consumers are looking for healthier diets. They often include vitamin supplements in their daily diet to compensate for any deficiency. In addition to this, growing importance of vitamin C in skincare is acknowledged by leading brands across the globe. Vitamin C ingredients are therefore used as raw materials across various industries. They are used mostly in powder or granules form.
According to the report, vitamin C helps in healing wounds and prevention of infections, which makes pharmaceutical industry a leading end-user. Furthermore, vitamin C improves absorption of iron from food, it reduces the risk of chronic ailments, control blood pressure, and boosts immune health. The rising knowledge about health benefits of vitamin C will boost the vitamin C ingredients market.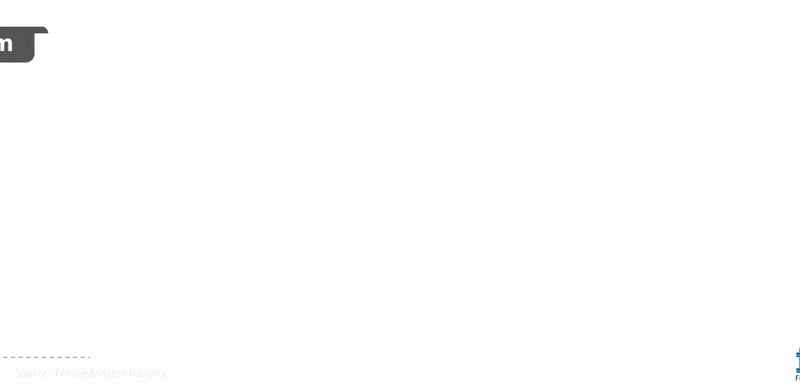 Promising Growth in APEJ to Boost Global Vitamin C Ingredients Market
The majority of vitamin C ingredients production happens in Asia Pacific, especially in China. In 201, Asia Pacific excluding Japan accounted for the production of nearly 80,000 metric tonnes of vitamin C ingredients. The report identifies the region as a lucrative one, and forecasts the APEJ vitamin C ingredients market to rise at a CAGR of 6.9% between 2019 and 2028. Meanwhile, Western Europe, Japan, and North America promise steady growth for the market. Similarly remarkable growth is unlikely for the market in the Middle East and Africa. The report projects a modest 3.6% CAGR for the MEA market through the course of its forecast period.
Overall Rise in Food Consumption to Aid Growth
The global population has quadrupled in the last decade. According to the United Nations, the global population reached 7.5 billion in 2019. It is expected to increase further to reach 9.7 billion by 2050. Rise in global population, supported by income growth and willingness to spend will inevitably bolster demand for food.
The multi-trillion status of the global food and beverages industry is expected to augment further, representing a steady annual growth in the coming years. This, coupled with increasing manufacturers to supplement the rising demand for better quality, tasting, and healthier food products will aid the expansion of the vitamin C ingredient market.
How Growth will Unfold
Changing lifestyle and food habits are evoking consumers' interest for vitamin c ingredients. Change in lifestyle for instance resulted in the increasing consumption of fast foods that lack essential nutrients. These factors have fuelled the demand for nutrition through supplements.
Vitamin C offers immense health benefits to humans. Against this backdrop, experts suggest the demand for vitamin C ingredients to increase in the coming years. According to the study, the demand for ascorbic acid will remain considerably high. It is expected to remain the leading segment among product types through the forecast period.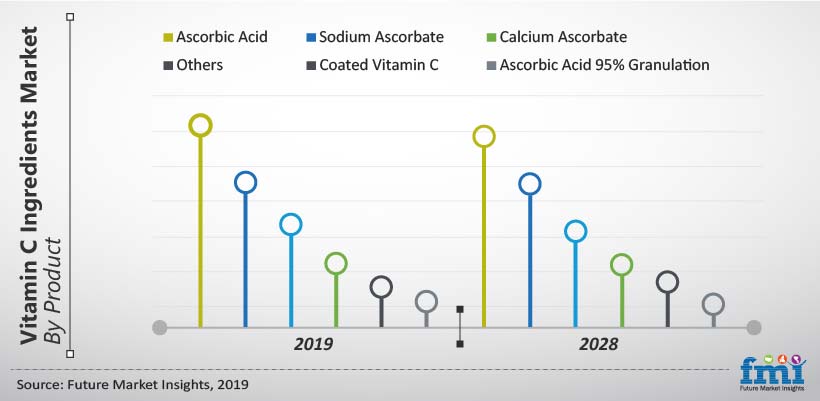 FREQUENTLY ASKED QUESTIONS ABOUT VITAMIN C INGREDIENTS MARKET
What makes APEJ leading market for vitamin C ingredients?
APEJ exhibits fairly high production vitamin C ingredients. China especially is among the largest producers of Vitamin C around the world. Rising vitamin C exports in region accounts for its dominance in the global market.
What drives demand for natural vitamin C ingredients?
Studies reveal that synthetic vitamin C ingredients make the leading segment in the market. However, in the coming years the market is forecast to witness a paradigm shift to naturally derived vitamin C. The increasing focus on health and sustainability will tip scales in favour of vitamin C derived from natural sources.
Which industry showcases the highest demand for Vitamin C ingredients?
Food industry is currently the biggest end user of vitamin C ingredients. In the coming years various other industries will start exhibiting demand. For instance, the use of vitamin C will rise considerably in cosmetics and personal care segment.
What drives vitamin C ingredients market?
Higher disposable income and changing lifestyle are two chief drivers of the market. As a result of busy schedule and unhealthy eating habits consumers are often deprived of essential nutrition. The demand for food supplements is therefore at a rise, which is expected to drive the market.
How technological advances play a role in driving vitamin C ingredients market?
The advent of various methods to improve encapsulation has positively impacted the market. Some of these improvements are spray drying, spray chilling, spray cooling, extrusion, fluidized bed coating, and others.
World's Most Profilic Intelligence Engine
Get Access To The World's Largest Market Research Database.
Sign Up Now
VITAMIN C INGREDIENTS MARKET TAXONOMY
The report segments the global vitamin C ingredients market in detail to present an executive-level blueprint to the reader
Product Type
Ascorbic Acid
Sodium Ascorbate
Calcium Ascorbate
Ascorbic Acid 90% Granulation
Ascorbic Acid 95% Granulation
Ascorbic Acid 97% Granulation
Coated Vitamin C
Form
Source
End Use
Food
Beverages
Cosmetics and Personal Care Products
Pharmaceuticals
Animal Feed
Process
Reichstein Process
Two-Stage Fermentation Process
Region
North America
Latin America
Western Europe
Eastern Europe
Asia Pacific Excluding Japan
Japan
MEA
Need specific information?
Our Clients