Introduction
In terms of value, the global market for vitamin D ingredients is expected to increase at a CAGR of 10.2% during the forecast period and is projected to account for US$ 2,379.08 Mn by 2026 end. Increase in the demand for vitamin D ingredients can be attributed to the increasing use of vitamin D supplements as a result of increasing instances of vitamin D deficiency. Vitamin D ingredients are also used in fortified drinks. Consumers prefer vitamin D drinks due to the cultural preference of beverages in European and American countries.
Consumption of vitamin D beverages containing vitamin D ingredients such as fortified drinks, juices and water is on the rise, owing to this preference factor. Beverages are easy to consume as compared to food products and customers perceive beverages as easy to drink and digest. They can also be transported easily in bottles and consumed at any place. However, food requires special packaging while transporting from one place to another, owing to which customers are showing more interest in beverages fortified with vitamin D ingredients.
The vitamin D Ingredients market has been segmented on the basis of product type into Vitamin D3 and Vitamin D2. Of these two product type segments, the vitamin D3 segment is expected to exhibit a higher weighted average share in terms of volume as compared to the vitamin D2 ingredients segment. The segment is projected to increase with a CAGR of 12.01% from 2016 to 2026.
The global vitamin D ingredients market has been segmented on the basis of application to into pharmaceutical, food, beverage, cosmetics, animal feed & pet food and others. Pharmaceutical is the most common end use for vitamin D ingredients.Pharmaceutical applications of vitamin D ingredients include medicines, herbal treatments, spas and many more. Vitamin D ingredients are also used in medicines and other pharmaceutical related products.
Among the different types of vitamin D ingredients, Vitamin D3 held the dominant share in 2016. Food applications of vitamin D ingredients refer to the applications in any products that can be termed as food and cannot be a part of any other application. These include the following categories: dairy and frozen products, bakery and confectionary products and others, such as fast food and sizzlers.
The global vitamin D ingredients market is driven by several factors such as easy regulations and the separate categorization of dietary supplements from food. Vitamin D ingredients are listed under the Dietary Supplement category of FDA, which is a separate category created to distinguish these products from food. Dietary supplement manufacturers are not required to take approvals from the FDA.
This category helps vitamin D manufacturers sell their products quickly in the market, without any hurdles. Before a company sells a dietary supplement, it needs to make sure that the products it manufactures are safe, that no false or misleading information is provided to customers and that it must comply with FDA regulations and that Federal Food, Drug and Cosmetic Act. As per the FDA, supplements are not intended to treat, diagnose, prevent, or cure diseases.
These features are meant to be used by drug manufacturers. Despite these restrictions, vitamin D manufacturers enjoy a wormhole, which allows them to sell their products without much trouble. Regulatory bodies advertise the benefits and uses of vitamin D and the problems associated with its deficiency and intake limits, which is a major driving factor for the growth of the vitamin D ingredient market.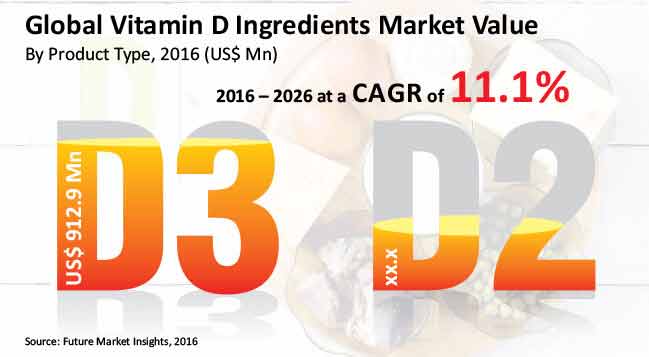 The FDA, EFSA, NIH and many other regulatory agencies or government bodies have issued recommendations on vitamin D intake for every age group and pregnant women over the past few years. These regulatory agencies have identified the importance of vitamin D intake and the problems associated with the deficiency of the same. They have started issuing recommendations on the intake of dietary supplements, especially for vitamin D, to help people achieve a better lifestyle and health.
The demand for vitamin D ingredients has been on the rise over the past couple of decades. Vitamin D ingredients are expected to witness an increase in the demand from the global nutraceuticals and functional food industry as they are among the most common micronutrients used to fortify a wide variety of food products as well as a common base for nutraceuticals, dietary supplements, cosmetics, etc.
Vitamin D ingredients are expected to find higher applications as recently researchers have discovered that vitamin D ingredients and health supplements can reduce the risk of autism in new born babies. Sufficient dosage to pregnant women can help in reducing the risk. Research on the link between autism and vitamin D started from 2008, when Dr. John Cannell of the Vitamin D Council published a paper on the same.
Many researches have been conducted on the same, but significant evidence was found in December 2016, when Professor John McGrath from the University of Queensland's Brain Institute led a research team, and found that babies of pregnant women who didn't take vitamin D supplements were found to be more prone to autism. Thus, medicines specifically structured for pregnant women will present a future opportunity for the market.
From a regional perspective, the global vitamin D ingredients market has been segmented into North America, Latin America, Western Europe, Eastern Europe, Asia Pacific Excluding Japan, the Middle East & Africa and Japan.Among the above mentioned regions, the Western Europe vitamin D ingredients market is expected to register the highest CAGR of 13.6 % in terms of value, followed by the Easter Europe vitamin D ingredients market. TheAPAC vitamin D ingredients market is also expected to gain a nominal market share, owing to the high demand from India and China.
Key players in the vitamin D ingredients market include BASF SE, Dishman Netherland B.V., Barr Pharmaceuticals, LycoRed Limited, Zhejiang Garden Bio-Chemical High-tech Company Limited, Fermenta Biotech Ltd., Schiff Nutrition International, Inc. (Reckitt Benckiser),Glaxo Smith Kline and J.R. Carlson Laboratories.
Major players in the vitamin D ingredients market are engaged in research and development to establish the link between vitamin D ingredients and breast cancer survival. A recent research study published in the 'Clinical Breast Cancer', a magazine published by Elsevier, found that vitamin D supplement intake with chemotherapy can advance disease-free survival in women with HER2+ breast cancer.
The research found that patients who took supplements containing vitamin D ingredient had a significantly better five-year disease-free survival as compared to those who did not. Also, patients who received supplements consisting vitamin D showed non-significant improved overall survival. This study gave boost to the theory that linked vitamin D with breast cancer.
Key Segments Covered
By Product Type
By Source
Eggs
Fish
Animals
Plant, Fruits and Vegetables
Others (Microalgae, Fungi, Yeast, Plants etc.)
By Application
Pharmaceuticals
Food
Beverages
Cosmetics
Animal Feed and Pet Food
Others
By Form
Key Regions/Countries Covered
North America
Latin America
Western Europe
Eastern Europe
Asia Pacific Excluding Japan (APEJ)
Middle East & Africa (MEA)
Japan
Need specific information?
Talk Show:
The Rise of Intelligent Packaging
Personalized, Connected and Sustainable
November 18, 2021
11:00-11:45 AM PST (USA & Canada)
This is a LIVE session